Baker latest Israel arm to deliver on big stage
Cards prospect hurls 4 2/3 scoreless to defeat Chinese Taipei in WBC '17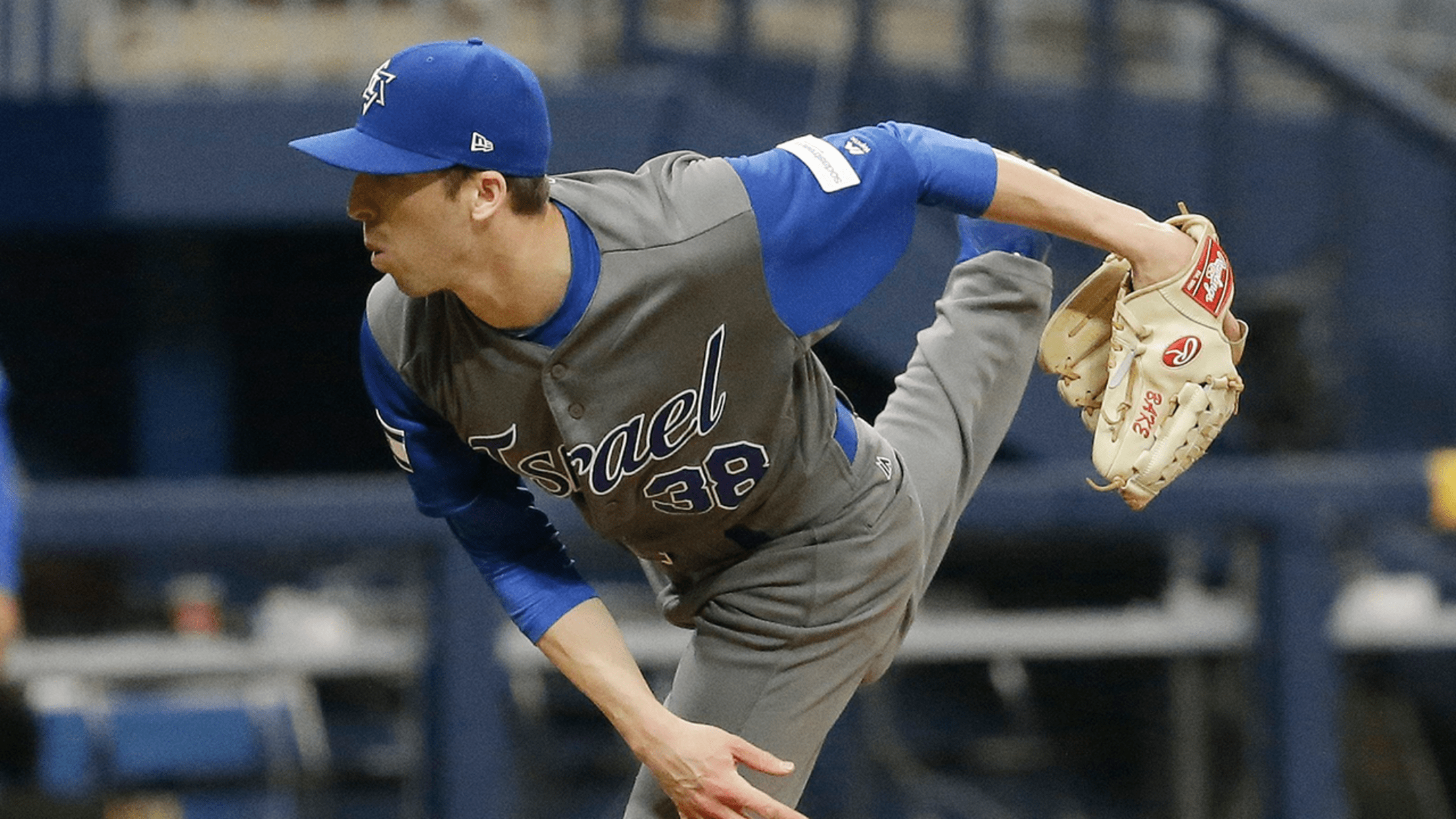 Team Israel's Corey Baker held Chinese Taipei to three hits over 4 2/3 scoreless innings. (AP)
Last September, pitcher Corey Baker helped put Team Israel on the verge of its first-ever trip to the World Baseball Classic.Now, with a dominant start Monday night in Israel's 15-7 victory against Chinese Taipei, Baker has placed his club on the doorstep of something much bigger.:: 2017 World Baseball Classic
Last September, pitcher Corey Baker helped put Team Israel on the verge of its first-ever trip to the World Baseball Classic.
Now, with a dominant start Monday night in Israel's 15-7 victory against Chinese Taipei, Baker has placed his club on the doorstep of something much bigger.
:: 2017 World Baseball Classic ::
Baker, a 27-year old prospect of the St. Louis Cardinals who split time between Double-A Springfield and Triple-A Memphis last year, tossed 4 2/3 scoreless innings Monday in Seoul, South Korea, allowing just three hits to Chinese Taipei while striking out three. That was more than enough for Israel's offense, which erupted for four first-inning runs and raced to a 6-0 lead by the time Baker departed with two outs in the fifth.
Chinese Taipei notably held a 78-day training camp in preparation for the '17 Classic, but it was flat out of the gate against Baker. The right-hander consistently attacked his opponents, throwing 37 of his 59 pitches for strikes and guiding Taipei contact into the teeth of an Israeli defense that has been stellar through the first two games.
Baker held Chinese Taipei hitless until the bottom of the fourth, when Chih-Hao Chang lined a hot shot back to the mound and off Baker's glove for an infield single. Chih-Hsien Chiang followed with another infield single to put two runners aboard, but Baker quickly extinguished the threat by getting Chih-Sheng Lin to ground into a double play on the very next pitch. Israel's offense took it from there, putting the game out of reach by the late innings.
It was a pair of strong starts by former Major Leaguer Jason Marquis (one earned run over three innings against Great Britain) and Baker (five scoreless innings against Brazil) that got Israel off to a quick 2-0 start in the WBC '17 qualifying tournament last fall in Brooklyn. That same formula has worked for Israel again here on the main stage. Marquis tossed three scoreless frames to open Israel's dramatic opening-game upset of South Korea, and Baker's follow-up Monday night has the upstart Israelis suddenly on the threshold of the second round -- a result few would have predicted coming into the tournament.
Best of all for Israel: Marquis threw less than 50 pitches against Korea, meaning he could be back Wednesday to try and pitch Israel past the Netherlands and into the second round. If the Israelis reach that unchartered territory, Baker will be ready to keep their momentum going.
The World Baseball Classic runs through March 22. In the U.S., games air live exclusively in English on MLB Network and on an authenticated basis via MLBNetwork.com/watch, while ESPN Deportes and WatchESPN provide the exclusive Spanish-language coverage. MLB.TV Premium subscribers in the U.S. have access to watch every tournament game live on any of the streaming service's 400-plus supported devices. The tournament is being distributed internationally across all forms of television, internet, mobile and radio in territories excluding the U.S., Puerto Rico and Japan. Get tickets for games at Marlins Park, Tokyo Dome, Gocheok Sky Dome in Seoul, Estadio Charros de Jalisco in Mexico, Petco Park, as well as the Championship Round at Dodger Stadium, while complete coverage -- including schedules, video, stats and gear -- is available at WorldBaseballClassic.com.