Crew relievers Knebel, Smith progressing
Brewers' bullpen could receive boost soon as pair works toward return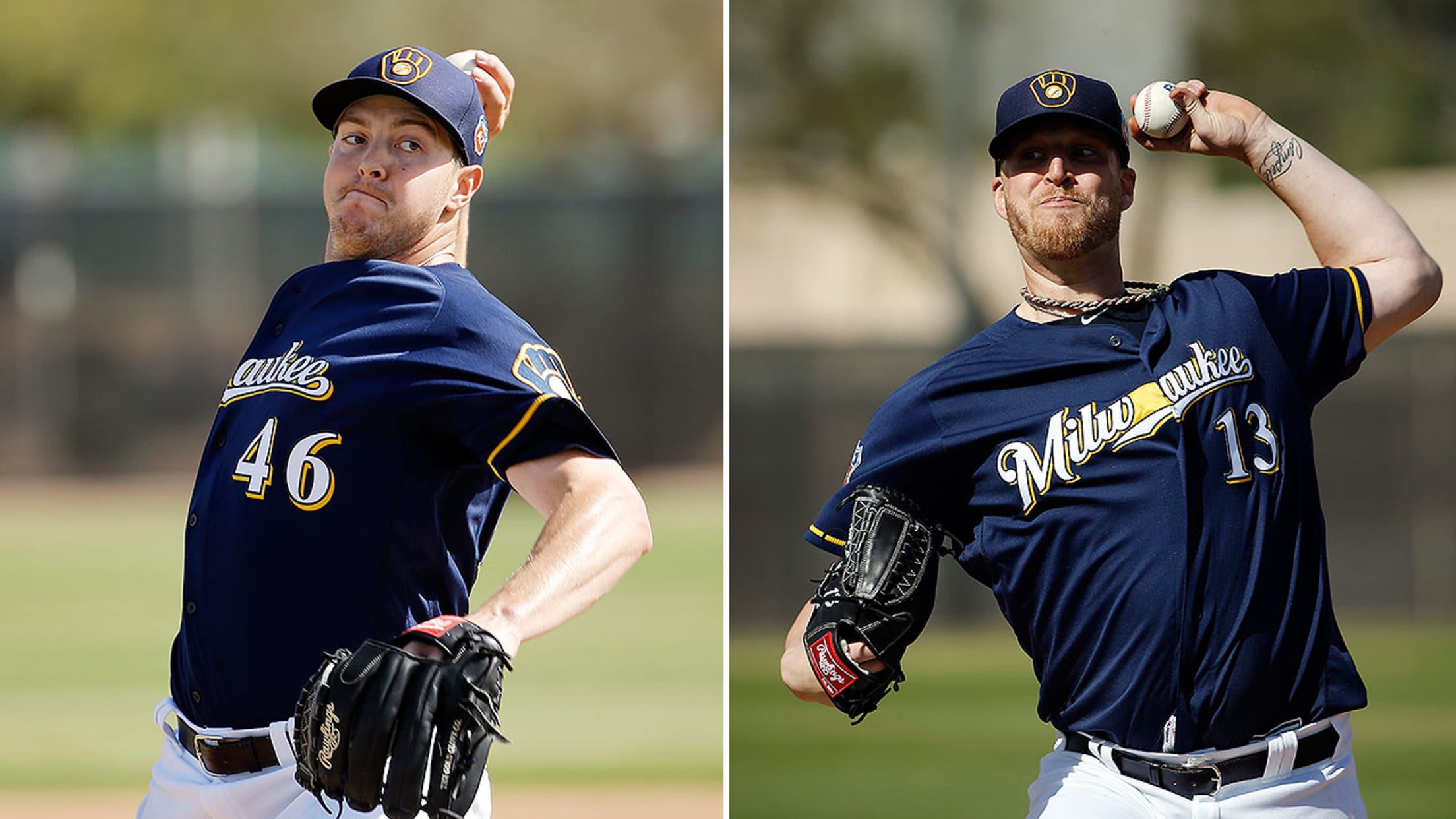 "I think it's going to be great when Will [Smith] and I get back," Corey Knebel said. (AP)
ATLANTA -- Brewers fans have grown quite accustomed to seeing the bullpen, but they are getting close to seeing something they haven't yet in 2016 -- the bullpen at full strength.Two injured members of the unit, Corey Knebel and Will Smith, took steps in that direction Tuesday. Knebel threw a
ATLANTA -- Brewers fans have grown quite accustomed to seeing the bullpen, but they are getting close to seeing something they haven't yet in 2016 -- the bullpen at full strength.
Two injured members of the unit, Corey Knebel and Will Smith, took steps in that direction Tuesday. Knebel threw a bullpen at Turner Field, where the Brewers opened a three-game series vs. the Braves with a 2-1 win, while Smith pitched for Class A Advanced Brevard in a rehab assignment, throwing a scoreless seventh inning against the Clearwater Threshers and allowing a hit and recording a strikeout.
"I would have been surprised if he gave up a run," Brewers manager Craig Counsell said. "I don't think he gave up a run in Spring Training, either. He's moving in the right direction. He's going to be a big add for us.
"It's exciting for him just to be out there. After this process, it's a tough one. It's a strange injury, freak injury to cost you two months of the season, basically. He, along with Corey and Matt [Garza], are fired up to get out there."
It's the third bullpen for Knebel, who went on the disabled list on April 1 with a left oblique injury suffered while closing out the March 31 spring game against Houston. He's also scheduled to throw a bullpen on Thursday, then live batting practice on Saturday at Miller Park prior to the game vs. Cincinnati.
"They're making progress," Counsell said. "We're getting there. There are still some hurdles to cross. It's obvious sending a guy to rehab's a big step, but we still have hurdles to cross."
Knebel, who had a 3.22 ERA in 48 games in 2015, was pleased with the progress he's made.
"The trainers did a great job," he said. "They said it was actually quicker than it was supposed to be."
Smith, who tore the lateral colateral ligament in his right knee five days earlier, requiring surgery, was slated to be co-closer coming off a superb 2015 season, during which he went 7-2 with a 2.70 ERA in a team-high 76 appearances.
The return of Knebel and Smith would be welcome for a relief corps that entered Tuesday night having thrown 148 2/3 innings with a .266 opposing batting average, but who had pitched to a respectable 3.87 ERA.
Knebel can't wait to join his mates.
"Our bullpen's been fantastic," he said. "That's one thing I really want to get back for, because the bullpen's been getting used a lot the first two months of the season. So I think it's going to be great when Will and I get back. Give people a break, give people some rest. They've done a fantastic job. They've been doing their job, getting outs. It'll be exciting to come back to that."
Jon Cooper is a contributor to MLB.com based in Atlanta.