Inbox: Does healthy rotation help Halos win 90?
Beat reporter Rhett Bollinger answers questions from fans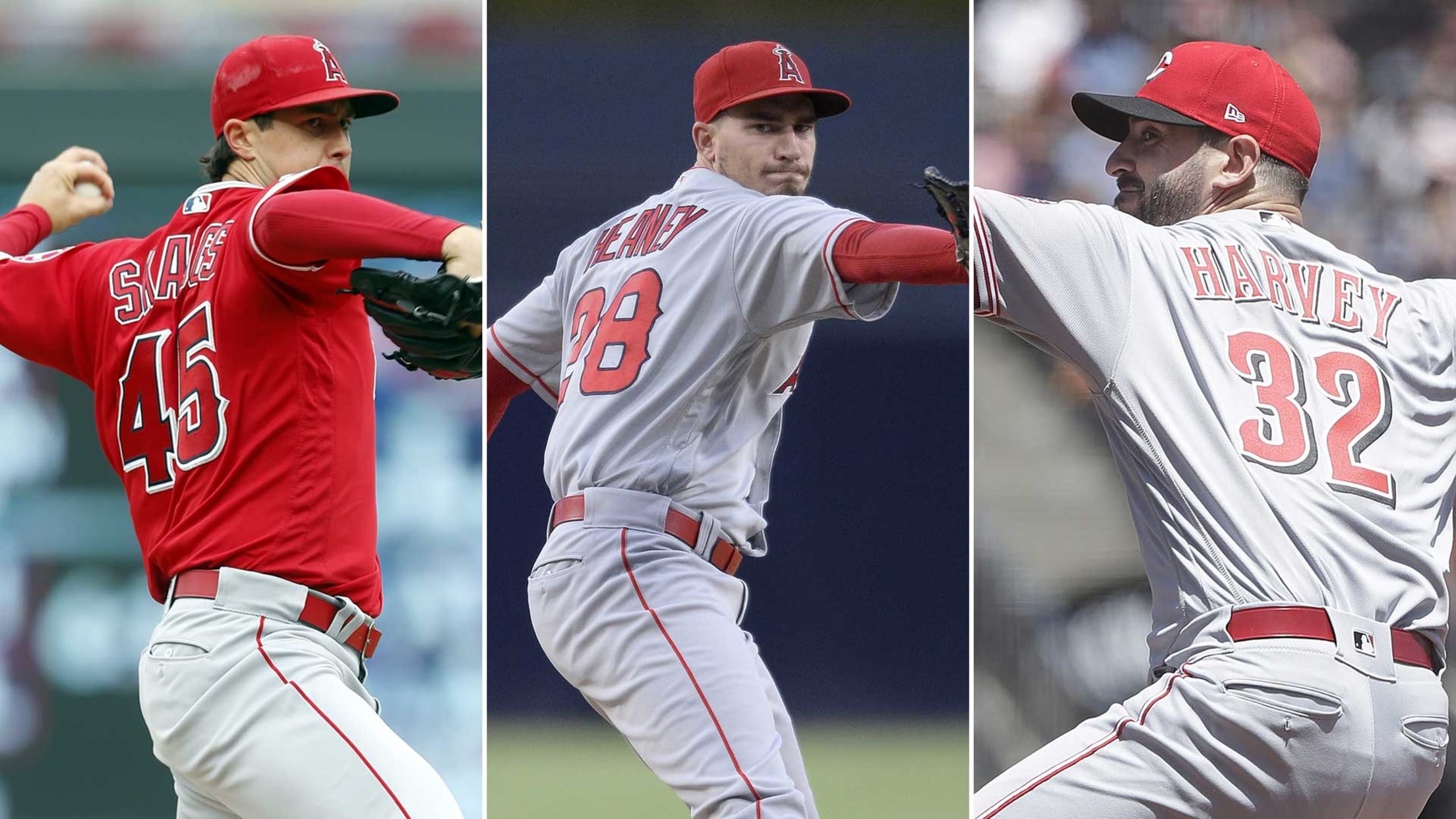 ANAHEIM -- Spring Training is nearly here, as Angels pitchers and catchers report to Tempe, Ariz., in less than two weeks on Feb. 12.The Angels believe they can contend for their first postseason berth since 2014, but a lot of things must break their way. The health of the rotation
ANAHEIM -- Spring Training is nearly here, as Angels pitchers and catchers report to Tempe, Ariz., in less than two weeks on Feb. 12.
The Angels believe they can contend for their first postseason berth since 2014, but a lot of things must break their way. The health of the rotation will be key, which brings us to this week's first question of the Angels Inbox:
If the pitching staff escapes injuries and return to average form, do you see this team winning 90 games?

— Charlie Hess (@chess73) January 30, 2019
Most projections currently have the Angels winning between 84-85 games, which puts them in a similar category with clubs such as the Twins, Rays and A's, who figure to compete for the second AL Wild Card spot. The Red Sox, Yankees, Astros and Indians are all projected to win at least 90 games, so they are the clear favorites for the first four postseason spots.
:: Submit a question to the Angels Inbox ::
Of course, these are just projections and games aren't played on paper, but the Angels will need more from their rotation this year to contend. Health will be important, as their four veterans in Tyler Skaggs, Andrew Heaney, Matt Harvey and Trevor Cahill have each dealt with injury concerns in recent years. The club does have some pitching depth, but they could have to heavily rely on youngsters such as Jaime Barria and possibly even prospects Griffin Canning and Jose Suarez.
Am I crazy to think Billy Eppler has put together a potential top 5-10 bullpen? The talent/potential of those arms seems high!

— David (@dsilva_714) January 30, 2019
It might be a little aggressive of a ranking, but the bullpen should be better than in 2018, when Angels relievers combined for a 3.92 ERA that ranked 13th in the Majors and a 4.32 FIP (Fielding Independent Pitching) that ranked 22nd. There are still a lot of "ifs" in the bullpen, much like the rotation, but there are some intriguing arms.
New closer Cody Allen still has a good strikeout rate, but is looking to bounce back after a down year, while Justin Anderson, Ty Buttrey, Hansel Robles, Cam Bedrosian, Luis García and Noé Ramirez figure to make up the core of the bullpen. There are a lot of hard throwers in that mix who can miss bats, but they lack a reliable lefty after trading José Álvarez to the Phillies for Garcia.
This morning, I read a rumor that the Angels are still involved in the free-agent reliever market. Any chance they add another arm in the bullpen, possibly a left-hander?

— Sean Simons (@SSimons618) January 30, 2019
It can't be ruled out, although the signing of Allen stretched the Angels' budget, according to general manager Billy Eppler. It would make some sense to add a lefty to the mix, even if it's a veteran they sign to a Minor League deal.
Available lefty relievers in free agency include Tony Sipp, Zach Duke, Jake Diekman, Xavier Cedeño, Aaron Loup and Dan Jennings. The Angels just have to weigh how much value they'd add to the staff compared to their current options.
does the lack of suitors for machado and Harper bode well for the angels to resign Mike in 2021? If teams aren't willing to spend more than 30m for Harper, surely no team will beat out what the halos will offer him (34m plus 41m freed up by Kole, simba and cozart contract expiry)

— Idaho Green (@idahogreenband) January 30, 2019
It's an interesting question, as the free-agent market has not played out as expected for Manny Machado or Bryce Harper and they both remain unsigned. It's been a continuation of a trend last offseason that has seen clubs more reluctant to sign players to mega-deals.
But Mike Trout is in a category of his own, and it's hard to imagine him not signing a record deal. The Angels would love to re-sign him before he becomes a free agent after the 2020 season to keep other clubs out of the equation, but it'll be up to Trout if he wants to test the market. Either way, Trout is so otherworldly talented that his situation is different than other star players.
Which Angels players are out of minor league options for the up anc coming season?

— Chris Chapman (@Chapdaddy76) January 30, 2019
It's always worth monitoring which players are out of Minor League options in Spring Training, especially if they are competing for a job, because it oftentimes factors into the club's decision-making for the Opening Day roster. Bedrosian, Garcia and Ramirez are out of options, meaning they must make the club out of Spring Training or else they will be exposed via waivers. JC Ramírez is also out of options, but he won't return until June or July after undergoing Tommy John surgery.
On the position-player side, catcher Kevan Smith is also out of options and he'll be competing for the backup catcher role with Jose Briceno, who can be optioned to the Minors.
Do you think Jo Adell makes it up this year?

— Winston Churchill (@dweinberger66) January 30, 2019
Center fielder Jo Adell is a prospect on the rise, as he was just ranked as the No. 14 overall prospect by MLB Pipeline and reached Double-A last year. But he's still only 19 years old and the Angels will be patient as he continues to make adjustments in the Minors.
There's a chance he could debut late this season, but it remains more likely he'll get called up in 2020. But he's definitely one to follow this year, as outside of Shohei Ohtani's brief No. 1 prospect ranking last year, he's the club's highest-ranked prospect since Trout.