Kimbrel to be ready even if he can't rejoin camp
Red Sox closer in Boston by daughter's side after heart surgery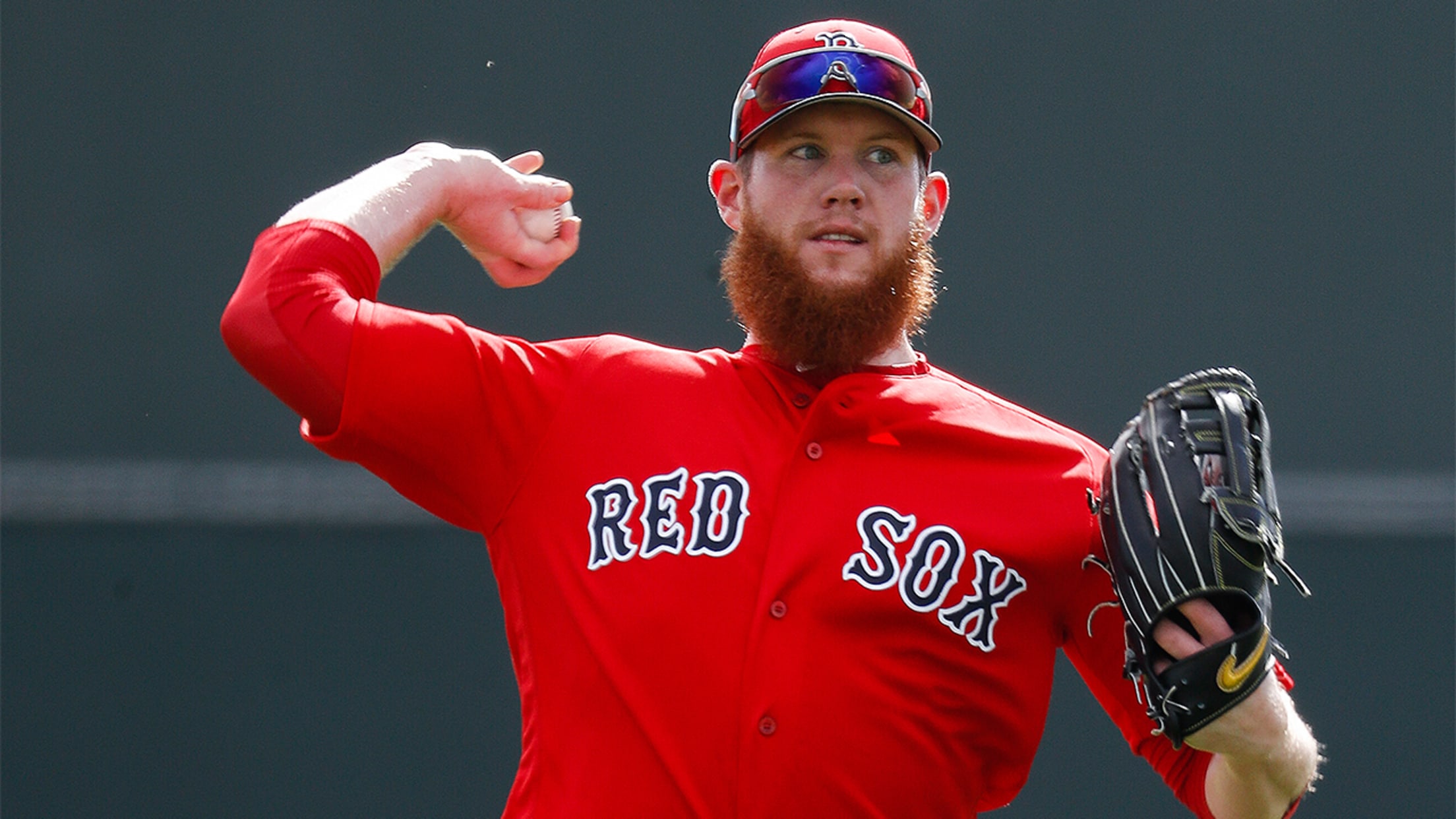 FORT MYERS, Fla. -- Red Sox manager Alex Cora said Friday that closer Craig Kimbrel will be ready physically for the start of the regular season regardless of whether he makes it back to Spring Training.Kimbrel has been in Boston for more than two weeks to be with his daughter
FORT MYERS, Fla. -- Red Sox manager Alex Cora said Friday that closer Craig Kimbrel will be ready physically for the start of the regular season regardless of whether he makes it back to Spring Training.
Kimbrel has been in Boston for more than two weeks to be with his daughter Lydia Joy, who underwent heart surgery.
The most important news is that Lydia, who was born with a heart defect, is making improvement.
:: Spring Training coverage presented by Camping World ::
"Yes, things are getting better," Cora said. "We're still waiting, but obviously, it's about Lydia. If she keeps improving, they'll make a decision as a family. Whatever they decide, we'll agree with. If he has to stay up there, he stays. If he comes down, he comes down."
Kimbrel, who has displayed a tireless work ethic when ramping up for a season, has been getting after it in Boston.
• Red Sox Spring Training info
"He threw a live B.P. yesterday," Cora said. "I just talked to Adam Thomas, one of the trainers. He feels that [Kimbrel] is actually in a better place as far as his strength and his arm than the previous years. So that's a good sign."
The Red Sox open their season at Tropicana Field against the Rays on March 29, giving Kimbrel nearly two more weeks to continue pitching in simulated situations in Boston or get into some games if he returns to Fort Myers.
The closer didn't enter a game before flying back to Boston.
Porcello tries to bottle finish
The most encouraging thing Rick Porcello took from his outing in Friday night's 4-2 win over the Twins was his fifth and final inning, when he mowed through the Twins efficiently with a strikeout of Jordan Pacheco, a groundout by Byron Buxton and a strikeout of Max Kepler.
"Continue to build off that last inning," Porcello said. "That was by far my best inning of the game and all spring. Continuing to build off that, get better early in the game and get the pitch count up."
Overall, Porcello allowed four hits and two runs, walking two and striking out five.
"Like with David [Price] and Chris [Sale], right where we want them to be," Cora said. "Five innings, especially the way he threw that last inning, we're very pleased the way he performed tonight."
With two starts left in Spring Training, Porcello is encouraged with his arm strength.
"Yeah, I feel good," Porcello said. "I'm throwing all two-seamers, and that's a pitch that, velocity isn't a huge factor for me. It's about late movement and location. So the ball feels like it's coming out good. I've only looked up at the board a couple times, and it's not anything I'm focused on right now. If I'm throwing four-seamers, I want to be up there in the low-to-mid 90s, but with the sinker it's all about the movement and location."
Porcello Under the Lights:
5.0 IP, 4 H, 2 R, 2 BB, 5 SO pic.twitter.com/ACFhhxa8Uz

— Boston Red Sox (@RedSox) March 17, 2018
Mookie to get looks in center
Look for the Red Sox to do some tweaking in the outfield over the next few days, including Mookie Betts playing center field for the first time since 2015.
Betts, who has been a Gold Glove right fielder the past two seasons, could play in center at times on the road when Jackie Bradley Jr. gets a day off. That would allow J.D. Martinez to play in right.
In home games, Martinez will likely be limited to left field when he is not at DH. Andrew Benintendi would shift to center in those instances, with Betts remaining in right.
Betts started 130 games in center in 2015.
"He told [outfield coach Tom Goodwin] the other day, 'I'm good in center, don't worry about it.' I've had that conversation with him. He's willing to do whatever's best for the team," Cora said. <p.></p.>
<p.>Pitching plans
The Red Sox continue to get good news on the health front. Left-hander Thomas Pomeranz, who incurred a mild flexor strain in his left forearm on March 2, will throw two innings in a "controlled" Minor League game on Sunday. Pomeranz might be able to pitch in two more games before the regular season starts, but he still seems likely to open the year on the disabled list. </p.>
Knuckleballer Steven Wright, who had a cartilage restoration procedure on his left knee on May 8, will throw three innings of live batting practice on Saturday.
Up next
Right-hander Brandon Workman and lefty Bobby Poyner, who are both battling for spots in the bullpen, will see action in Saturday's 1:05 p.m. ET game against the Rays (watch live on MLB.TV). Righty Matt Barnes, one of the top members of Cora's setup crew, will also get some work. Right-hander Justin Haley, who is expected to open the season in the Minor Leagues, will get a start.