Is Kimbrel race down to these two teams?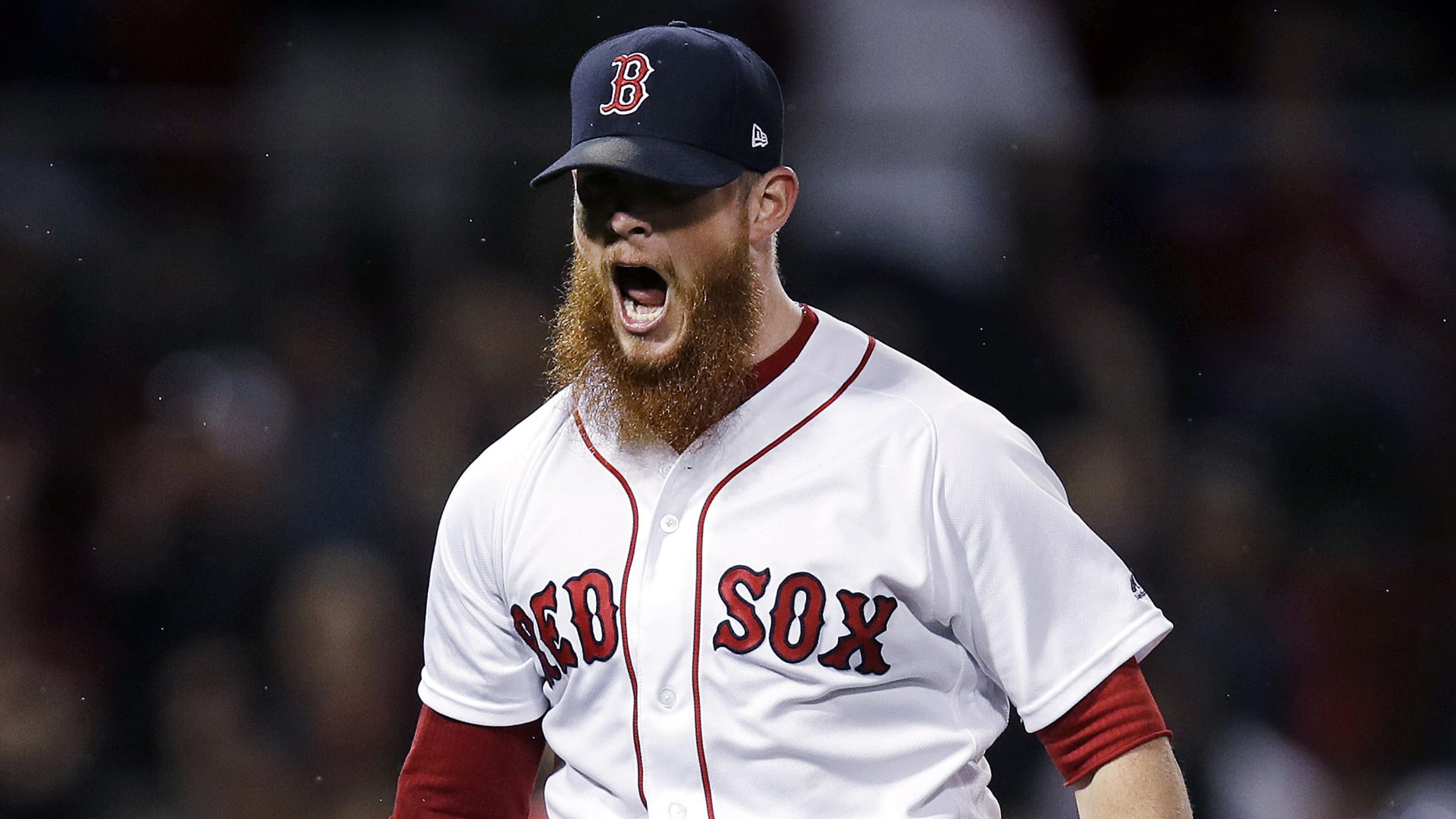 Closer Craig Kimbrel has compiled an impressive resume during his nine seasons in the big leagues, recording a microscopic 1.91 ERA with a 0.92 WHIP, 333 saves and a 14.7 K/9 rate. Below you will find a list of the latest news and rumors surrounding the right-hander, who remains unsigned.
Closer Craig Kimbrel has compiled an impressive resume during his nine seasons in the big leagues, recording a microscopic 1.91 ERA with a 0.92 WHIP, 333 saves and a 14.7 K/9 rate. Below you will find a list of the latest news and rumors surrounding the right-hander, who remains unsigned.
Kimbrel race may be down to Brewers, Braves
March 22: While the Brewers may be the favorites to land closer Craig Kimbrel after Corey Knebel went down with UCL damage in his right elbow, another club remains in the mix.
According to David O'Brien of The Athletic, the Braves are still in on Kimbrel. O'Brien hears that those are the only two clubs involved at the moment.
#Braves are still in on Kimbrel. From what I hear, it's between Milwaukee and Atlanta barring a late entry. If Braves could get him, their bullpen would from major question mark to solid in a hurry.

— David O'Brien (@DOBrienATL) March 22, 2019
The Braves are an obvious fit for Kimbrel. The club has an inexperienced bullpen, and A.J. Minter (shoulder) and Darren O'Day (forearm) are both expected to open this season on the injured list. Arodys Vizcaino projects to be the team's closer on Opening Day, but he has dealt with persistent injury problems of his own in the past. Kimbrel spent the first five seasons of his career in Atlanta.
The extent of Atlanta's interest is unclear, however, as MLB.com's Mark Bowman has heard that the Braves have not made any offers to Kimbrel.
The Braves have not made any offers to Kimbrel https://t.co/YAek4aRVrm

— Mark Bowman (@mlbbowman) March 22, 2019
As for the Brewers, Knebel may need Tommy John surgery, and Jeremy Jeffress (shoulder) is also sidelined. Signing Kimbrel would allow the club to keep Josh Hader in the same role as last season, using him when high-leverage situations arise rather than limiting the left-hander to the ninth inning.
The National League Central and East are shaping up to be two of the most competitive divisions in baseball, and Kimbrel would be a major factor in either race if he signs with one of those two teams.
Knebel's injury makes Crew obvious fit
March 21: If it wasn't already clear that Kimbrel could bolster the Brewers' bullpen, Thursday's news that presumed closer Corey Knebel is dealing with an elbow issue makes Kimbrel's fit with Milwaukee even more obvious.
Knebel will have his elbow examined Thursday, with Brewers manager Craig Counsell telling reporters that there is "reason for concern" about the righty's status. Fellow reliever Jeremy Jeffress has battled his own shoulder ailment this spring and will not be ready by Opening Day, placing even further pressure on Josh Hader to repeat his otherworldly performance from 2018.
Hader has the ability to do that, but adding Kimbrel would certainly take some of that pressure off -- though Kimbrel might not be ready to pitch on Opening Day, either. MLB.com's Adam McCalvy notes that this wouldn't be the first time that Milwaukee added a bullpen reinforcement just before the season starts.
Brewers love using Josh Hader in a flexible, multi-inning role, but Jeffress/Knebel down could force an altered strategy. Other options for the ninth right now begin with Albers, Barnes, Guerra. Notable: David Stearns has added a reliever at the end of camp three straight years.

— Adam McCalvy (@AdamMcCalvy) March 21, 2019
Report: Brewers talks with Kimbrel are serious
March 20: MLB Network insider Jon Heyman reports that the discussions between the Brewers and Craig Kimbrel are "pretty serious." The Brewers had a 3.47 bullpen ERA last season, second-best in the National League behind the division rival Cubs (3.35). Milwaukee beat Chicago in Game 163 last year to take the NL Central crown. The club hasn't won back-to-back division titles since joining the National League in 1998.
Report: Brewers talking to Kimbrel
March 19: Although the Brewers already have one of the strongest bullpens in the National League and added Josh Fields on a Minor League deal Tuesday, the club might not be done improving its relief corps.
According to MLB Network insider Ken Rosenthal, Milwaukee is talking to free agent Craig Kimbrel.
#Brewers talking to free-agent closer Craig Kimbrel, sources tell me and @ByRobertMurray.

— Ken Rosenthal (@Ken_Rosenthal) March 20, 2019
Kimbrel would give the Brewers another dominant bullpen arm to go with Josh Hader, Corey Knebel and Jeremy Jeffress, among others, and provide the club with some insurance in case Jeffress' right shoulder issue proves to be more severe than expected.
The Brewers split closer duties among Hader, Knebel and Jeffress in 2018, with the trio combining for 43 saves.
After winning the National League Central and taking the Dodgers to Game 7 in the NLCS last season, Milwaukee made a couple big splashes in the offseason, signing Yasmani Grandal and bringing back Mike Moustakas. Could they cap it off by adding Kimbrel?
What do the fans think?
March 13: Who will sign Kimbrel?
It's one of the last lingering questions from the Hot Stove, and MLB Trade Rumors sought fans' opinions Wednesday with a poll that included all 30 MLB clubs -- just in case the ultimate dark horse emerges late in the race.
The Braves were the clear choice of the fans as of 2 p.m. ET, garnering 17 percent of the fan vote, followed by the Red Sox, Cubs, Phillies and Cardinals. That represents many of the perceived frontrunners for the All-Star closer, with the Cubs' case bolstered by Pedro Strop's recent hamstring strain that could jeopardize his status for Opening Day. The Nationals were further down the poll, in eighth place, and Washington's general manager Mike Rizzo reiterated to MLB.com Wednesday that the club's ownership "wants to stay under" the $206 million competitive balance tax threshold -- which would in all likelihood knock them out of consideration for Kimbrel.
Could Kimbrel sit out until June?
March 11: With Opening Day just 17 days away for most Major League clubs, time is of the essence for Kimbrel. Or is it?
In a column for The Athletic published Monday, MLB Network insider Ken Rosenthal wonders if Kimbrel and his agent, David Meter, would consider holding out until after the MLB Draft in early June. The point of a holdout would be for Kimbrel to shed the Draft pick compensation attached to him by way of rejecting the Red Sox's one-year, $17.9 million qualifying offer last November. If Kimbrel re-entered the Hot Stove discussion in mid-June, contenders might be more interested in simply paying an expensive one-year prorated salary to the All-Star closer (in perhaps the neighborhood of $20 million) instead of dealing away top prospects to acquire a different reliever at the July 31 non-waiver Trade Deadline. Kimbrel could then re-enter free agency next offseason without Draft compensation concerns, and he would figure to be a top dog again in the reliever market.
Of course, Kimbrel would still likely prefer to sign a contract before Opening Day, but there has been little public movement from three of his biggest potential suitors in the National League East. The Nationals seem unwilling to surpass the competitive balance tax threshold to sign Kimbrel, Rosenthal notes, while the Braves are more interested in a shorter contract and the Phillies might be hesitant to splurge any further after an expensive offseason. The Red Sox also appear to have moved on from their former closer. Last year, fellow closer Greg Holland wound up signing a $14 million contract right on Opening Day that was ultimately less than the qualifying offer he rejected from the Rockies. Kimbrel is surely looking to avoid the same fate.