China takes Classic stage vs. motivated Cuba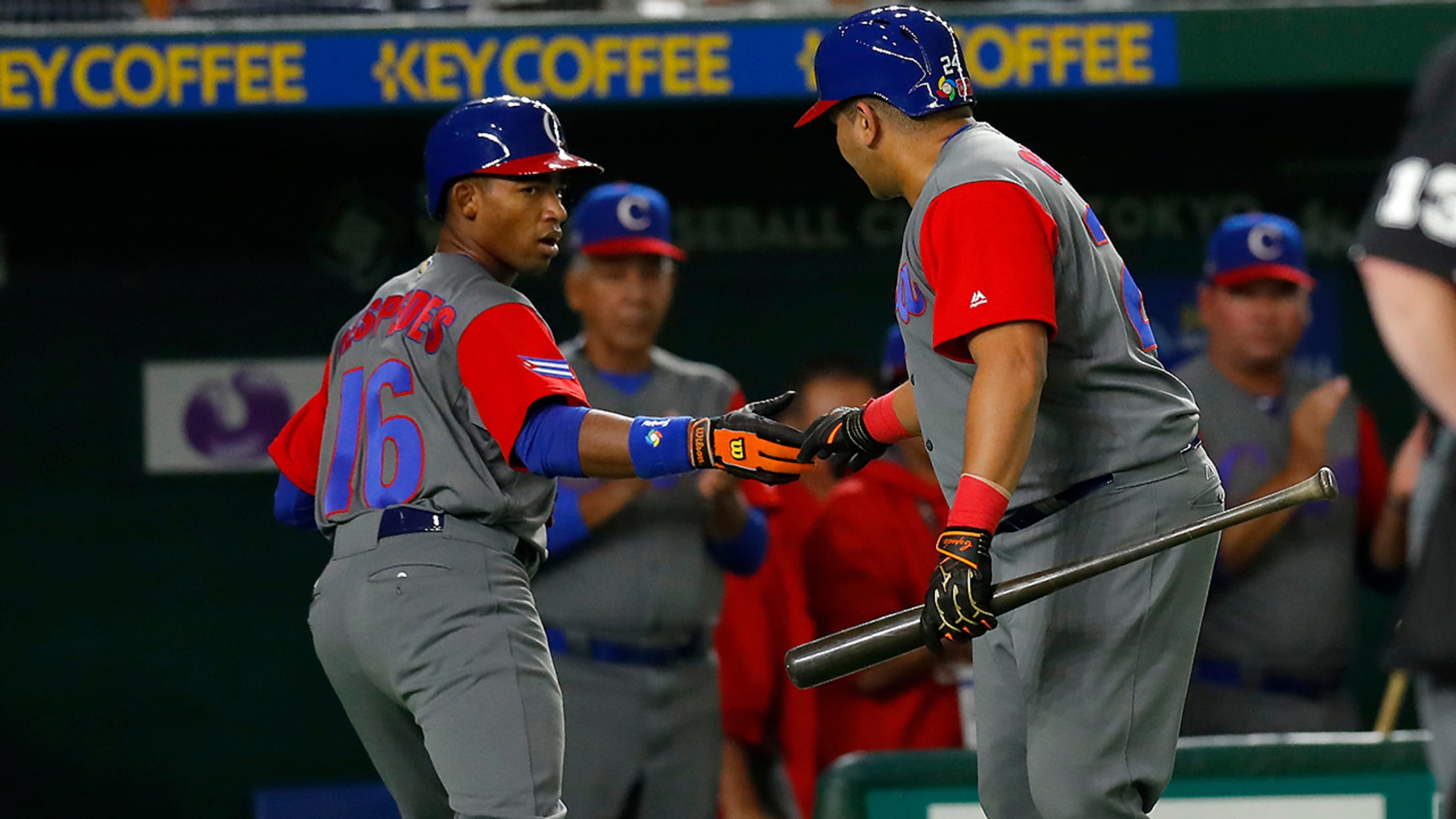 Yoelqui Cespedes (No. 16) went 3-for-4 in Cuba's opening-game loss to Japan on Tuesday. (Yuki Taguchi/WBCI/MLB Photos) (Yuki Taguchi/Getty Images)
The World Baseball Classic continues Tuesday night in Tokyo, with China making its debut against a Cuban team looking to rebound from its opening-game loss to Japan.First pitch at the Tokyo Dome is slated for 10 p.m. ET, live on MLB.TV and MLB Network.Cuba manager Carlos Marti will give the
The World Baseball Classic continues Tuesday night in Tokyo, with China making its debut against a Cuban team looking to rebound from its opening-game loss to Japan.
First pitch at the Tokyo Dome is slated for 10 p.m. ET, live on MLB.TV and MLB Network.
Cuba manager Carlos Marti will give the ball to National Series veteran Bladimir Banos, while longtime Major Leaguer Bruce Chen will start for China.
:: 2017 World Baseball Classic ::
While Cuba is looking to bounce back from an 11-6 defeat at the hands of Japan, China is trying to play spoiler and pick up a first-round victory for the third Classic in a row. The Chinese team has struggled historically in the World Baseball Classic, coming into Tuesday with a 2-7 overall record.
3 things to know about this game
• Cuban power hitter Alfredo Despaigne is a fan favorite in Japan, where he has played the past three seasons with the Chiba Lotte Marines. Despaigne was 2-for-4 with a home run in the opener.
• Chinese catcher Wei Wang hit the first home run in the Classic's history in 2006.
• Cuban outfielder Yoelqui Cespedes is the younger half-brother of Mets star Yoenis Cespedes. He was 3-for-4 in Cuba's first game.
The World Baseball Classic runs through March 22. In the U.S., games air live exclusively in English on MLB Network and on an authenticated basis via MLBNetwork.com/watch, while ESPN Deportes and WatchESPN provide the exclusive Spanish-language coverage. MLB.TV Premium subscribers in the U.S. have access to watch every tournament game live on any of the streaming service's 400-plus supported devices. The tournament is being distributed internationally across all forms of television, internet, mobile and radio in territories excluding the U.S., Puerto Rico and Japan. Get tickets for games at Marlins Park, Tokyo Dome, Gocheok Sky Dome in Seoul, Estadio Charros de Jalisco in Mexico, Petco Park, as well as the Championship Round at Dodger Stadium, while complete coverage -- including schedules, video, stats and gear -- is available at WorldBaseballClassic.com.