Cubs first-rounder stops No. 1 team in CWS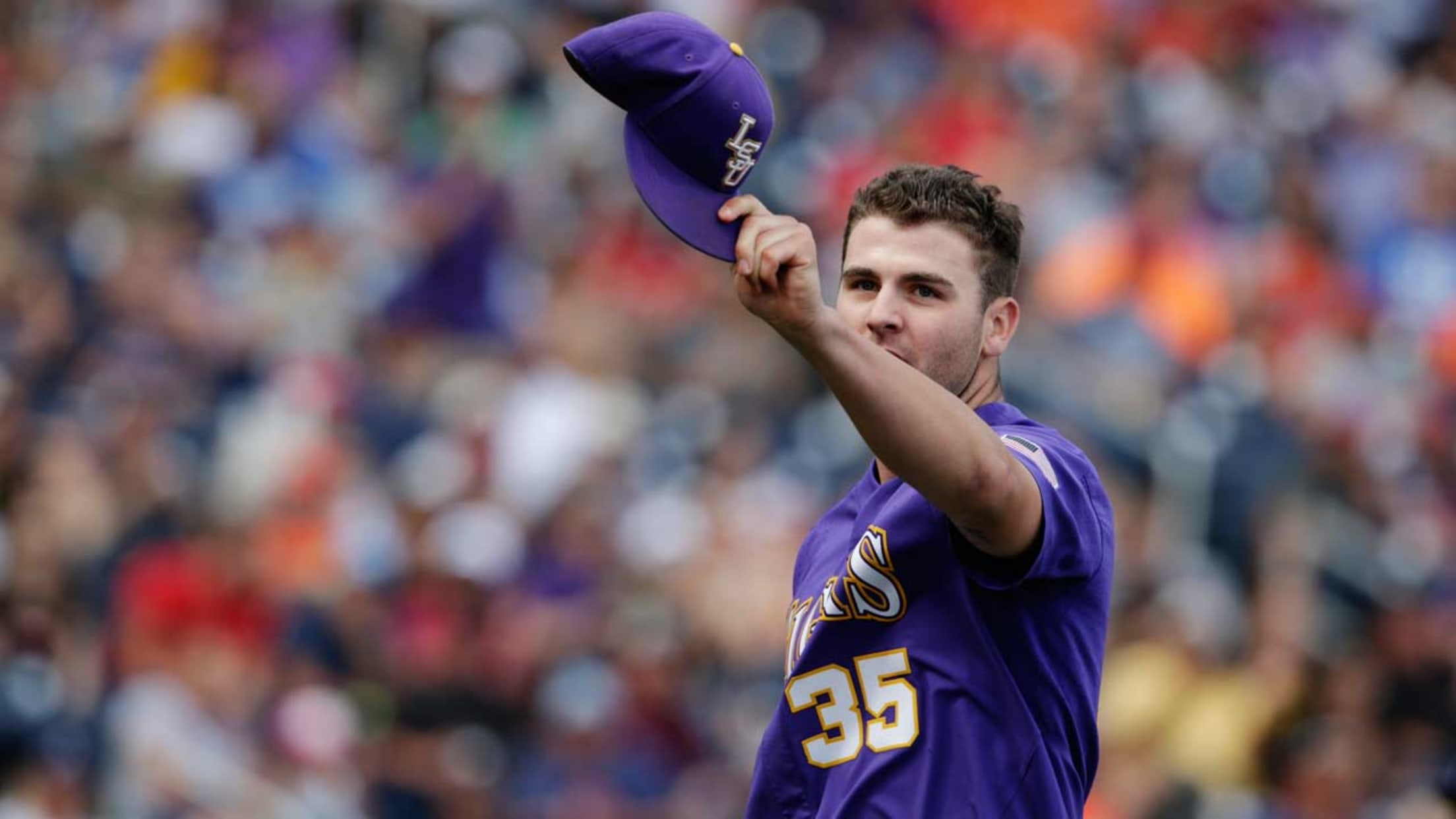 LSU pitcher Alex Lange (35), a Cubs first-round pick 11 days ago, gestures as he leaves the game Friday during the eighth inning of an NCAA College World Series baseball game against Oregon State in Omaha, Neb. (AP)
OMAHA, Neb. -- Alex Lange has pitched and won a lot of significant games in his three years at Louisiana State, but none more significant than Friday afternoon.Other than a third-inning jam, the junior right-hander breezed through 7 1/3 innings of a 3-1 win over No. 1 national seed Oregon
OMAHA, Neb. -- Alex Lange has pitched and won a lot of significant games in his three years at Louisiana State, but none more significant than Friday afternoon.
Other than a third-inning jam, the junior right-hander breezed through 7 1/3 innings of a 3-1 win over No. 1 national seed Oregon State, which had won 23 straight games and is chasing the best winning percentage in NCAA Division I history. A first-round pick by the Cubs (No. 30 overall) 11 days ago, Lange allowed one run on two hits and four walks while striking out eight, saving the Tigers from elimination at the College World Series.
"This is why I came to LSU, to play in these big games," Lange said. "And keeping your team in the ballgame and keeping the season alive is pretty awesome."
The Tigers (51-18), the No. 4 national seed, will face the Beavers (56-5) again on Saturday to determine who advances to the best-of-three championship series, which begins Monday. LSU will start sophomore right-hander Caleb Gilbert (6-1, 2.29 ERA), and Oregon State will counter with redshirt sophomore righty Drew Rasmussen (3-0, 0.79 ERA), a supplemental first-round selection by the Rays.
Even with the loss, the Beavers' .918 winning percentage exceeds the current mark of .914 set by Arizona State in 1972. They pummeled the Tigers, 13-1, on Monday but had their worst offensive performance of the season against Lange and freshman right-hander Zach Hess, mustering just the lone run and two hits. Hess closed the game out by striking out four of the five batters he faced, finishing by catching freshman DH Tyler Malone looking at a 94-mph fastball.
Lange threw 115 pitches, 69 for strikes, while improving to 10-5 this season and 30-9 for his career. He became the second pitcher in LSU history to reach 400 strikeouts, boosting his total to 406, three shy of the school record held by Scott Schultz. Lange recorded five of his whiffs with his fastball, which sat at 91-93 mph in the early innings and featured good run throughout, and three with his trademark curveball.
It was the third CWS start of Lange's career. He pitched a complete-game six-hitter to beat Cal State Fullerton in an elimination game as a freshman, and wasn't as sharp while giving up four runs in six innings in a no-decision against Florida State last Saturday.
"I felt confident about Alex's ability to go out there today and pitch a gem," Tigers coach Paul Mainieri said. "He usually does that. After a less-than-stellar performance, which I think he would admit last week was, Alex never loses confidence. He just works and gets prepared and turns the page very quickly. This is why I think he's going to be an outstanding professional pitcher.
"He's got a short memory when things don't go well, and then he goes out there the next game and just pitches his heart out. He was obviously the key to the ballgame."
Lange got some help in the second inning, when Oregon State mustered its only rally. With two runners on and one out, sophomore center fielder Steven Kwan drove a ball down the left-field line that hit the foul stripe on the wall on the fly. Third-base umpire Danny Collins ruled the ball foul, however, and although he was crew chief, he did not call for a review. Kwan subsequently popped out and though the Beavers scored a run on a bases-loaded walk, they might have had a much bigger inning.
Oregon State coach Pat Casey said he couldn't see the ball from his vantage point in the third-base dugout but still should have sought a review.
"My understanding from the NCAA is the crew chief should have asked for a review," Casey said. "But I can ask for a review, and I didn't. And I should have. That's on me. I should have asked for the review."
LSU handed NCAA wins leader Jake Thompson (14-1), a Red Sox fourth-rounder, his first loss of the season. Freshman Josh Smith opened the scoring with an RBI single as part of a two-run second inning, then provided some insurance with a solo homer over the right-field bullpen in the seventh. Another freshman, center fielder Zach Watson, went 3-for-3 with a walk and is now batting .500 in Omaha.
In the other semifinal tonight, No. 3 national seed Florida (49-18) faces No. 6 national seed Texas Christian (49-17). The Gators would move on to the championship series with a victory, and the Horned Frogs need a win to force a rematch Saturday evening.