Cubs-Astros series sure to raise roof at MMP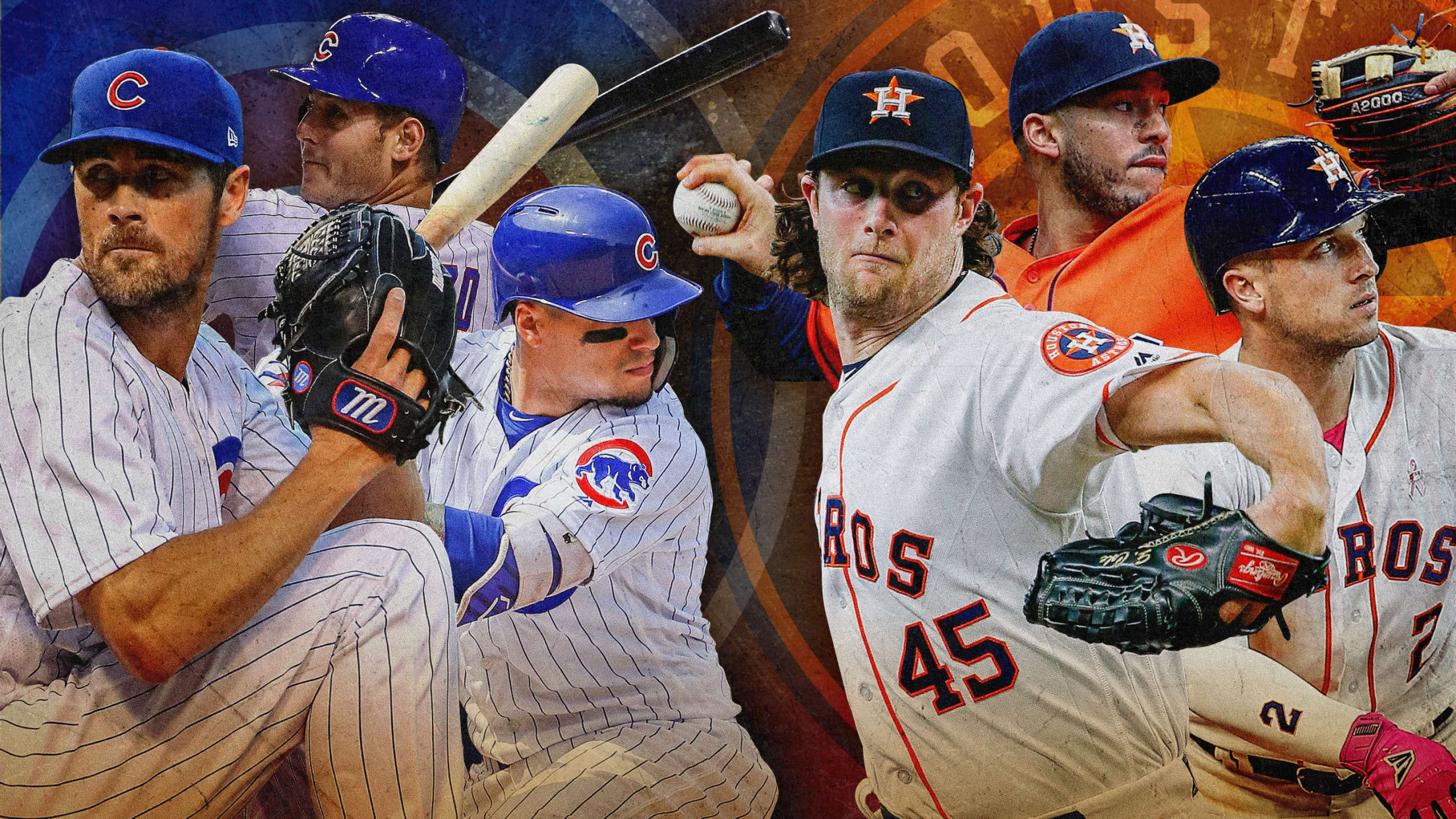 The Cubs will travel to Houston beginning Monday for a three-game series against the Astros, who are coming off a series win against the Red Sox. This series will pit the 2016 World Series champs against the '17 World Series champs. To get the pulse on each team heading into
The Cubs will travel to Houston beginning Monday for a three-game series against the Astros, who are coming off a series win against the Red Sox. This series will pit the 2016 World Series champs against the '17 World Series champs. To get the pulse on each team heading into the series, we asked our beat writers from both clubs – Brian McTaggart on the Astros and Jordan Bastian on the Cubs -- to weigh in. Here's their exchange ahead of Monday's 1:10 p.m. CT series opener:
Bastian: In his previous start, Cole Hamels faced Cole Irvin in the first Cole vs. Cole matchup in MLB history. On Monday, it will be Cole vs. Hamels in Houston! Name oddities aside, the Cubs plan on sending Hamels to the hill, followed by lefty Jon Lester (Tuesday) and right-hander Kyle Hendricks (Wednesday) in this series. That means Houston will surely see a steady stream of lefty cutters in the first two games, as Hamels (18.3 percent) and Lester (35.2 percent) rely a lot on that pitch. Chicago pitchers can get their strikeouts, but this staff is really reliant on inducing weak contact. How does that approach align with the Astros?
McTaggart: The Astros lead the Majors in OPS against lefties and thrive off hard contact, though the only Houston batters to hit .300 or better against cutters thrown by lefties since the start of last season are Tony Kemp (.300), Michael Brantley (.333) and José Altuve (.500), who's on the disabled list and could return in time for Tuesday's game. The Astros have a right-handed-dominant lineup (even with George Springer out for a few weeks), and even their two prominent lefties -- Brantley and Josh Reddick -- have fared well against lefties this year.
So, Jordan, Gerrit Cole has become a different pitcher since coming to Houston prior to the 2018 season. He's ditched the two-seamer and relies more on a four-seamer to combat launch angle while depending more, too, on his breaking pitches. The Cubs have seen him quite a bit through the years while he was with the Pirates, but I'm curious how they'll approach a revamped Cole when facing him Monday?
Bastian: As has been a theme this season, I'd expect the Cubs to be hunting for the fastball with the goal of adjusting to breaking balls with an opposite-field approach. Entering Sunday, Chicago led the Majors with a .688 slugging percentage to the opposite field. That includes a .647 SLG (second in MLB) going the other way against right-handers. That said, the figure drops to .468 against right-handed breaking balls (all types). No matter the direction of the batted ball, Chicago has a .394 SLG against righty breaking pitches, which is middle-of-the-pack. If Cole plans on elevating four-seamers, well, Chicago had a .565 SLG (fifth in MLB) against that pitch in the upper-third of the zone, per Statcast, through Saturday.
You mentioned that Altuve could be back during this series. The only sidelined player for the Cubs who is on the cusp of returning is Pedro Strop, who is on the injured list with a left hamstring issue. He is traveling to Houston, where he will throw another bullpen session. It seems unlikely he'll be back for the Astros series, so Chicago will keep going with a closer-by-committee approach. Are there any other injuries impacting Houston's roster for this series?
McTaggart: Left hamstring injuries must be in style. The Astros have been hit hard by injuries in the past 10 days. The most significant is the loss of Springer to a Grade 2 left hamstring strain on Friday. He was a front-runner in the American League MVP race and a force at the top of the order. He will be out along with backup catcher Max Stassi, who strained his left hammy on Saturday. Aledmys Díaz, who had been starting in place of Altuve at second base, aggravated his left hamstring Sunday and is likely headed for the IL.
The Cubs and Astros used to be pretty intense rivals in the National League Central. The Astros clinched the NL Central against the Cubs in 1997, Kerry Wood tied a Major League record when he struck out 20 Astros at Wrigley Field in '98 and there was a bench-clearing dust-up or two between them in the mid-2000s when they were contending for division titles. But this is an Interleague matchup now and because they will play in an American League park this week, what are the Cubs' plans for the designated hitter?
Bastian: Having the DH available in Houston actually played a role in Cubs manager Joe Maddon giving backup catcher Victor Caratini consecutive starts this past weekend. The idea was to give starting catcher Willson Contreras a bit of a break in order to log four games in a row (Sunday vs. the Reds and all three in Houston). Contreras will probably catch twice and serve as the DH once. Kyle Schwarber would also be an option. Maddon may also opt to give Javier Báez's legs a break, especially since he recently dealt with a heel issue. Besides Contreras, there are a few different ways Maddon could approach it. Earlier this year in Seattle, Kris Bryant was slotted in as the DH, but Bryant is still being evaluated after colliding with Jason Heyward in the outfield on Sunday. His status for the Houston series will be updated before Monday's game.
Maybe this could be a World Series preview? The city of Chicago already enjoyed one World Series against the Astros when the White Sox won in 2005. I don't think this Cubs team is as strong as the '16 version that won it all, but it looks like contender in a very deep NL Central this year. How do you think this season's version of the Astros stacks up with the past few years?
McTaggart: The Astros are every bit as good as they were when they won the World Series in 2017, and last year when they won a club-record 103 games.
It's going to come down to health. They have already been without Altuve for a couple weeks and will miss Springer for a month or so. If they hit the playoffs at full-strength like they did two years ago, they will be tough to beat. Their rotation isn't as strong as last year, but the lineup is deeper with addition of Brantley, and having Ryan Pressly and Roberto Osuna at the back of the bullpen means they can shorten games. It should be a fun series.