Baez brings new glove to Spring Training
Infielder preparing for World Baseball Classic, new season with Cubs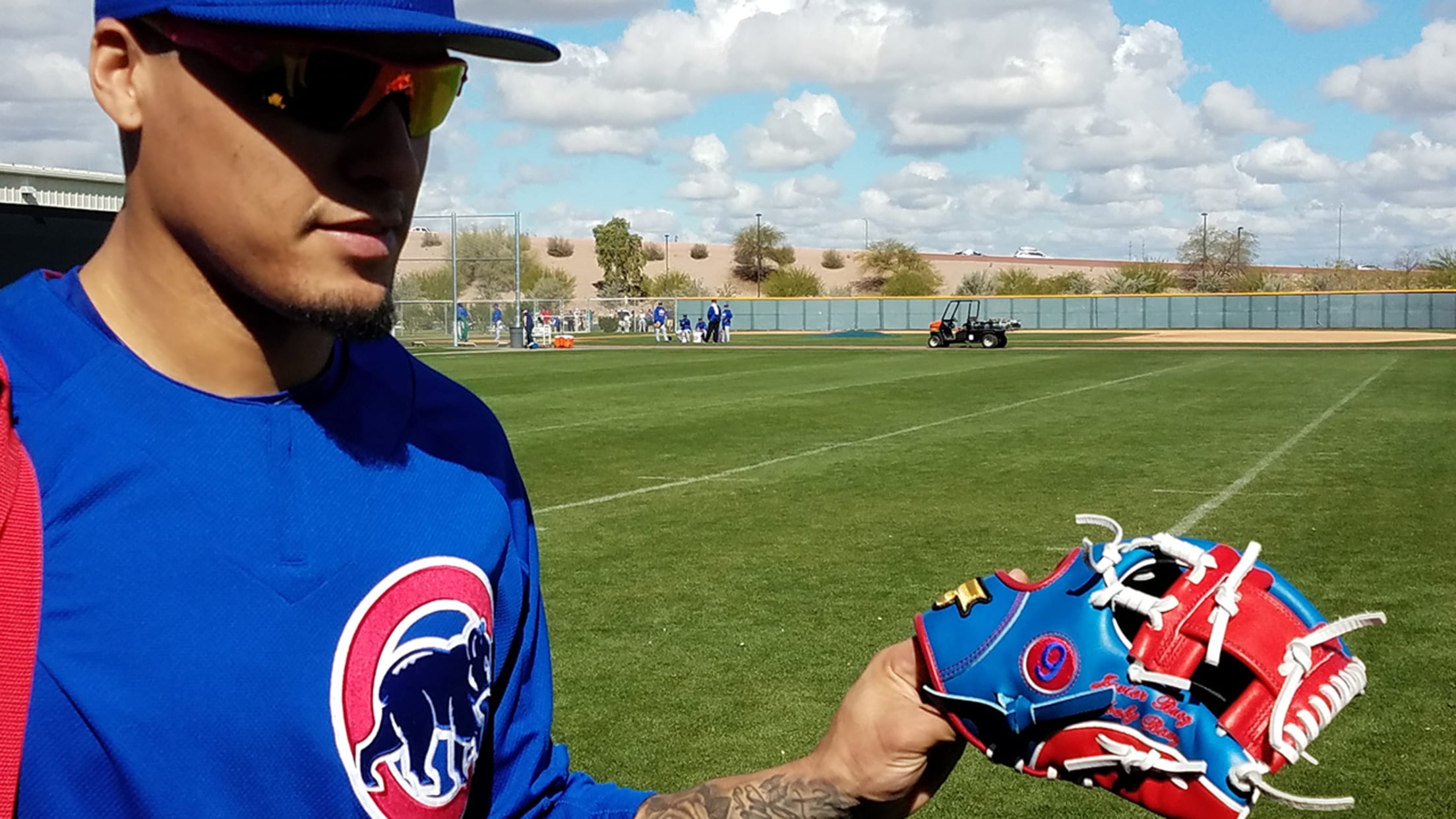 Javier Baez shows off his new glove he'll use for the World Baseball Classic. (Carrie Muskat/MLB)
MESA, Ariz. -- Javier Baez has a new glove, designed specifically for the World Baseball Classic in Puerto Rico's colors of red, white and blue. Cubs manager Joe Maddon probably wouldn't be surprised to see some chrome on it, too.Maddon emphasizes having players "make the routine plays routinely" without any
MESA, Ariz. -- Javier Baez has a new glove, designed specifically for the World Baseball Classic in Puerto Rico's colors of red, white and blue. Cubs manager Joe Maddon probably wouldn't be surprised to see some chrome on it, too.
Maddon emphasizes having players "make the routine plays routinely" without any "chrome." Anyone who has seen Baez play knows that if he was a sports car, he'd have plenty of bright and shiny chrome.
:: 2017 World Baseball Classic ::
"Javy comes from a different background and he has a flare about his game," Maddon said. "I don't necessarily want to subtract that, but have him understand the routine stuff has to be done routinely well. I think as his game continues to develop and mature, you'll see him make less mistakes, whether it's [in the field] or on the bases."
Benjamin Zobrist, who was bumped from second base to the outfield, understands how talented Baez is.
"He's such an elite defender, you have to have him in there," Zobrist said. "You have to feel good about that as a team guy.
"Last year, I played second for the first half of the year and then I moved around in the second half," Zobrist said. "I kind of expect that. If there are injuries or things, there are times when I will get entrenched in one position a little longer. When you have guys rise to the occasion who play certain positions, I could be moved around, too. That's Javy last year at the end of the season and in the postseason. He did such a phenomenal job for us, we have to get him in there. He's such an elite defender. Wherever you put him and makes sense for the team, I have to be ready for."
Baez, 24, has learned a lot from Zobrist, 35. Last spring, Baez asked the super-utility veteran how he prepared for different positions.
"It was the same way I was doing it -- during [batting practice], go out there and shag and take ground balls, just look at the angle that the ball's going to be in and be ready for it," Baez said.
But Baez also noted Zobrist has more pregame work to do as an older player.
"I can just get to the field and be ready to go," Baez said.
And Zobrist?
"I feel like I need a month and a half to get ready for the season," Zobrist said about the difference between himself and his young teammates. "I know if I do the right things that I need to do and take care of the rest part of Spring Training, too, I'll be ready to go in April."