'Carl's Jr.' letting colorful cleats do talking
Cubs' Players Weekend duds feature nicknames, patches honoring path to big leagues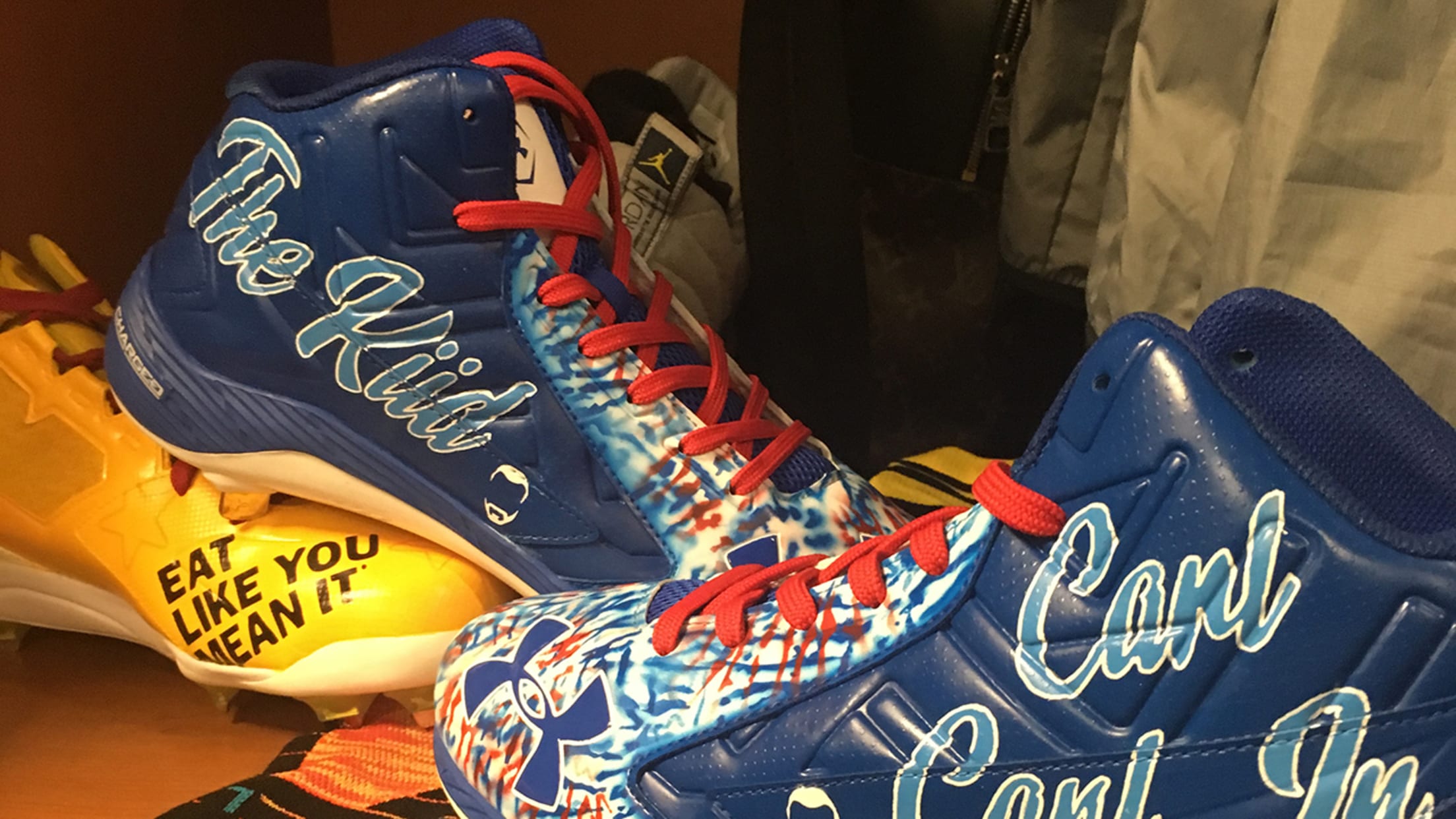 Carl Edwards Jr., or "Carl's Jr.," showed off his new cleats for Players Weekend. (Stephen Pianovich)
PHILADELPHIA -- C.J. Edwards has had his nickname his whole life. There was no escaping Carl's Jr.The Cubs reliever is proudly sporting it on the back of his uniform during Players Weekend. He's making a louder statement with his footwear.Edwards has a pair of mustard yellow Carl's Jr. cleats with
PHILADELPHIA -- C.J. Edwards has had his nickname his whole life. There was no escaping Carl's Jr.
The Cubs reliever is proudly sporting it on the back of his uniform during Players Weekend. He's making a louder statement with his footwear.
Edwards has a pair of mustard yellow Carl's Jr. cleats with ketchup red laces. The logo of the fast food burger chain is on the inside of Edwards' right cleat with a tagline -- "Eat like you mean it" -- on his left.
"I just laughed," Edwards said of his first reaction to the cleats, which were given to him by his agent via Carl's Jr.
• Players Weekend gear available at MLBShop.com
The cleats could not be missed as Edwards tracked down fly balls during the Cubs' batting practice Friday and brought cheeseburgers to mind in the city known for cheesesteaks.
Edwards had another pair of cleats made for the weekend. It's a blue pair featuring faux spray paint and Carl Jr. written on the right cleat and "The Kid" on the left.
This pair much better matches the Cubs' Players Weekend uniforms, which were greeted with smiles in the visitor's clubhouse at Citizens Bank Park. Shouts of "El Mago!" (Javier Baez) and "Ricardon!" (Felix Pena) were heard as players inspected their new duds.
"It's always good to do something different," Edwards said. "Those cleats and those jerseys, it's something for us to wear with passion and something else for the fans to get a kick, a laugh out of and enjoy."
Cubs manager Joe Maddon is celebrating Players Weekend just two hours south of where he played Little League. The Hazleton, Pa., native kept his nickname simple, going with "Joey" on the back of his jersey. But there are more nicknames on Maddon's sleeve.
There are no words that describe what I feel wearing my grandpa's nickname in the team that he enjoyed so much watching #PlayersWeekend pic.twitter.com/tzTlT3fevh

— Rene Rivera (@ReneRivera13) August 25, 2017
Maddon thanked his parents on his Players Weekend tribute patch. They're listed as Beanie, a nickname for Maddon's mother, Albina, and Howie, a nickname for Maddon's father that started as an inside joke. The moniker comes from Maddon's father, Joe Sr., too often repeating legendary broadcaster Howard Cosell as he called games.
"Whatever Howard would say, my dad would say 32 seconds later," Maddon said. "Back home, when you talk about Howie, that's my dad."
Stephen Pianovich is a contributor to MLB.com based in Philadelphia.