Cubs designate CarGo; Hamels to IL
Rotation for Pittsburgh series in flux beyond Alzolay on Monday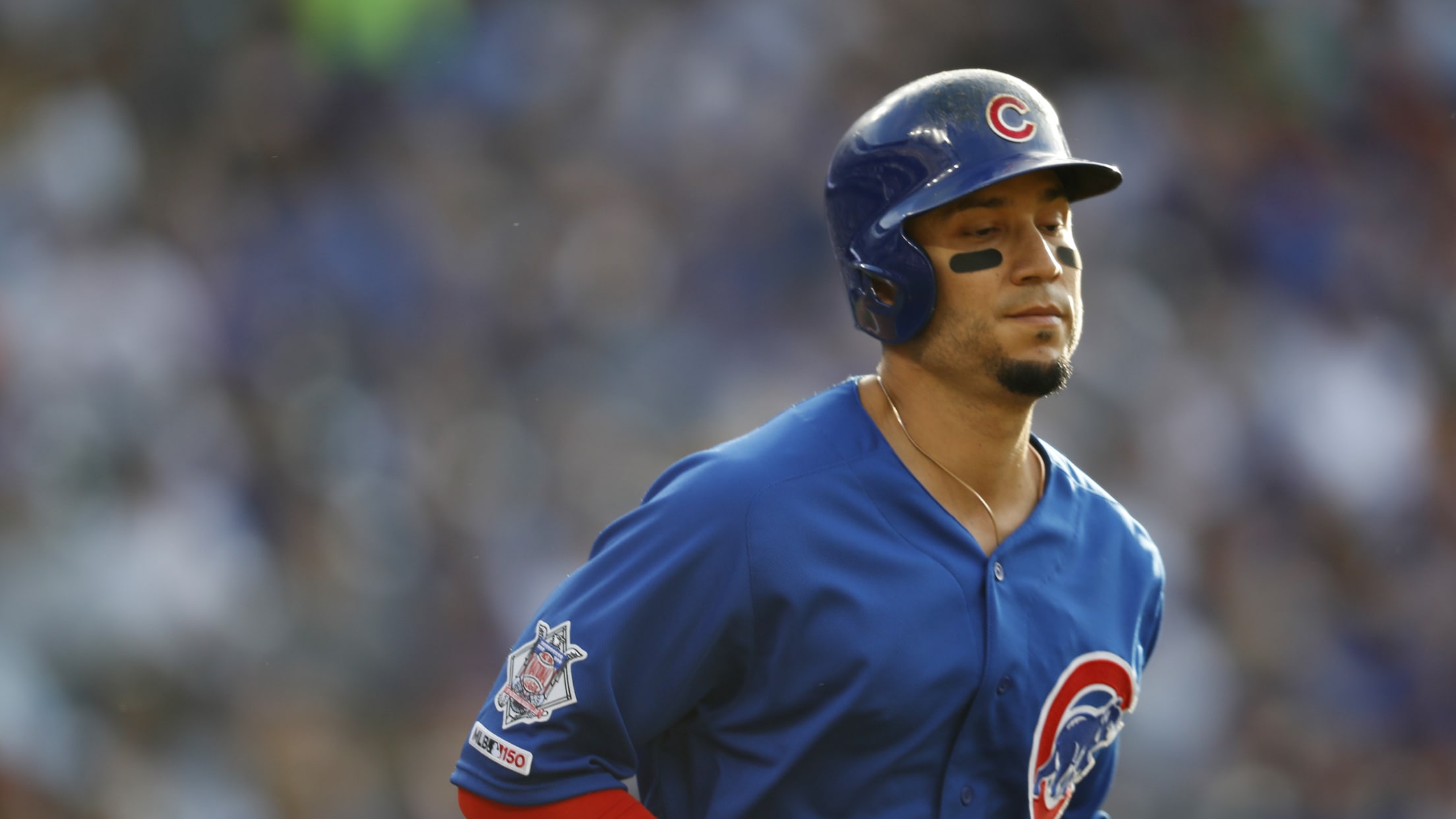 CINCINNATI -- Pedro Strop sat at a neighboring locker and talked to Carlos González for several minutes following Friday's loss to the Reds at Great American Ball Park. A few more players walked over to the corner of the visitors' clubhouse as well, shaking Gonzalez's hand or giving him a
CINCINNATI -- Pedro Strop sat at a neighboring locker and talked to Carlos González for several minutes following Friday's loss to the Reds at Great American Ball Park. A few more players walked over to the corner of the visitors' clubhouse as well, shaking Gonzalez's hand or giving him a hug.
In need of reinforcement arms, Gonzalez was the odd man out as Chicago reorganized its roster ahead of Saturday's game in Cincinnati. With veteran left-hander Cole Hamels placed on the 10-day injured list due to a left oblique strain, the Cubs reached down to Triple-A Iowa and recalled right-handers Dillon Maples and Rowan Wick.
"Yesterday kind of took us off course," Cubs manager Joe Maddon said prior to Saturday's game.
Gonzalez was designated for assignment, opening a spot on the 40-man roster and giving the Cubs seven days to either trade, release or reassign the outfielder. If Gonzalez were to clear waivers, he would have the choice of either accepting or declining an outright assignment to the Minor Leagues.
The 33-year-old Gonzalez hit .175 in 15 games for the Cubs since being signed on June 1, following his release by the Indians. While the three-time All-Star did not get on a roll like Chicago hoped, the clubhouse scene on Friday night showed the impact he made in the clubhouse over the past few weeks.
"He did. He made a great first impression in spite of not hitting up to his capabilities yet," Maddon said. "I told him, I said, 'Your presence matters.' And the guys did feel that. So hopefully he'll stay with us. Hopefully we can work through this, because there will be plenty of opportunities down the line."
Hamels exited his start on Friday against the Reds after only one inning due to feeling discomfort in his left side. The left-hander is scheduled to undergo an MRI exam on Monday in Pittsburgh to determine the severity of the injury. Due to his early exit, the Cubs leaned on their bullpen for seven innings in the 6-3 loss, creating a need for additional pitching depth.
Rotation situation
In light of Hamels' injury, Chicago's previously planned rotation for the upcoming four-game series against the Pirates is now in flux. Maddon said the only pitcher locked in at the moment is rookie Adbert Alzolay, who is scheduled to start on Monday at PNC Park.
"The rotation for Pittsburgh right now is Alzolay," Maddon said. "That's what I've got."
There are a few factors at play here for the Cubs.
First, Maddon wants to see how the pitching staff gets through the rest of the Reds series before announcing anything for the games in Pittsburgh. If righty Tyler Chatwood is not used out of the bullpen, for example, he could be utilized as a starter against the Pirates. Righty Yu Darvish was initially slated to start Tuesday, but the Cubs could bump him back a day based on the availability of other starting options.
The Cubs are also monitoring the progress of right-hander Kyle Hendricks, who is on the 10-day IL with a right shoulder issue, but completed a full bullpen session Saturday with no issues. Hendricks' next step would likely be an abbreviate start of some kind, whether with the Cubs or Triple-A Iowa.
"There's that to be considered. There's other things to be considered," Maddon said. "We're just trying to piece it together. Of course, we thought differently until [Hamels got hurt]. So now, we're going to have to have a conversation and see how we want to set up the rest of that week going into the break."
Worth noting
• Maddon has been looking for a day to give shortstop Javier Baez a day off from being in the starting lineup. That will likely fall on Sunday in Cincinnati. Maddon said he likes that timing due to the Cubs also having a scheduled off-day on Friday. With Baez starting for the NL in the All-Star Game, the manager wants to make sure the shortstop gets a breather.
Baez has battled a right heel issue since mid-May and looked to be favoring the foot some in Friday's game.
"I'm talking to him right now," Maddon said. "I've really been watching it. I've been talking to him. He keeps insisting that he's feeling great and I'm sure he does. But, with the schedule the way it is, proactively, I've just got to get him off his feet."
• Right-hander Carl Edwards Jr. (10-day IL, left thoracic strain) completed a bullpen session on Saturday with no issues. The Cubs will see how Edwards recovers on Sunday before mapping out his next step.
• Per MLB.com's Jim Callis, the Cubs have reached an agreement ($500,000 signing bonus) with their third-round Draft pick, Louisville right-hander Michael McAvene.