3 takeaways as Cubs extend road woes in LA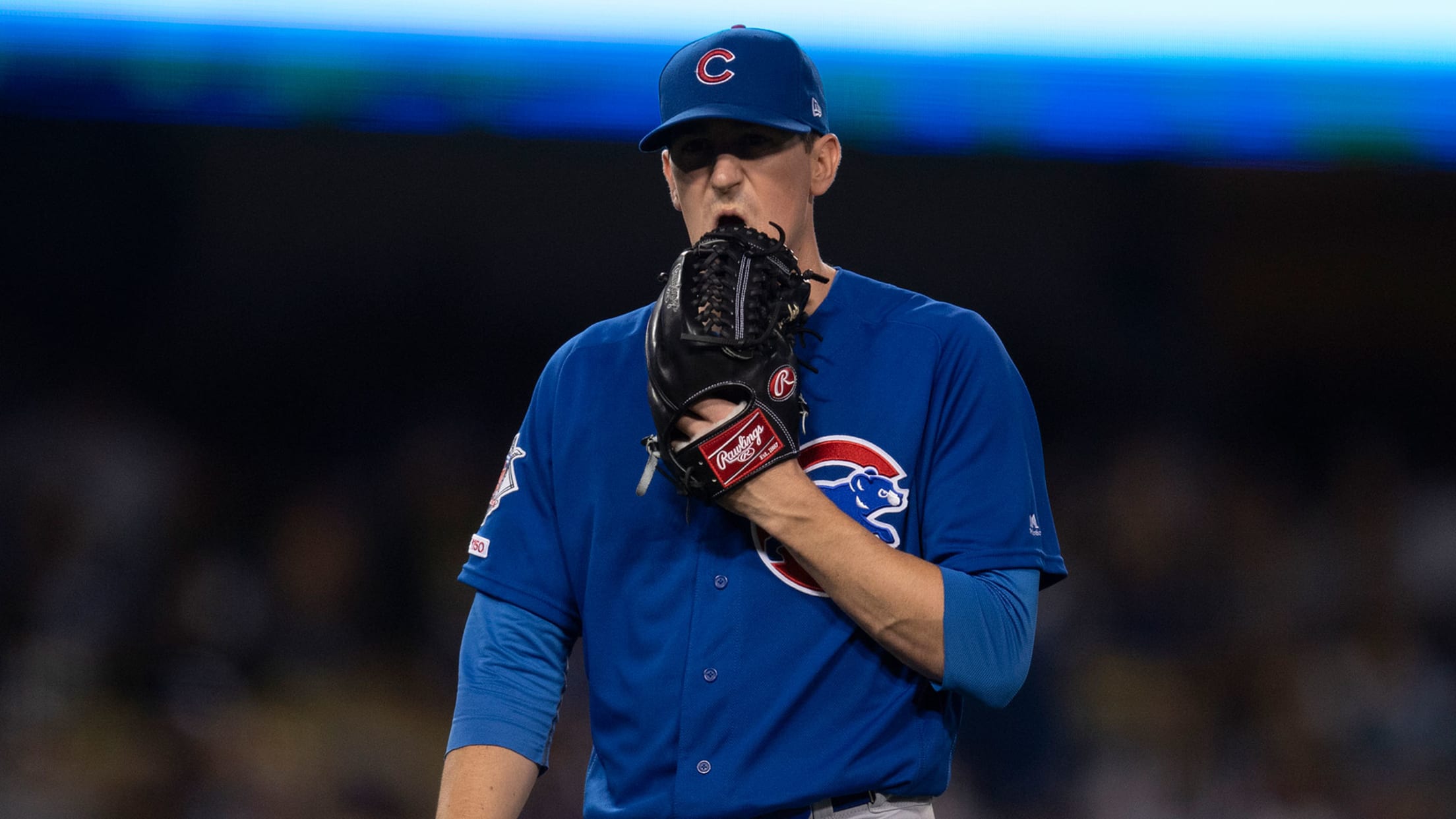 LOS ANGELES -- The teams that take the stage in October often look slightly different than the versions on the field in the middle of the summer. Even so, when the schedule came out for this season, the Cubs saw this stretch of road games and knew it would present
LOS ANGELES -- The teams that take the stage in October often look slightly different than the versions on the field in the middle of the summer. Even so, when the schedule came out for this season, the Cubs saw this stretch of road games and knew it would present a test in the club's quest to taste World Series glory again.
Three games in offense-happy Colorado, followed by four against a Dodgers club that has captured the past two National League pennants, would give Chicago a good mid-season assessment. With a 5-3 loss to the Dodgers on Friday night, the Cubs dropped to 1-4 on the trek through Denver and L.A. with a pair of games left at Dodger Stadium.
"We identified this trip as a challenging one when the schedule came out," Cubs president of baseball operations Theo Epstein said prior to the series opener against the Dodgers on Thursday. "We know that's a pretty good test. It's been a long stretch of kind of a challenging schedule that our guys have been dealing with.
"It'd be nice to get through this road trip -- hopefully we fare well out here -- and we can take a breath and see where we're at."
The deep breath will have to wait, considering the Cubs can only hope for a split of the four-game series against the Dodgers now. Thanks to the Brewers' loss in San Francisco, though, Chicago remains one game back of Milwaukee for first place in the NL Central.
The Cubs know that the road to the World Series will likely run through Los Angeles, too. Not only have the Dodgers reached the Fall Classic in each of the last two years, but they were the team in Chicago's way in October en route to the Cubs' winning it all three years ago.
"We've gone through them before and they've gone through us," Kris Bryant said. "Yeah, it's always fun playing them. You want to beat the best and they've certainly been the best -- as well as us -- for the last couple years. It's nothing new to us. Just another tough team that we have to compete with."
Here are three key elements within the Cubs' loss on Friday:
1) Honing in on Hendricks' changeup
Over the past two games, the Dodgers have displayed their ability not to chase pitches out of the zone and target certain offerings for inflicting offensive damage.
During the Cubs' 7-3 loss on Thursday, L.A. used an opposite-field approach against Jon Lester that led to a wave of home runs off his cutter and four-seamer. One night later, the Dodgers centered the bulk of their attack on Kyle Hendricks' changeup, which is his bread-and-butter pitch.
"Kyle's changeup wasn't his changeup today," Cubs manager Joe Maddon said. "So, the pitch that normally gets him into that seventh or eighth inning wasn't there."
The Dodgers went a combined 5-for-9 against Hendricks' changeup with a dozen total bases. That included a two-run homer by rookie Matt Beaty in the second inning and a solo shot by Justin Turner in the third. Hendricks had only 12.5 percent swinging strikes with the changeup (three out of 24), compared to a 24.5 percent rate for the season heading into the game, per Statcast.
In Hendricks' 4 1/3 innings, he was charged with five runs and ended with two walks and one strikeout.
"The fastball command wasn't great, either," Hendricks said. "I didn't have it down in the zone enough. I was missing up when I was trying to go down too many times. Everything works off my fastball for me, so yeah, the changeup wasn't great today, but I think it started with my fastball."
2) The Cubs' lineup stalled
Three batters into the game, Anthony Rizzo ripped a pitch from Rich Hill down the right-field line, where Cody Bellinger made a leaping catch attempt at the wall. The ball eluded Bellinger's glove, struck a fan and bounced back into the outfield. A quick replay review showed that it was indeed a home run and the Cubs had a quick two-run lead.
Bryant then added a solo shot in the third inning, but the offensive well went dry after that blast. The same pattern occurred on Thursday night, when Chicago hit two homers within the first three frames against Clayton Kershaw before putting up zeros the rest of the way. Kershaw wound up going six frames, while Hill gave the Dodgers seven.
"We didn't shut it down," Rizzo said. "I just think as an offensive unit, we had two really good pitchers -- Kershaw and Hill -- kind of on the brink early. Give credit to them. They're professionals. They're really good. They grinded out innings and ended up having success."
Maddon said the Cubs need to do a better job of manufacturing and adding on runs, even if an opponent delivers some deflating counter punches.
"We're letting them back in and then they're just holding on," Maddon said. "We have to continue to churn out runs game in progress. I think we lose patience during the game. I've talked about that. I think we have to maintain our patience."
3) Almora's wall-crashing grab
If there was ever a chance to swing the game's momentum, it arrived in the seventh inning.
After recording two outs, Cubs lefty Mike Montgomery fired 12 balls within a span of 16 pitches, issuing three straight walks to load the bases. In an effort to keep the Dodgers' lead at 5-3, Montgomery said he was trying to gauge how L.A.'s hitters would approach him by trying to entice them to chase off the edges of the strike zone. It did not work.
"I'm trying to make them give in and they had a good eye," Montgomery said. "I think coming in late in games, you've got to be a little bit more around the zone and see how they're going to react."
The three free passes set things up for Chris Taylor, who crushed a pitch to deep center field. Albert Almora Jr. chased it down with a leaping catch that ended with the center fielder slamming into the wall and dropping to the warning track. What would have likely been a bases-clearing extra-base hit was instead an inning-ending grab.
"Unbelievable," Montgomery said. "I feel like he's done that time and time again for me. I hope he's going to be feeling all right. He probably got banged up a little bit."
Almora hit his head on the play and exited the game in the eighth, but both the center fielder and Maddon indicated after the loss that he was doing fine.
"All good," Almora said. " I took a couple seconds on the ground just to make sure I was all right. And I was conscious and I knew what had happened."