Maddon, Scioscia share much, including humor
Cubs skipper goes way back with Angels manager, who can also bring laughs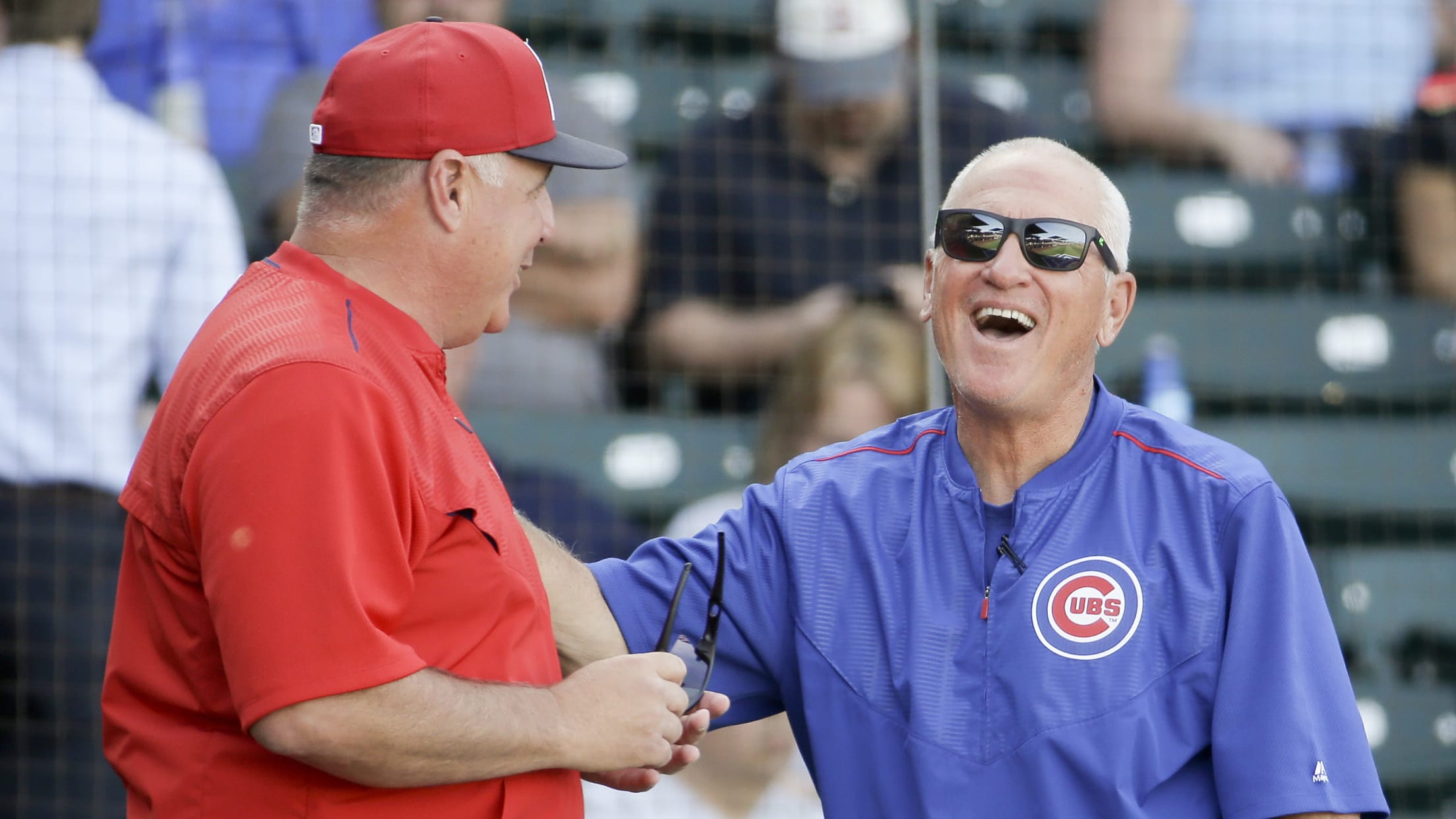 Angels manager Mike Scioscia (left) and Cubs manager Joe Maddon laugh before a spring game. (AP) (Chris Carlson/AP)
ANAHEIM -- Joe Maddon and Mike Scioscia are both Italian. Both grew up near Philadelphia. The two managers like the same TV shows -- think "Get Smart" and "The Andy Griffith Show." They both like a loose clubhouse. If Cubs fans think Maddon went a little over the top approving
ANAHEIM -- Joe Maddon and Mike Scioscia are both Italian. Both grew up near Philadelphia. The two managers like the same TV shows -- think "Get Smart" and "The Andy Griffith Show." They both like a loose clubhouse. If Cubs fans think Maddon went a little over the top approving a visit this spring by black bear cubs and a mime, Scioscia invited some large feathered creatures into the Angels' clubhouse during their days together there.
Maddon's Cubs and Scioscia's Angels will play one more tuneup on Sunday, then square off for real Monday night in the regular-season opener. It's the first time the Cubs will face an American League opponent to start their slate, and for a couple days, Maddon and Scioscia will have to be on opposite sides.
Maddon was the Angels' bench coach for most of 10 seasons in Anaheim, including the last six under Scioscia. They won a World Series together in 2002.
"We laugh at the same things; we watch the same TV programs," Maddon said. "You talk about our mornings [with the Cubs] -- some of the funniest stuff happened in that clubhouse over there [with the Angels]. In the mornings, in this really claustrophobic clubhouse, there was an ostrich, a tub full of fish, a piano player, disco ball -- all kinds of stuff. I would cry sometimes."
He recalled videos lampooning Scioscia as if he were a character at a Renaissance festival.
Scioscia didn't inspire Maddon's morning craziness, and some may find it hard to believe the Angels' skipper could come up with things like that. Maddon knows better.
"The thing that people don't know about [Scioscia] is he's really, really funny," Maddon said. "He's incredibly funny. He had a chance to work for Mr. [Tom] Lasorda, who is incredibly funny, and [Scioscia] is, too. He makes me laugh. We giggle. It was a great relationship."
This spring, the two got together for dinner in Arizona. They laughed a lot.
"He knows what I like to do, I know what he likes to do," Maddon said of Scioscia as they prepare for the first part of their home-and-road Interleague series. "At the end of the day, it's always about the players. It's always about the players.
"It'll be an American League game now [in Anaheim], then he'll have to come out to our place and play a National League game," Maddon said of a rematch Aug. 9-10 at Wrigley Field.
"The Cubs have a terrific team. And Joe, I think, is terrific in a lot of aspects," Scioscia said Friday when asked about Maddon. "I think he adjusts to the talent of the team as well as anybody I've seen. He certainly understands his team and does a great job of not only the offensive side with lineups, but maneuvering his bullpen to get matchups.
"Joe's great and he's got a terrific team to work with," Scioscia said. "We're going to concern ourselves with what we need to do."
Expect to see some giggling in their respective dugouts.