Maddon leading Cubs back to White House
With trophy on Capitol Hill, club to pay informal visit Wednesday; manager to speak at luncheon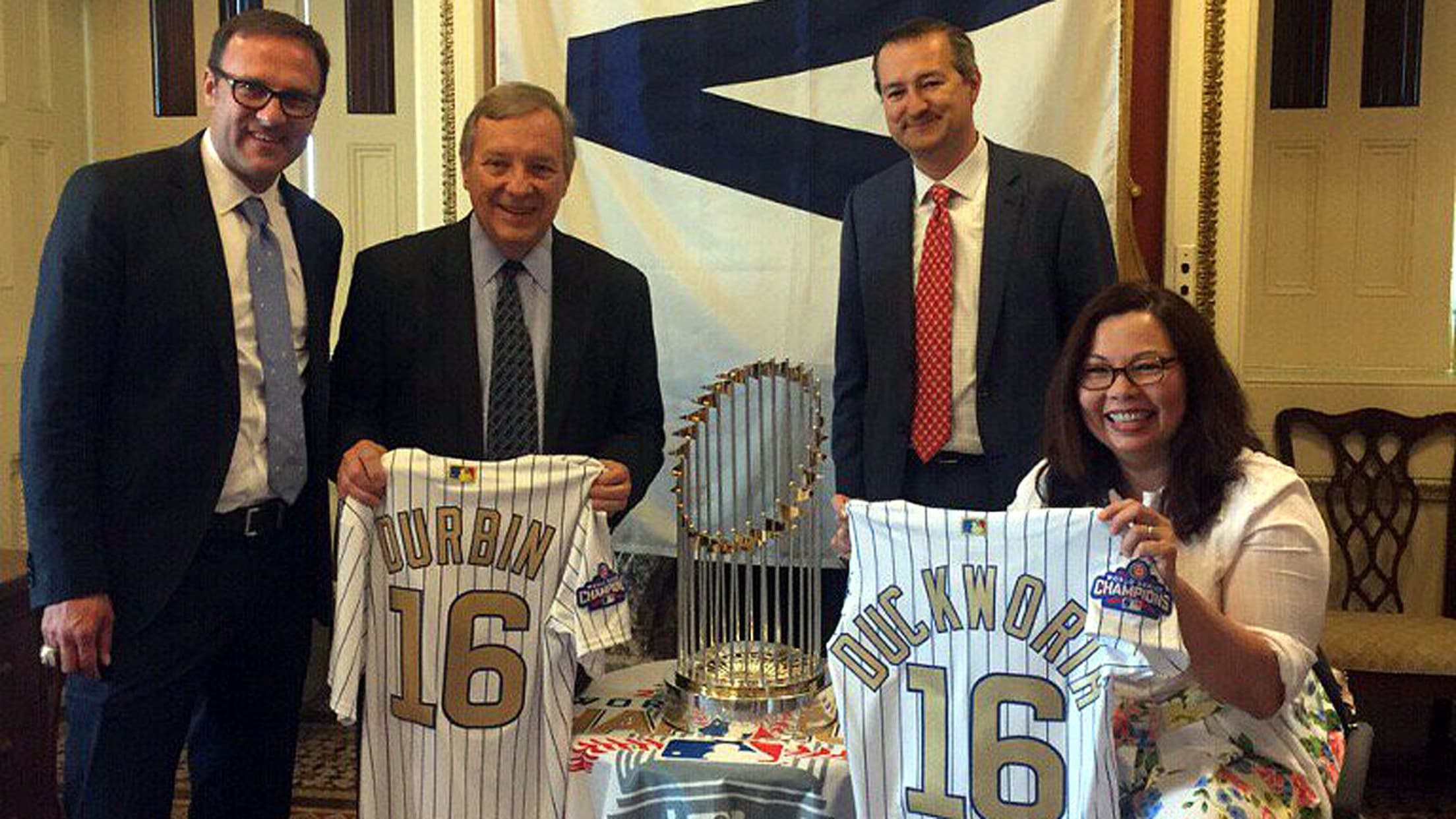 Todd and Tom Ricketts, with Illinois senators Dick Durbin and Tammy Duckworth on Capitol Hill. (Dennis Culloton)
WASHINGTON -- Six months after their formal visit to the White House as the 2016 World Series champions, the Cubs are headed back.On Wednesday, manager Joe Maddon and some of the players and members of the traveling party will stop at the White House. The team celebrated its first World
WASHINGTON -- Six months after their formal visit to the White House as the 2016 World Series champions, the Cubs are headed back.
On Wednesday, manager Joe Maddon and some of the players and members of the traveling party will stop at the White House. The team celebrated its first World Series championship since 1908 by meeting with then President Barack Obama in the East Room in a formal ceremony on Jan. 16 just days before he left office.
Cubs chairman Tom Ricketts and his brother, Todd, who had been a candidate for deputy commerce secretary under President Donald Trump, were on Capitol Hill on Tuesday with the World Series trophy, meeting with Illinois senators Dick Durbin and Tammy Duckworth, among others.
Go, @Cubs, go! Happy to celebrate the 2016 World Series Champions today #FlyTheW pic.twitter.com/rozZ53Y9JN

— Tammy Duckworth (@SenDuckworth) June 27, 2017
"A lot of it has to do with the fact the Ricketts family is tied in there, and I guess our trophy was here in town today at the Capitol Building, and that's kind of cool," Maddon said. "Whatever Mr. Ricketts would like me to do, I'm going to do. Mr. Ricketts and his family have been good to all of us. Part of it is that, and the other part is whenever you have a chance to go to the White House, I think it's easy to say 'yes' out of respect to the office and the building itself."
Maddon will have a busy day, speaking at a luncheon of Young Republicans at the invitation of Rep. Lou Barletta (R-Pennsylvania), who is from the manager's hometown of Hazleton, Pa.
The Cubs have not been assured that they will meet Trump on Wednesday.
"It's a possibility," Maddon said.
The event is definitely less formal than January's meeting.
"I'll have my best pair of jeans on tomorrow and a nice shirt, which I'm really digging on," Maddon said.
The players are not required to go.
"As long as they run hard to first base, they can make up their own mind whether they go to the White House or not," said Maddon, who has very few rules for the team.
Since winning the NBA championship, the Warriors' possible White House visit has been debated. Maddon had no comment regarding the Warriors and did his best to keep politics out of the discussion.
"To go tomorrow is out of respect to the Ricketts family and the office and the building itself," Maddon said. "I like the United States a lot, I like living here a lot, I like everything it represents a lot. When you get a chance as a citizen to go to the White House, you go. Whether you like the person who's running the country or not, out of respect for the office itself, you go.
"I don't agree with all the other banter that's going on because I have a different perspective. I like living here a lot. I like this country a lot. I would much prefer living here than some of the other places which have different methods of government."