Maddon using art to inspire Cubs this spring
Cubs skipper inspired by offseason reading on da Vinci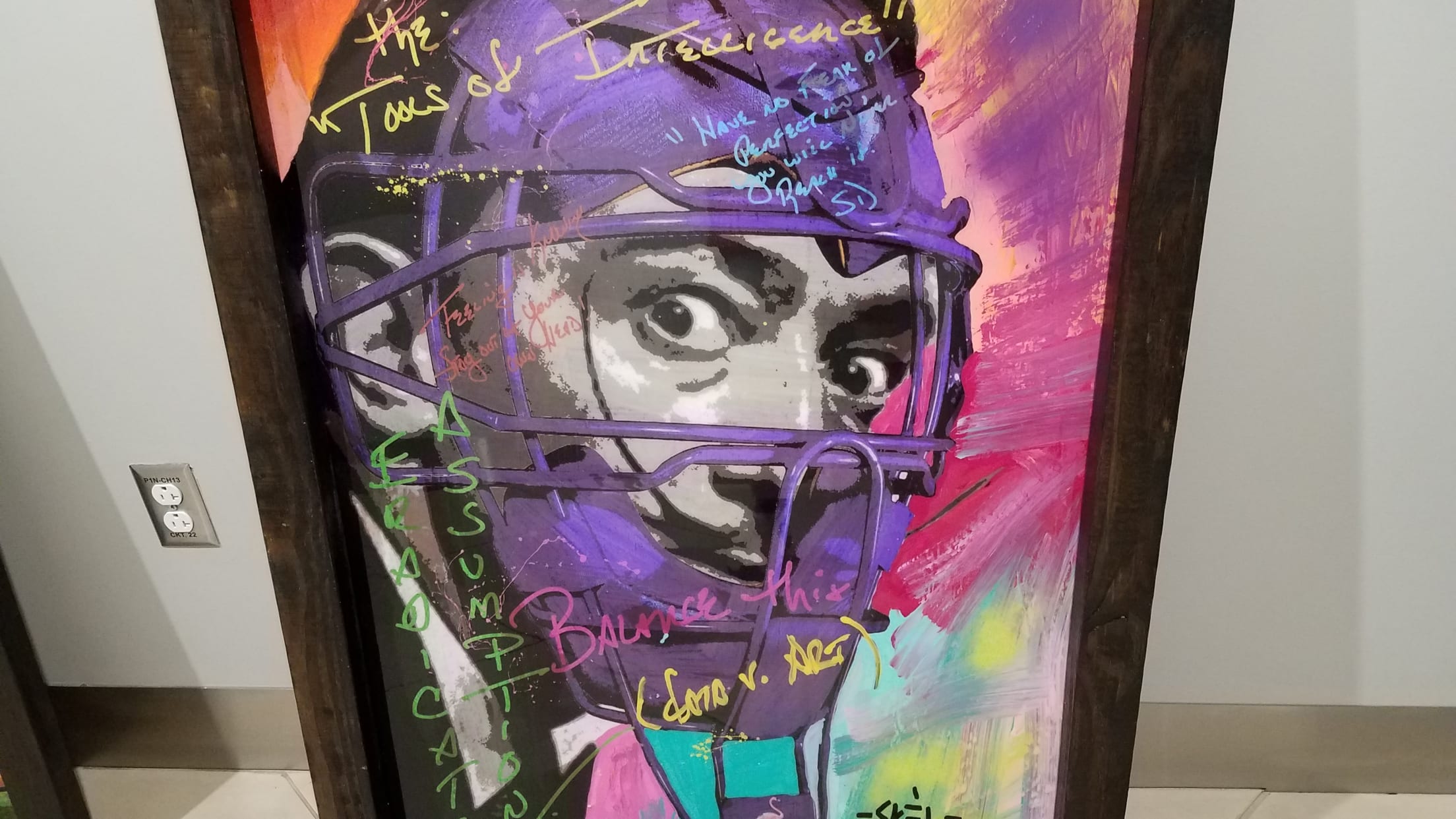 Cubs manager Joe Maddon commissioned a Tampa artist to create art that he hopes will inspire his club this spring. (MLB.com)
MESA, Ariz. -- Baseball players are artists, and Cubs manager Joe Maddon made that point when he met with pitchers and catchers on Wednesday prior to the club's first workout of Spring Training, using art to present his 2018 themes in a colorful way.Maddon's messages were included on two paintings
MESA, Ariz. -- Baseball players are artists, and Cubs manager Joe Maddon made that point when he met with pitchers and catchers on Wednesday prior to the club's first workout of Spring Training, using art to present his 2018 themes in a colorful way.
Maddon's messages were included on two paintings by Tampa, Fla., artist Jason Skeldon. One features Michelangelo's David statue on the pitcher's mound at Wrigley Field, and the other depicts Salvador Dali wearing a catcher's mask.
Maddon has been reading Walter Isaacson's book on Leonardo da Vinci this offseason, and when the manager walked into a clothing store, he saw a painting of Mona Lisa by Skeldon. Maddon contacted the artist, who was able to incorporate the messages using Maddon's handwriting in the paintings.
"Look at the David," Maddon said. "It looks like a pitcher standing on the mound. Now if you research it, David is the dude who went after Goliath. The actual statue of David is supposed to be prior to the event where he's standing there kind of tense and he looks like he's on the mound -- look at him, he looks like he's on the pitching mound.
:: Spring Training coverage presented by Camping World ::
"If you look at it, he's holding that slingshot and there's a rock. Often times, you call the baseball a rock. You talk about dictating, you talk about being proactive. You see, 'Dominate 1-1.' Look at what happens when the count switches from 1-1 to 1-2 or 2-1 from a pitcher's perspective. There's other things in there -- [pitcher's fielding practice], control the running game, keep the double plays in order, all those little smaller messagews and control and command 3-2. That was the pitching side of it."
What about Dali the catcher?
"When I did clinics for 100 years, how many times have you heard catching gear being talked about as tools of ignorance?" Maddon said. "For me, no way. It's tools of intelligence. I wanted to highlight that at the top. Beyond that, in order to know something, you have to feel it. There's a great quote from Dali about how if you're looking for perfection, don't worry, you're never going to achieve it."
The actual quote is, "Have no fear of perfection -- you'll never reach it." You get the message. Maddon is hoping the players do, too.
"It's small, simple direct messages that a guy can hold onto," Maddon said.
There are four more paintings coming that will be part of Maddon's message and will be hung in the hallway of the Cubs' Spring Training complex. He is hoping to not only cleverly present his themes but also sell copies of the paintings for his Respect 90 foundation and promote art.
"I wanted our guys to know they're artists," Maddon said. "If you watch video of a well-played game, a great play whether it's baseball, basketball, football, you see artistry in the movement of the athletes. I want to think of them as artists."