Cubs ride Lester's arm, bat in win over Rox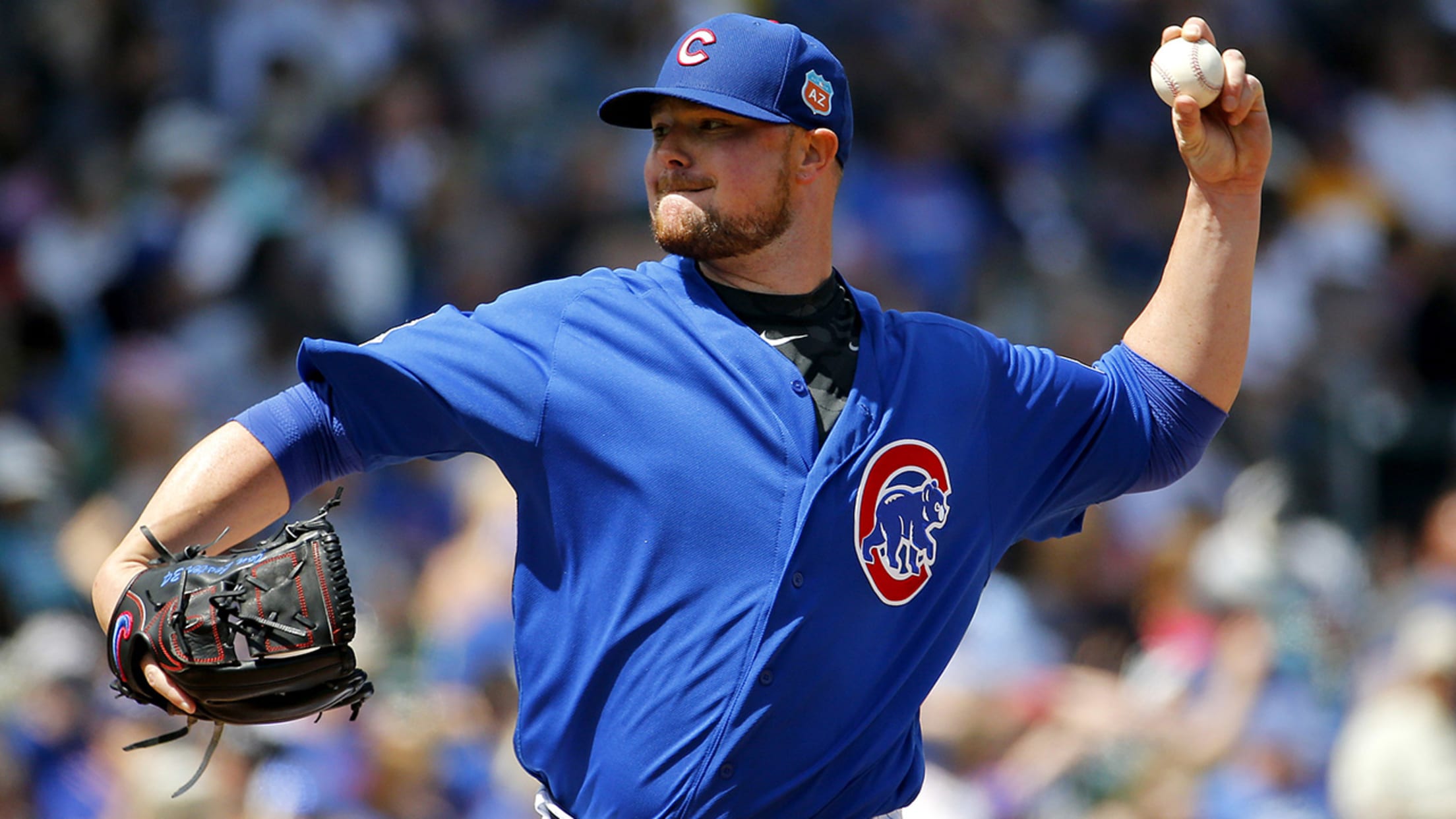 Cubs pitcher Jon Lester struck out 10 in five innings and hit his first professional home run against the Rockies. (AP) (Matt York/AP)
MESA, Ariz. -- The Cubs expect 10 strikeouts from Jon Lester but the lefty added his first professional home run in a 10-0 victory Wednesday over the Rockies' split squad.David Ross went 3-for-3 with three doubles and four RBIs, and Kyle Schwarber followed Lester's opposite-field blast with a shot of
MESA, Ariz. -- The Cubs expect 10 strikeouts from Jon Lester but the lefty added his first professional home run in a 10-0 victory Wednesday over the Rockies' split squad.
David Ross went 3-for-3 with three doubles and four RBIs, and Kyle Schwarber followed Lester's opposite-field blast with a shot of his own in the win.
Lester, who will start the Cubs' second regular-season game next Tuesday against the Angels, had never hit a home run in his professional career at any level -- Minor League, big leagues or Spring Training. He has four hits in 98 career regular-season at-bats.
Ross doubled to lead off the fourth against Scott Oberg, and Lester then lined a 3-1 fastball to left, which opened a 5-0 lead.
Lester came into the game with nine strikeouts over 12 innings in his three previous spring outings. He said he felt more consistent on the mound and was able to execute his pitches more effectively.
"I try not to read too much into Spring Training, whether it's good or bad," Lester said. "I would've liked to have gotten a couple more innings, but we had some long innings today and that's why they pulled me a little early.
"That's my big thing is making my starts and getting my innings -- that's all I really care about," he said. "The runs and all that stuff, I try not to pay attention to that [in spring]. The big thing for me is not a lot of walks, which is good. It means I'm staying in the zone consistently and getting early contact."
And the home run?
• Lester, teammates get a kick out of first home run
"I feel a lot more comfortable this year with everything going on," he said. "I feel I'm ahead of the curve a little bit as far as where I was last year picking up the bat." said Lester.
Rockies starter David Hale, who was optioned to Triple-A Albuquerque last Friday, gave up three runs -- one earned -- on five hits and one walk over 2 2/3 innings. Mark Reynolds had two hits for the Rockies, raising his spring average to .341.
In Scottsdale, the Rockies split squad lost to the Brewers, 5-4.
Cubs up next:Ryan Williams, the Cubs' Minor League Pitcher of the Year last year, will start Thursday when the Cubs face the Mets at Cashman Field in Las Vegas for the first of two exhibition games. It will be a homecoming for Las Vegas native Kris Bryant. First pitch is scheduled for 7:05 p.m. CT, and fans can watch the game live on MLB.TV, or listen to a live exclusive webcast on Cubs.com.
Rockies up next: Lefty Kyle Freeland, the Rockies' top pick and the eighth overall Draft choice in 2014, will return to camp and start Thursday's game against the D-backs at Salt River Fields at Talking Stick at 2:10 p.m. MT. Freeland, ranked as the Rockies' No. 8 prospect, struck out three and gave up one run in two innings against the Reds before being reassigned to Minor League camp as a non-roster player. Righty Chad Bettis will start in a Minor League game Thursday.