Children's hospital patients join Cubs at camp
'It's a special moment for them and special moment for us also,' Maddon said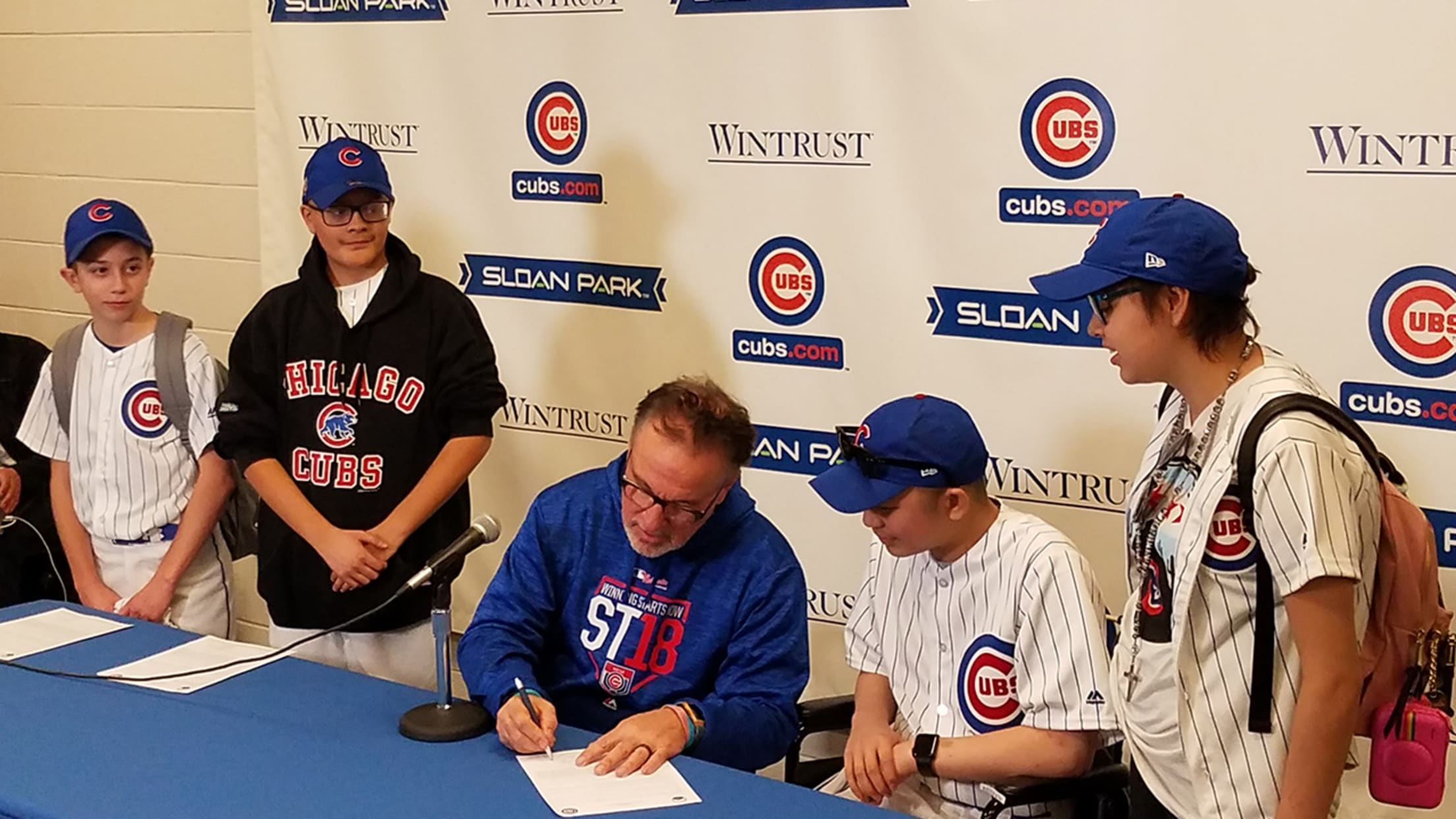 MESA, Ariz. -- The Cubs signed four new players for one day on Tuesday, welcoming patients from Advocate Children's Hospital in Chicago. The new additions were surprised with a trip to Spring Training."It's pretty amazing to meet all of these people and give them high-fives," said Izabella Marin, 14, of
MESA, Ariz. -- The Cubs signed four new players for one day on Tuesday, welcoming patients from Advocate Children's Hospital in Chicago. The new additions were surprised with a trip to Spring Training.
"It's pretty amazing to meet all of these people and give them high-fives," said Izabella Marin, 14, of Chicago.
• Cubs' Spring Training information
The four joined Cubs players on the field for the early stretch work then watched some of the workout. Later, manager Joe Maddon signed each of them to a one-day contract with the Cubs.
"You see their faces as they come through there -- it's a really special moment," Maddon said. "It's a special moment for them and special moment for us also."
Zach Lum, 17, who lost part of his right leg to cancer in September, could not contain his excitement.
:: Spring Training coverage presented by Camping World ::
"My personal favorite is Benjamin Zobrist," Lum said. "I idolize all of them. Ben Zobrist is kind of on top. He was the MVP of the World Series, he hit the winning [RBI] double. He's incredible and so humble, which I love."
Knowing that he was going to Arizona gave Lum time to forget about his struggles with osteosarcoma.
"Throughout treatments and such there have been dark times," Lum said, "but to get a moment where I'm incredibly ecstatic is great.
"The Cubs are my favorite team because they are the absolute underdog," he said. "It was 108 years of not [winning] a World Series. It was incredible to see that they pulled it out in 2016."
The quartet was allowed to bring his or her best friend and family members to Arizona. Marin was giddy after meeting Anthony Rizzo. He is a cancer survivor; she is dealing with non-Hodgkins lymphoma.
"[Rizzo] inspires everyone," Marin said.
Here and there
• Zobrist did not take part in the Cubs' workout for a second day because of some minor back soreness. Maddon said they're just being cautious.
"I'm not trying to conceal anything -- he's fine," Maddon said. "I don't want us to have to push right there. He wanted to get some early at-bats, too. We'll morph him back in there. I'll check with him [Wednesday], and he's fine. I just don't want to push right now."
• One of the reasons the Cubs liked having John Lackey on the team last year was that the veteran right-hander had a little bit of an edge to him. Who has that now? Maddon says the young pitchers might have learned something from Lackey.
"I see it in [Tyler] Chatwood's makeup and abilities," Maddon said. "Talk to Kyle Hendricks now, and he's a totally different cat than a couple years ago. [Jose] Quintana -- did you see his face in his little 10-minute [live BP on Tuesday]?
"I think we've developed that [edge] over the last couple years," Maddon said. "We've got the right guys. John Lackey will always be missed off a team, but I like the names right now and I like how we're going about our business.
"At some point we have to grow up. You're mentored for a bit, and eventually you become the mentors."
• The Cubs have yet to announce who will start their first Cactus League game Friday against the Brewers.