Darvish resumes light throwing on flat ground
Cubs right-hander has second session since undergoing surgery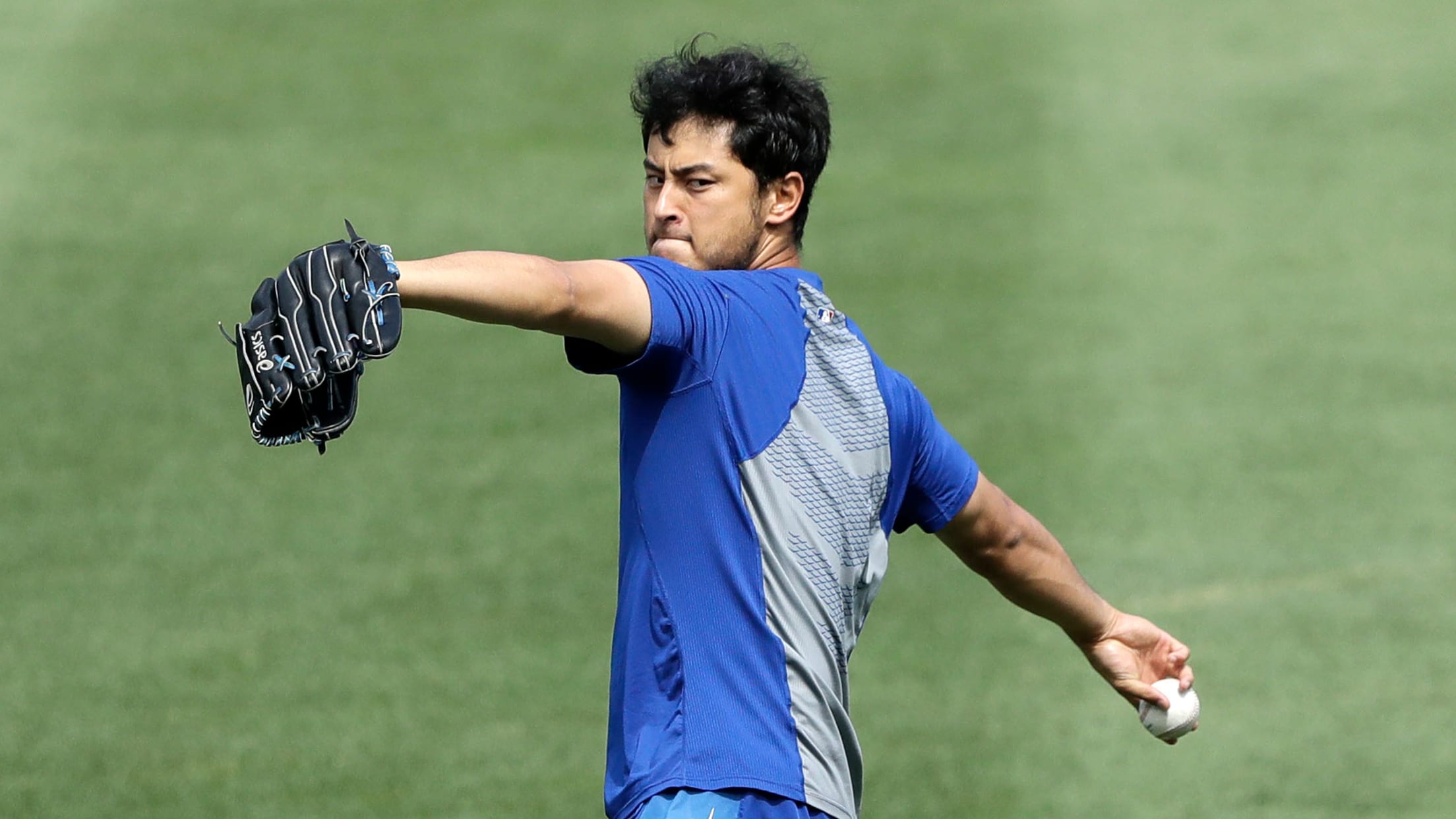 The Cubs noted earlier this month that Yu Darvish was doing well in his recovery from a minor right elbow procedure that ended his 2018 season in September. On Wednesday, the veteran pitcher offered a glimpse into his progress via his social media presence.Darvish has officially resumed throwing, as the
The Cubs noted earlier this month that Yu Darvish was doing well in his recovery from a minor right elbow procedure that ended his 2018 season in September. On Wednesday, the veteran pitcher offered a glimpse into his progress via his social media presence.
Darvish has officially resumed throwing, as the right-hander displayed with a brief video on both his Twitter (@faridyu) and Instagram (@darvishsefat11). Darvish is shown making a series of light throws on flat ground in the post, in which he tagged TMI Sports Medicine, a training and rehab facility in Texas.
2nd day of throwing.
tmisportsmed 場所: TMI Sports Medicine & Orthopedics https://t.co/8iZBiSCG3W

— ダルビッシュ有(Yu Darvish) (@faridyu) December 19, 2018
Shortly before the Winter Meetings, Cubs president of baseball operations Theo Epstein noted that head athletic trainer PJ Mainville met with Darvish earlier this month and he returned with a promising report.
"He was really, really pleased with how Darvish looks," Epstein said on Dec. 6. "He looks strong. He looked healthy. He's exactly where he should be in his progression. He's probably a couple weeks away from starting throwing, but PJ had sort of an A-plus glowing report about how he looks at this point."
According to that timeline, Darvish is right on schedule, as the caption on his post notes that this was his second throwing session since undergoing surgery. On Sept. 12, Darvish had an arthroscopic debridement on his throwing elbow performed by Dr. Keith Meister, following a stress reaction to the tip of the elbow and a right triceps strain.
Last season was the first under the six-year, $126 million contract Darvish signed with the Cubs, but he completed only eight starts before being shelved with a right triceps injury in May. Darvish went 1-3 with a 4.95 ERA over 40 innings leading up to his stint on the disabled list. He made a pair of rehab appearances with Class A South Bend -- one on June 25 and another on Aug. 18 -- but he was eventually shut down due to setbacks.
Having Darvish back at full strength will be crucial for the Cubs, who view their rotation as a backbone for the roster. One of the club's early moves this offseason was to pick up a $20 million team option for veteran lefty Cole Hamels, who projects to be on the starting staff alongside Jonathan Lester, Kyle Hendricks, Jose Quintana and Darvish.
The Cubs currently have $83.5 million committed to Hamels, Lester, Quintana, Darvish and Tyler Chatwood (who has been the subject of trade speculation this offseason). There will be even more salary on the books for the top seven starting options when Hendricks and Mike Montgomery -- each due for raises -- go through the arbitration process later this offseason.
Retaining Hamels on a one-year deal offers the Cubs some veteran depth in case Darvish or anyone else on the staff encounter any issues that necessitate a season-opening DL stint. It also puts the club in a position to at least entertain trade offers for its starters as it attempts to address other roster needs this offseason.