Cubs to Wood: No boasting about HR on flight
Two fans in bleachers return home run ball to lefty in exchange for autographed ball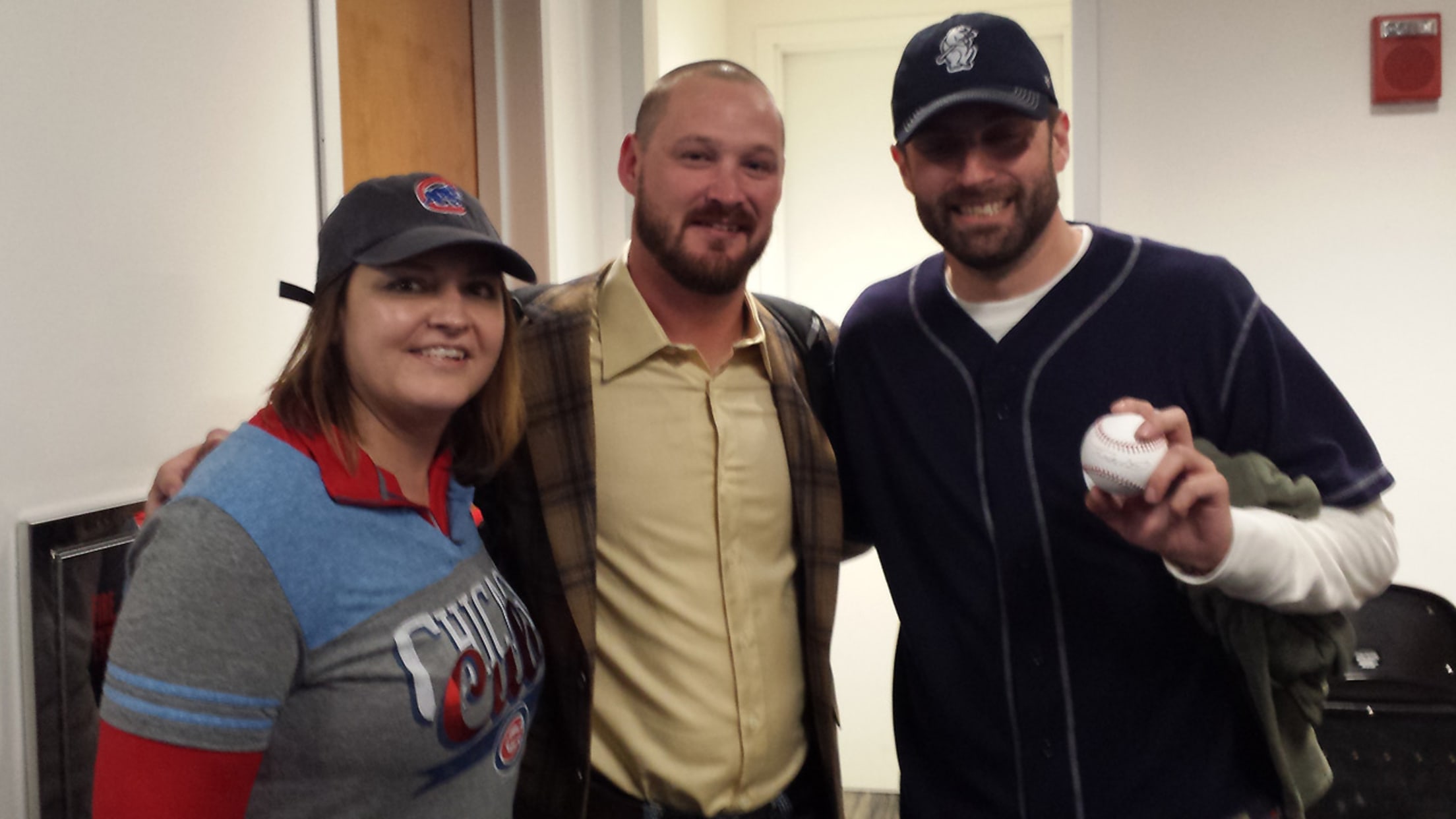 Cubs fans Rich Hemmig and Michele Reynolds retrieved Travis Wood's home run ball and gave it back to him. (MLB.com)
CHICAGO -- Travis Wood will be sitting in front of Jon Lester on the Cubs' four-hour charter flight from Chicago to San Francisco, but the reliever was not allowed to speak. Not a peep. Lester doesn't want to hear about Wood's home run in Game 2 of the National League
CHICAGO -- Travis Wood will be sitting in front of Jon Lester on the Cubs' four-hour charter flight from Chicago to San Francisco, but the reliever was not allowed to speak. Not a peep. Lester doesn't want to hear about Wood's home run in Game 2 of the National League Division Series on Saturday night.
"I have to sit next to him on the flight and I've already told him he's not allowed to talk," Lester said after the Cubs' 5-2 win over the Giants at Wrigley Field, which gave Chicago a 2-0 lead in the best-of-five series. "I don't want to listen to 4 1/2 hours of him recapping hitting a homer."
:: NLDS: Giants vs. Cubs coverage ::
It was a fairly historic blast. Wood is the third Cubs pitcher to homer in a postseason game, joining Kerry Wood (2003 NL Championship Series) and Rick Sutcliffe (1984 NLCS). He's only the second relief pitcher to homer in the playoffs. The New York Giants' Rosy Ryan also connected in Game 3 of the 1924 World Series.
"That was amazing -- nobody expects a pitcher to come off the bench and hit a homer," Cubs catcher Willson Contreras said. "That's unbelievable."
Said Dexter Fowler: "Any time you have an extra guy in the lineup, it's awesome. [The pitchers] are as much a part of the team as we are."
Rich Hemmig of Aurora, Ill., was thrilled, too. He was in the left-field bleachers at Wrigley and the ball, which had a projected home run distance of 393 feet, according to Statcast™, hit him in the chest. He retrieved it and presented it to Wood after the game.
"I believe this is yours," Hemmig said, handing Wood the ball.
Wood gave Hemmig and his friend, Michele Reynolds of Naperville, Ill., an autographed baseball and posed for photos.
• Shop for NL Central champions gear
But the Cubs' pitchers didn't care.
"We're going to have to hear about this on the whole flight," John Lackey said.
"[Catcher David Ross] told him and I told him he's not allowed to talk the entire flight," Lester said. "Four and a half hours. We've made it 10 minutes without him saying anything. It's a sad state of affairs for us pitchers right now to have to listen to this on the way to San Francisco, and the next however many days until he gets to hit again or play left field."
Wood actually did play left field this season when manager Joe Maddon wanted to keep him in the game, and he caught a ball against the wall.
"He wants to do everything, and we keep telling him he stinks and he keeps getting chances," Lester said. "He finally ran into one tonight."
Wood connected on the first pitch he saw from Giants pitcher George Kontos for his 10th career home run.
Who's next?
"I'd like to see what I can do," Aroldis Chapman said, laughing.