Fire ravages Cossins' California community
Cubs' Minor League coordinator focused on relief efforts for Santa Rosa devastation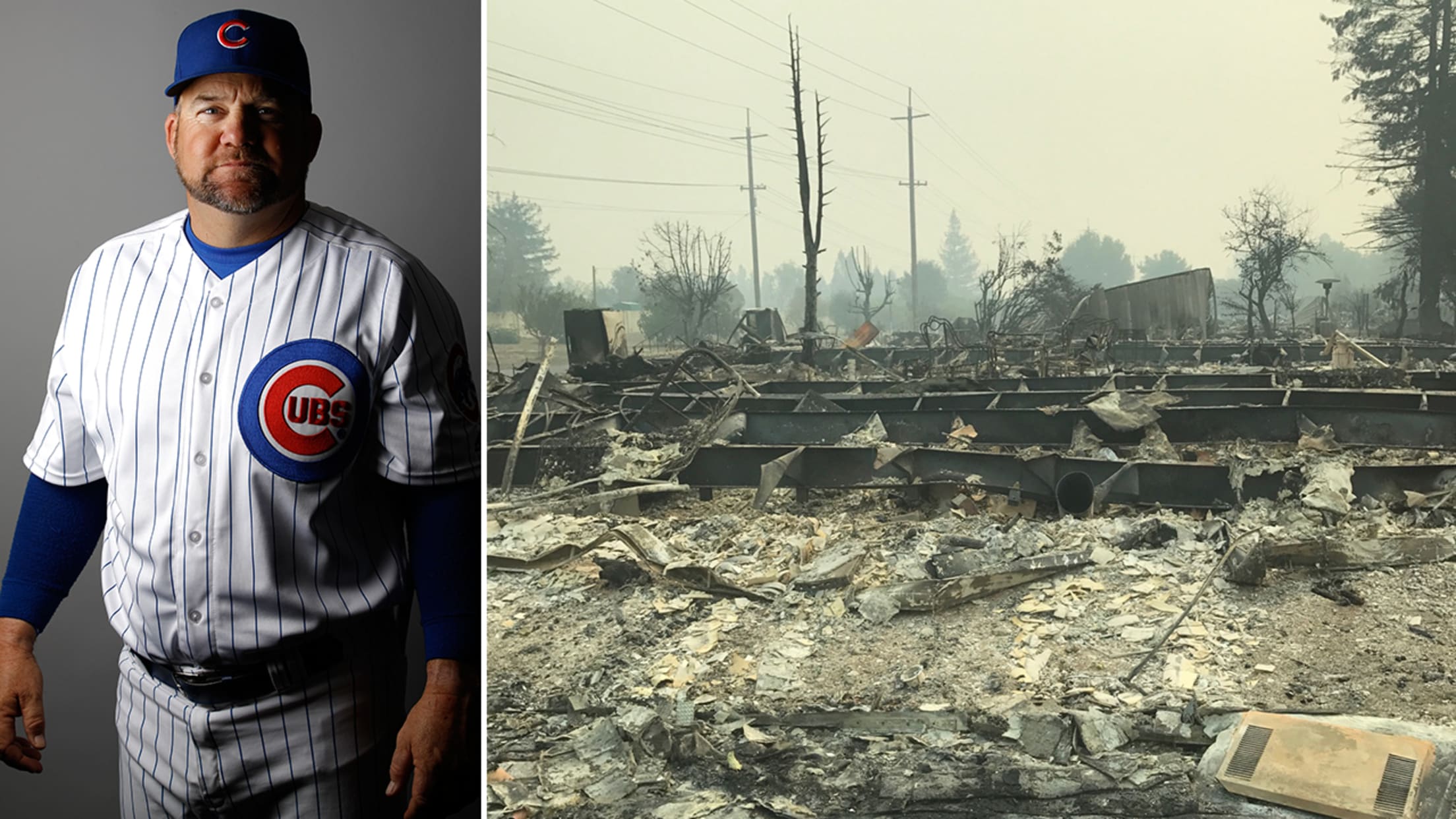 Tim Cossins returned to Santa Rosa, Calif., after the conclusion of the Cubs' instructional league to safeguard his home from wildfires. (AP/Tim Cossins)
CHICAGO -- Tim Cossins was supposed to be in the Dominican Republic this week to start the Cubs' instructional league. Instead, he's trying to save his home in Northern California from burning."You hear that guy on TV say, 'I never thought it would happen to me,' and that's how I
CHICAGO -- Tim Cossins was supposed to be in the Dominican Republic this week to start the Cubs' instructional league. Instead, he's trying to save his home in Northern California from burning.
"You hear that guy on TV say, 'I never thought it would happen to me,' and that's how I feel," Cossins said Sunday. "We got punched right in the face."
Cossins, 47, the Cubs' Minor League coordinator, lives in the Santa Rosa, Calif., area, which has been ravaged by wildfires. He wrapped up the Cubs' instructional league in Mesa, Ariz., and flew home on Oct. 8 right into a nightmare.
"I flew over the flames," Cossins said. "My wife called and said, 'You better get out here, because there are fires.' I said, 'What?'"
Cossins' 19-year-old son Aiden picked him up at the airport, and as soon as they got home, the teen was out the door. He's a volunteer firefighter.
"We didn't see him again for 48 hours," Cossins said. "At the time he went out, this thing just flared up like crazy."
Aiden had to help evacuate a retirement home in the area that no longer exists because of the fire. The death toll in the area, which includes Napa Valley, has topped 40 people.
"I told him it's like coming into Game 7 in a tie game with the bases loaded, nobody out, and this is your Major League debut and Joe [Maddon] hands you the ball and you punch out the side," Cossins said.
Of course, that fictional pitcher didn't have to deal with all of that while being surrounded by intense heat and flames.
"I'm proud of him," Cossins said of his son. "He's responded really well. It's crazy to think he just graduated in June and this is the first thing he did. That's incredible."
Cossins' mother lives in the area as well, and 75 percent of the homes in her neighborhood are completely destroyed.
"You pull into the neighborhood, and you can see down to one row of houses. My mom's house is the third one from the right," Cossins said. "It's a miracle."
Right now, two families who were not as fortunate are staying with Tim, his wife Lori, and Aiden, in their home. One family is dealing with damage to their house while another couple who lived in Napa lost everything.
The Little League ballpark Cossins played at is destroyed. Cardinal Newman High School in Santa Rosa, where Cossins held an offseason catchers camp which Kyle Schwarber participated in, was also severely damaged.
Cubs first-base coach Brandon Hyde has also been monitoring the fires. His parents live in the area as well.
"The winds were horrific -- they were 60-mph winds, like once-in-a-lifetime winds," Cossins said. "It blew the fire across the freeway, and it jumped into the city. It's like a Hollywood disaster movie, that kind of stuff. It was more intense than anybody anticipated."
The postseason has been a distraction for Cossins, who just completed his fifth season with the Cubs. He kept an eye on Sunday's Game 2 of the National League Championship Series presented by Camping World, which the Dodgers won, 4-1, to take a 2-0 lead in the best-of-seven series.
"My routine is I pretend I have so much going on that I'm not paying attention, but I'm out watching through the [window] blinds," Cossins said. "I'm trying to keep up. For the first time since I came to the organization, I truly found myself not as engaged, which is crazy to me. I've never thought like that. I'm checking in [on the games], staying up with it. I'm living and dying on every pitch."
Cossins is also trying to keep his house from burning.
So far, the wind has kept the fire away. Cossins is concerned because of a hill behind his home.
"It's a weird reality," Cossins said. "I walk across the street and look back at the hill every 20 minutes. You see smoke, and then it retracts back over the hill. I'm in a weird mode."
Cossins and his family had to evacuate the area, and he grabbed his World Series ring, some baseball memorabilia and his father's guitar, which has sentimental value. All of that is safe now.
"It's weird when they say, 'Grab things and go,'" Cossins said. "What you grab and how your mind works when your mind is racing that quickly -- it's fascinating now, but it was petrifying doing it."
Since they returned home, Cossins has been able to organize what his family will take if they need to evacuate again.
"I was supposed to go to the Dominican [Sunday] for instructs," Cossins said. "It's the first time I've put that stuff completely out of my mind. I want my baseball season to be completely over. I want to get up every day and go out in this community and work on something to help somebody every single day.
"It'll take two years to get it back," Cossins said. "I just want to get to people and help people, because everywhere you look, there's complete devastation."
The Cubs' prospects in the Dominican Republic will understand if Cossins is not there this week. There's baseball, and then there's life.