Cubs vets carry on tradition, help youngsters
Szczur: 'They want you to be part of the family'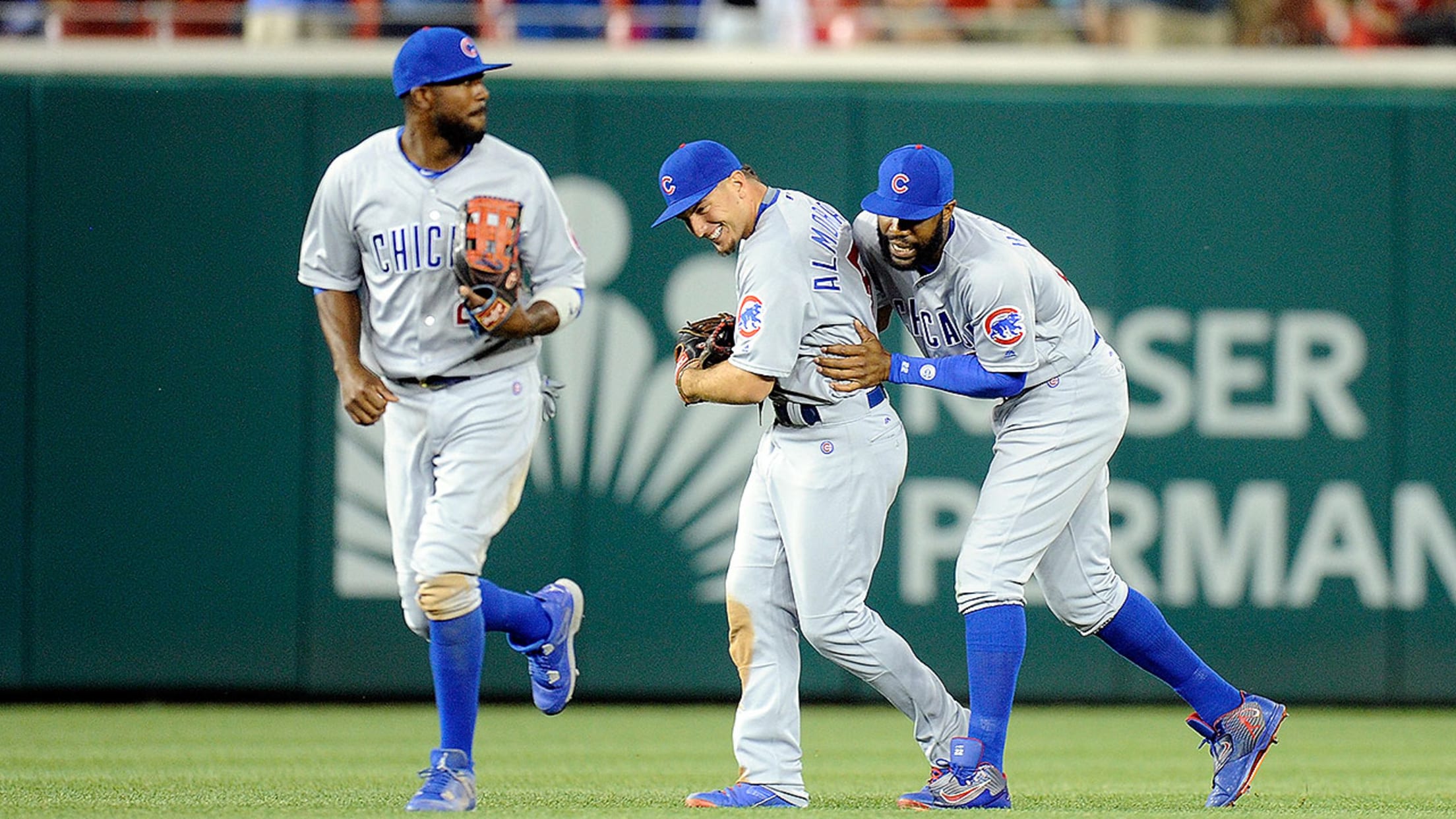 CHICAGO -- When Dave Martinez was called up to the Cubs in 1986 at the age of 21, he bought a suit. It was the first one he'd ever owned."One day, I put my hand in the sleeves, and the sleeves ripped out," Martinez said. "The other Cubs] were like,
CHICAGO -- When Dave Martinez was called up to the Cubs in 1986 at the age of 21, he bought a suit. It was the first one he'd ever owned.
"One day, I put my hand in the sleeves, and the sleeves ripped out," Martinez said. "[The other Cubs] were like, 'Oh, man, you bought a cheap suit.' Then they started laughing, and I realized what they did. The next trip, I had two brand new suits in my locker."
• Postseason schedule | Gear
To this day, Martinez, 52, does not know who pranked him and cut the sleeves or who bought his new clothes. He assumes it was one of the Cubs veterans, either Rick Sutcliffe, Jody Davis or Keith Moreland. The veterans on the current Cubs team, which begins the Natonal League Division Series vs. the Wild Card Game winner on Friday (FS1, 9 p.m. ET/8 CT), have adhered to the old-school tradition of taking care of the younger players, and that is one of the reasons this year's team is so close.
:: NLDS: Wild Card winner vs. Cubs coverage ::
Albert Almora Jr. remembers being at a high-end clothing store at the same time veteran Dexter Fowler was, and the rookie picked out a wallet. Fowler surprised Almora by paying for it.
"He took it from me and said, 'I got you. Welcome to the big leagues,'" Almora said. "It was really cool."
Jake Arrieta, Miguel Montero and Jason Heyward each took Almora to dinner to get to know him.
"It started with Heyward in Spring Training, when he took me out to eat with some of the Miami boys," Almora said. "It was a great experience. This team has been phenomenal."
Veteran John Lackey gave Matt Szczur a watch for giving up No. 41 to the right-hander after the pitcher signed with the Cubs. Every time Szczur has gone to eat with one of the older players, they pick up the tab. Fowler helped update Szczur's wardrobe, too.
"Last year, [Fowler] told me he was going to take me shopping," Szczur said. "This year, he said, 'I'm going to take you shopping in San Francisco,' but that's when I was on the [disabled list]. He said, 'You know where we're staying in Oakland, right?' I said, 'No.' He said, 'San Francisco.' I said, 'I guess you're taking me shopping,' and he smiled. He had it set up.
"These guys are awesome. They take care of you. Honestly, everybody on the team has gotten me something, not just Dex. It's a good position to be in."
That camaraderie was evident during the Cubs' annual rookie dress-up trip. Last Thursday in Pittsburgh, the rookies had to wear cheerleader outfits, but the rest of the players joined in the fun by wearing football jerseys. Manager Joe Maddon credits the veteran players for helping the youngsters this season.
#ROOKIES pic.twitter.com/vAeX8e95Wn

— David Ross (@D_Ross3) September 30, 2016
"These guys are really responsible for how good that [clubhouse] is," Maddon said. "I am not responsible for any of that. There's a tremendous balance, and that goes to [Cubs president of baseball operations Theo Epstein] and [general manager Jed Hoyer] and their awareness in bringing together not just guys with sabermetrically good numbers, but guys that really know how to interact with other human beings."
When the players go out to lunch, they don't talk about where they should position themselves defensively against the Pirates' Andrew McCutchen or what to look for against the Giants' Madison Bumgarner.
"They want you to be part of the family," Szczur said. "You go bond with other things than baseball, and I think that's the point of it. It's not just to be a teammate, but be a friend outside the game. I feel that's a big reason why they do it."
When Heyward was called up to the Braves in 2010, players like David Ross, Eric Hinske, Martín Prado and Chipper Jones took care of him. It's one of the reasons Heyward treated Ross to a suite on the road this season in the veteran catcher's final year -- the young outfielder wanted to pay him back.
"These are people who have been there and done it and understand that's the old-fashioned part of this game," Heyward said. "It's getting lost and kind of sad to see. It's awesome to be able to help or lend experience, comfort, anything like that and pass along, not even the torch, but hospitality of becoming part of the fraternity."
Watching the Marlins react to José Fernández's death reinforced the family aspect of teams. Heyward recognized that.
"The way I look at it, the better I know my teammates, the better I'm going to be pushing them or giving them space," Heyward said. "Throughout a game or a season, if somebody has a tough game, some people like to be patted on the back, some people don't. Some people, you have to give them their space and let them do their thing. I think that goes along with getting the best out of people."
Even though he was new to the Cubs, joining in late July via a trade, Aroldis Chapman took it upon himself as a veteran to treat the rookies, too. Reliever Felix Peña was one of the players who went with Chapman in Houston, and he was surprised at the pitcher's generousity.
"It made me feel a part of the team," Pena said.
Martinez, the Cubs' bench coach, said he hopes the young players continue the tradition. He did.
"You learn to appreciate what they've gone through and what they're trying to teach you, so one day you hopefully become that veteran guy and you understand how it is when the young guys come up," Martinez said. "As I got older, I understood when we had a young guy, we'd take him out."
That small gesture helps both the player and the team.