Who wears short shorts? Cubs take theme trip
Rizzo inspires attire as club travels to Miami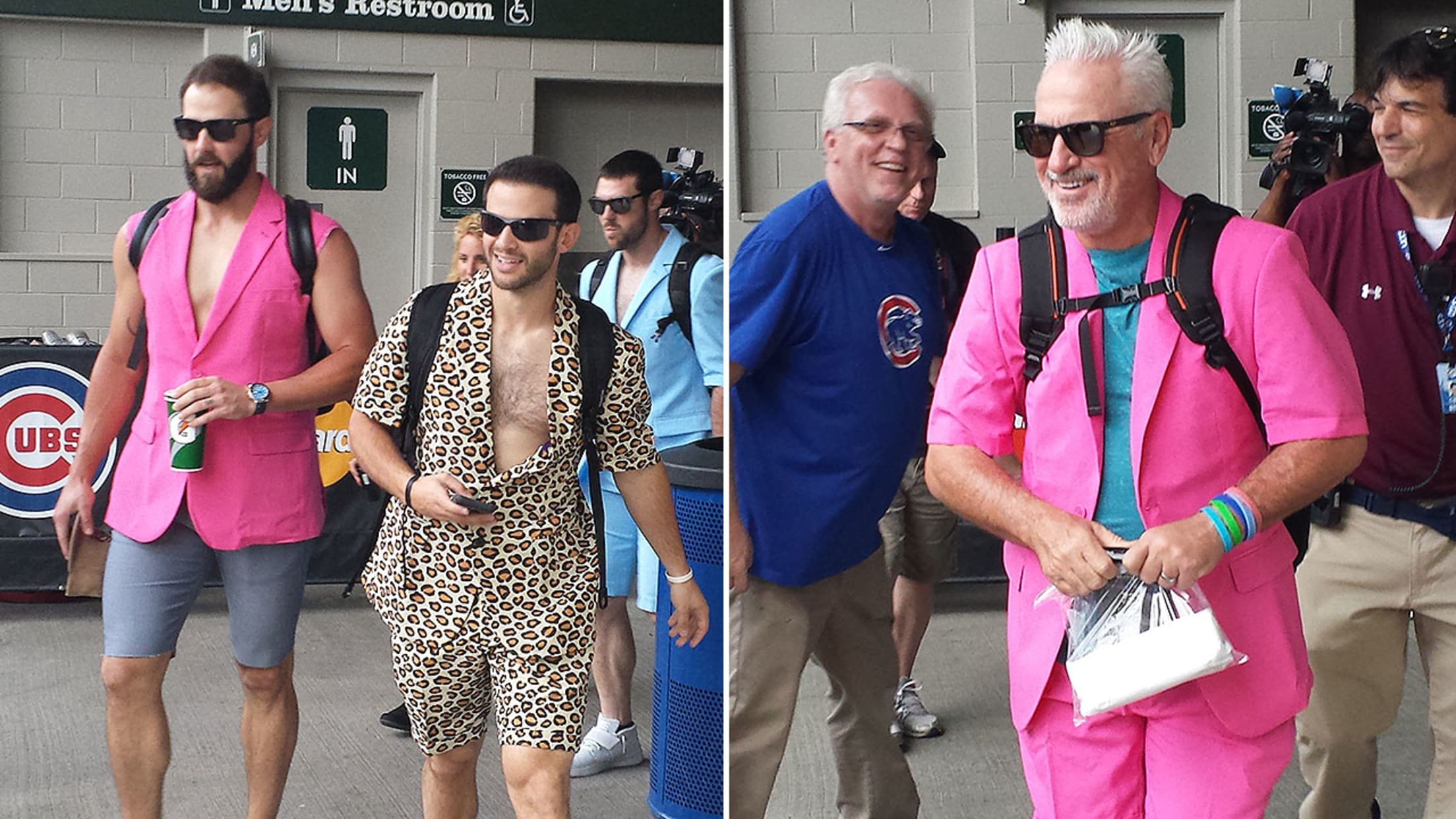 Jake Arrieta, Tommy La Stella and Joe Maddon sport short shorts for the Cubs' theme trip. (Carrie Muskat)
CHICAGO -- Joe Maddon was wearing a bright pink short-sleeved sport coat and shorts with tennis shoes decorated with a flamingo print. Addison Russell also had a flamingo theme with his jacket and shorts. And David Ross wore some brightly colored board shorts that were more suitable for Oak Street
CHICAGO -- Joe Maddon was wearing a bright pink short-sleeved sport coat and shorts with tennis shoes decorated with a flamingo print. Addison Russell also had a flamingo theme with his jacket and shorts. And David Ross wore some brightly colored board shorts that were more suitable for Oak Street Beach than a bus ride.
It was another theme trip for the Cubs, and this one was inspired by first baseman Anthony Rizzo.
"It's the Anthony Rizzo 'Who wears short shorts? Anthony wears short shorts' road trip," Maddon said. "He's the motivation."
• Cards ride 5-run 6th to sweep of Cubs
Rizzo had worn shorts during the Cubs' earlier zany suits trip. Players on this trip to Miami were required to wear shorts, a short-sleeved sport coat and either a tank top or no shirt. And if they wanted to wear flip flops, that was OK, as long as they painted their toenails. First-base coach Brandon Hyde's daughter apparently was very excited to paint her father's toenails, and did so in Cubs red and blue.

"That made the trip worthwhile right there," Maddon said.
Maddon had his pink suit tailored for the trip.
"It's very comfortable, extremely comfortable," Maddon said. "We'll see how it all plays out."
Several players wore straw hats with their Florida-themed ensemble. Jake Arrieta took off the sleeves of a pink jacket and opted for no shirt, while Tommy La Stella had a leopard-print jacket and shorts.
Worth noting
• Adam Warren, who is being prepped to make a spot start prior to the All-Star break, had a side session on Wednesday with pitching coach Chris Bosio before joining Triple-A Iowa. Warren will make at least two starts with Iowa and then rejoin the Cubs. The goal is to go with a six-man rotation prior to the break to give the other starters a breather.