Marshall relishes return to game, and it shows
Reliever thriving this spring with chance to make team after near fatal incident in '15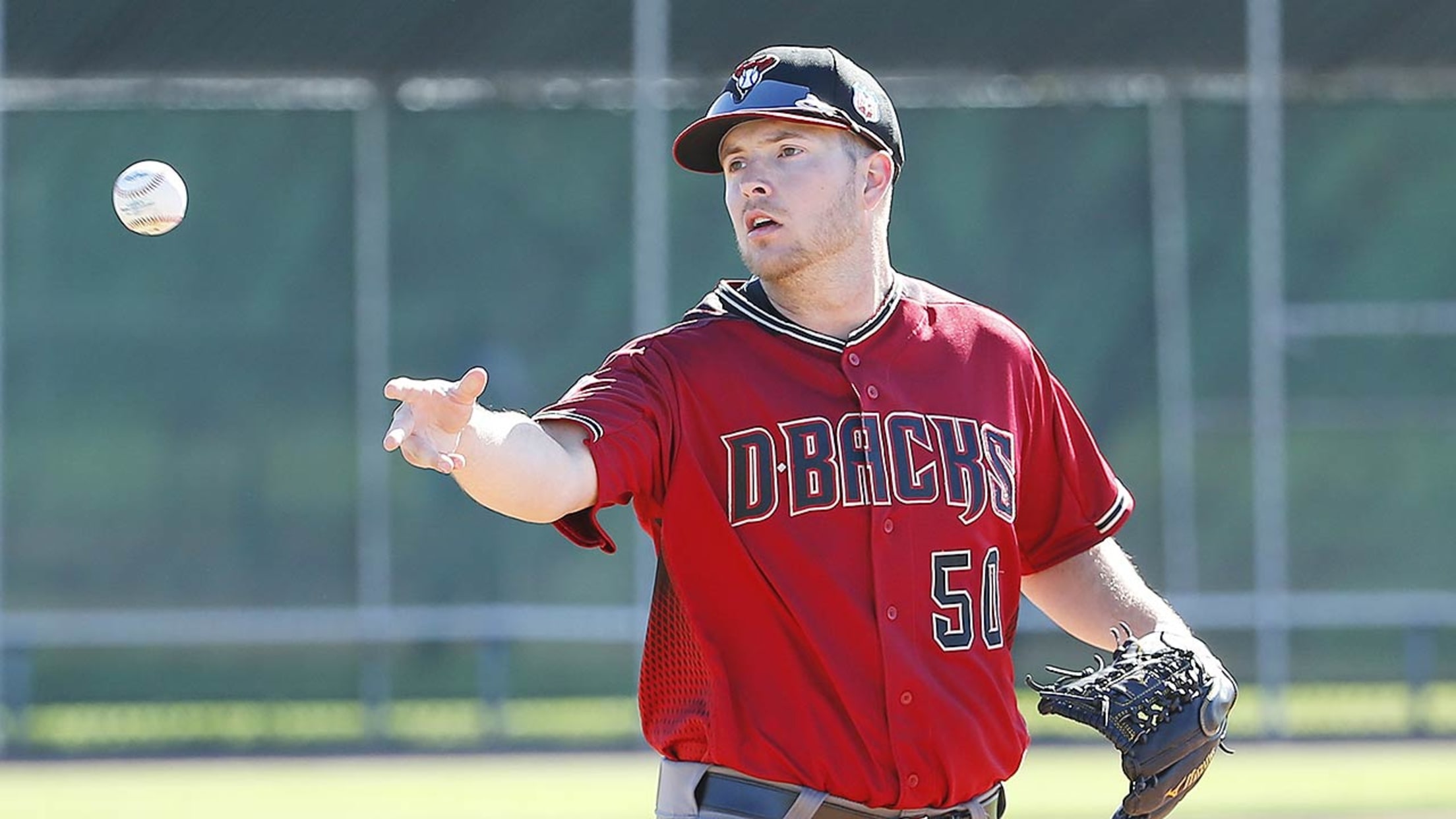 "Yeah, I want to make the team, but really I'm just happy to be here," Evan Marshall said. (AP)
MESA, Ariz. -- Evan Marshall just can't stop smiling this spring.That's what happens when you go from fighting for your life to being back on a big league pitcher's mound in a seven-month span.The D-backs right-hander experienced a nearly fatal incident Aug. 3 last year, when he was struck in
MESA, Ariz. -- Evan Marshall just can't stop smiling this spring.
That's what happens when you go from fighting for your life to being back on a big league pitcher's mound in a seven-month span.
The D-backs right-hander experienced a nearly fatal incident Aug. 3 last year, when he was struck in the head by a line drive while pitching for Triple-A Reno in El Paso.
Marshall tossed his sixth scoreless inning of the spring Wednesday night, and on Thursday morning, he was asked what he thought the reason was for his success.
"I'm just so excited to be back out there, able to throw the ball again," Marshall said. "Maybe that's the key. I'm just excited to play baseball and having fun with the game. It's fun out there. I'm not really worried about little things or making the team. Yeah, I want to make the team, but really I'm just happy to be here."
Baseball was definitely a lot less fun for Marshall last season.
Coming off a successful rookie campaign in 2014, Marshall never seemed to get going, and eventually his struggles led the D-backs to demote him to Reno on May 10 with a 6.08 ERA.
"It's never fun to struggle, and you feel like you have all the tools to go out there and succeed and you just can't quite figure it out," Marshall said. "It's like you're missing that last little puzzle piece."
Marshall said he lost about 20 pounds in the week after he was hit, and he has kept it off since then -- thanks to a re-dedication to his conditioning and a new diet.
"Being here all offseason doing all the neuro rehab, that was important," Marshall said. "But once I cleared all those hurdles, I got to just stay here and lift and get stronger and run harder, and I set all new max's in strength this offseason. And I'm starting to see the benefits of that."
It is not that Marshall is necessarily throwing harder as a result of the improved strength, but it's taking him less effort to reach his old velocity.
By not having to throw at maximum effort, he's better able to repeat his mechanics and therefore keep his command sharp.
"I feel more durable," Marshall said. "I'm not fighting arm soreness and stuff that you typically get in Spring Training. I'm as strong as I've ever been."
Marshall is battling for the final spot in the bullpen -- unless the D-backs open up a second spot by unexpectedly carrying 13 pitchers -- and the competition is fierce.
Aside from just Marshall's performance, the D-backs are watching to see how he physically holds up as the spring wears on.
In the past, the uncertainty of where he'd be coming Opening Day might have worn on Marshall, but not now.
"It's definitely a different appreciation," he said. "It's not taking anything for granted. Being here and seeing these guys and going to battle with them has a whole new meaning."