Week of fun a HO-HO-Home Run by D-backs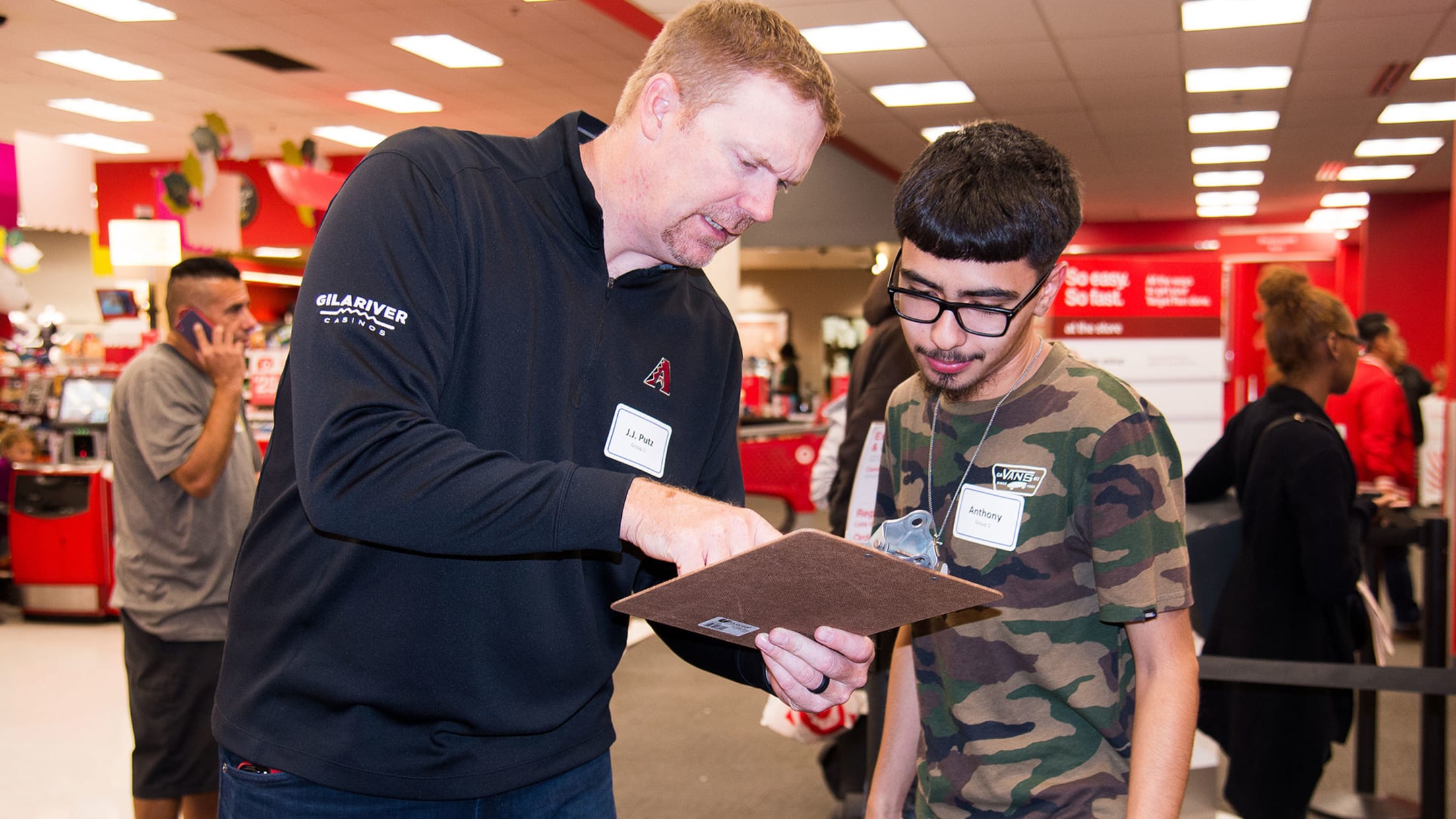 The D-backs got into the holiday spirit with a special week full of "fun-tastic" events that had an impact throughout the Phoenix community and put a smile on the faces of kids and adults alike.The biggest of them all was Friday's 21st annual Winter Classic, presented by University of Phoenix.
The D-backs got into the holiday spirit with a special week full of "fun-tastic" events that had an impact throughout the Phoenix community and put a smile on the faces of kids and adults alike.
The biggest of them all was Friday's 21st annual Winter Classic, presented by University of Phoenix. The Winter Classic gathered 515 kids from all over Phoenix at Chase Field for an unforgettable day of giving and receiving the kind of love that only young D-backs fans can provide.
"It's one of the events everybody likes to be at because of that interaction with the kids," said D-backs President & CEO Derrick Hall. "We are glad to be able to impact their lives in a positive way around the holiday season, getting their minds off things that may be putting pressure on their lives as well as being able to provide them with things that they may not be able to afford such as a pair of shoes, socks or a backpack."
Hall was joined by his Special Assistants J.J. Putz, Willie Bloomquist and Randy Johnson. The Hall of Fame southpaw was especially moved by how the shoe giveaway he started when he first arrived in Arizona as a flamethrower on the mound still keeps going strong two decades later.
"It gets bigger and bigger every year," said Johnson, the franchise's all-time leader in wins and a member of the D-backs' 20th Anniversary Team. "When I started, it was just a little area. Now it's all over the ballpark. It carried on even after I retired. It's a very successful event during a wonderful time of the year."
The ballpark became a giant playground as kids of all ages practiced their fastballs as well as arts and crafts, visited the Phoenix Symphony Instrument "Petting Zoo," danced alongside organist Bobby Freeman and team mascot D. Baxter and took pictures with Santa.
They also met some of the current D-backs such as starting pitcher Robbie Ray and manager Torey Lovullo. Both of them were thankful to be a part of their second Winter Classic as they joined Johnson, first base coach Dave McKay and D-backs broadcasters Mike Ferrin and Steve Berthiaume, among others, at different stations throughout the day.
"It's a special time to pass out some shoes and help underprivileged children," said Ray. "There is no better feeling than seeing the smile on their faces. It's all about seeing them enjoying themselves."
For Lovullo, it was also about reinforcing a bond with the fan base that lasts 365 days a year.
"It's a great time to give back," said Lovullo, who is about to start his third season at the helm in Arizona. "What makes it truly special is seeing the kids having the time of their lives in the spirit of the holidays. We are happy to be a part of today, but that doesn't mean it is just about this specific (event). We want to be connected with the entire community, especially our young fans, all year long because they mean so much to us."
As exciting as the Winter Classic was, the festivities actually kicked off on Saturday, December 8, when D-backs legend and 2001 World Series hero Luis Gonzalez served as Grand Marshal of the 6th annual Hometown Christmas Parade in Glendale, Ariz. The parade supported Operation Santa Claus and focused on collecting non-perishable food items for Hope for Hunger, a Glendale-based food bank.
According to the parade's official website, an estimated 12,000 bystanders witnessed 2,400 people march alongside Gonzalez and Baxter, who inevitably stole the show as a crowd favorite.
The giving mood continued to be in full bloom on Monday as Baxter and Gonzo, Putz and Bloomquist and other team employees to chaperone 14 Homeward Bound teens between the ages of 14 and 18 on a Christmas shopping spree at a local Target store to buy gifts for their loved ones.
Homeward Bound is a non-profit organization based in Arizona that "creates pathways out of poverty for homeless families ready to make a change" and joined forces with the D-backs to make a difference.
"When you get to meet a kid like Anthony, who's got a heart of gold," Putz told FOX 10 Phoenix, "he could have bought everything for himself, but chose to buy things for his family, his girlfriend of course… smart man. I got to spend time with him and talk to him. This is definitely a day we look forward to every year."
Things kicked up a notch on Wednesday as 150 kids had a special night with Baxter, Freeman, the Rallybacks and, of course, Mr. and Mrs. Claus during the 8th annual D-backs Holiday Party at the Boys & Girls Clubs of Metro Phoenix.
"This week is one of our favorite weeks of the year," said D-backs Vice President of Corporate and Community Impact Debbie Castaldo. "D-backs employees are out doing events all this week and next week. We take care of very special kids that deserve to have a merry Christmas."
The party was a hit with arts and crafts, interactive baseball activities inside the gym and free pizza courtesy of Streets of New York, but the main event for the kids was being able to sit on Santa's lap and tell him the gift they wanted before heading into his workshop to select one toy to take home.
"It means everything and it makes all the yearlong work worth it," said Boys & Girls Clubs of Metro Phoenix CEO Marcia Mintz. "The minute it ends, the kids are looking forward to next year. Some kids started attending this party when they were in kindergarten, and now they are teenagers."
Mintz attended the holiday party for the third year in a row and was thrilled to see Baxter, her favorite mascot in all sports. He stole the show once again.
"We probably wouldn't even be here without the D-backs' commitment and reinvestment to give the kids in the area a place to go," she added. "The D-backs are always generous financially, but the resources and volunteers that they bring make all the difference."
All in all, the festivities were a true home run that put a bow on a memorable holiday week for everyone involved. 2019 will have even more in store.
"When we get back after the New Year, we pick up right where we left off with events that raise money and impact the community positively like Race for the Cure right before Opening Day and Evening on the Diamond," said Hall.
Martin Bater is a contributor to MLB.com.