10 days to go: D-backs face roster crunch
Decisions on catching platoon, bench, bullpen, Opening Day starter still remain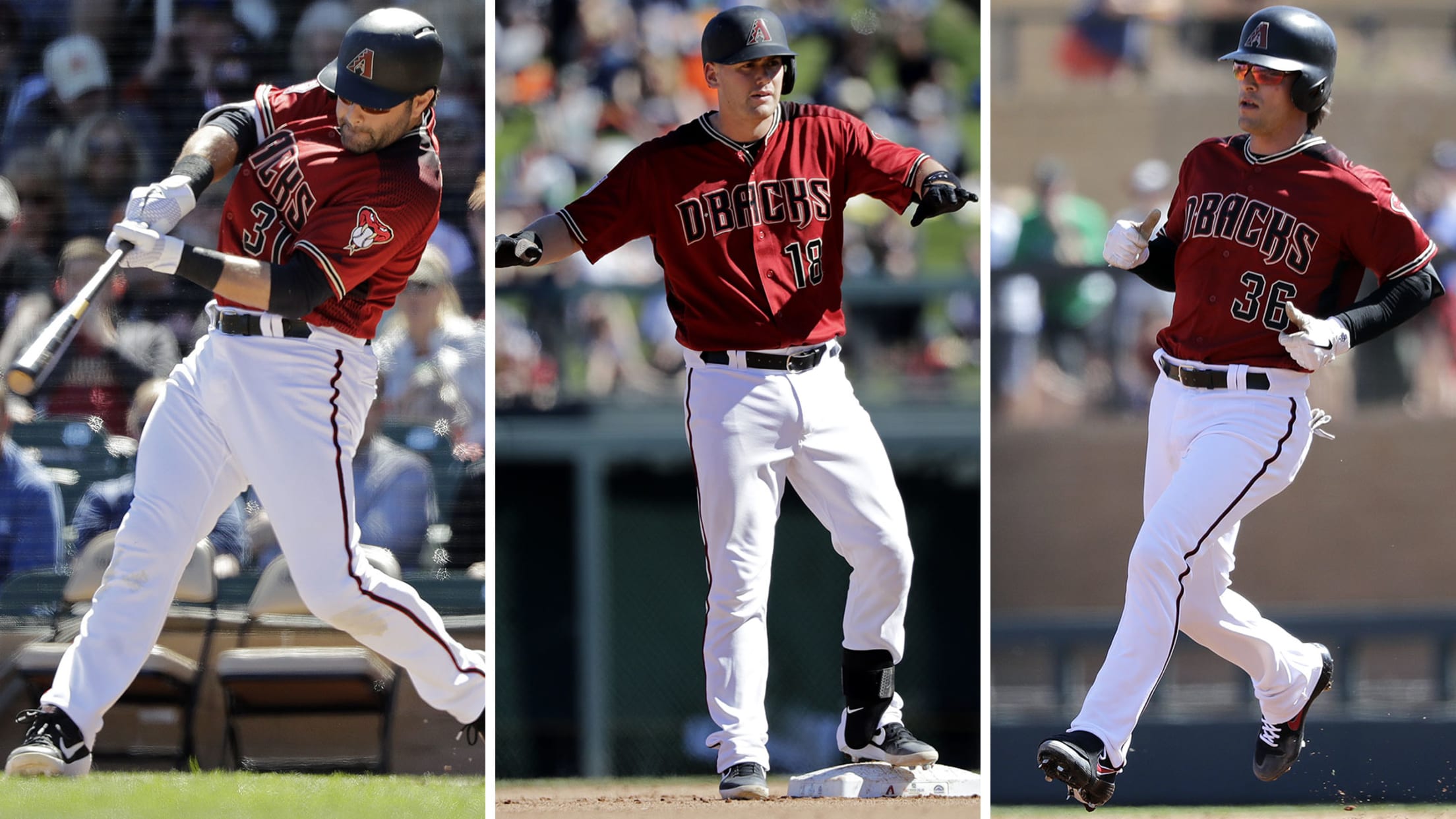 SCOTTSDALE, Ariz. -- In exactly 10 days, the D-backs will be at Dodger Stadium to begin the 2019 regular season. Between now and then, there is still much that needs to be sorted out. Here's a look at some of the things that the organization must decide on before March
SCOTTSDALE, Ariz. -- In exactly 10 days, the D-backs will be at Dodger Stadium to begin the 2019 regular season.
Between now and then, there is still much that needs to be sorted out. Here's a look at some of the things that the organization must decide on before March 28:
Two or three?
For the past two seasons, the D-backs have carried three catchers, and initially, it seemed like they would do so again this year. However, the signing of veteran outfielder Adam Jones has changed the roster equation, and there's a strong chance that the team will carry two, rather than three catchers.
Alex Avila is owed $4.25 million this year and the club has been extremely impressed with Carson Kelly, who was acquired in the Paul Goldschmidt trade. John Ryan Murphy could be the odd man out, but he was the team's best pitch-framer last year, and he too is out of Minor League options and would likely be snatched up by another team.
The signing of veteran catcher Caleb Joseph, who still has a Minor League option, could also make the D-backs feel more comfortable with carrying two catchers, as he could be provide insurance at Triple-A Reno.
Final bench spots
Carrying two catchers would give the D-backs the opportunity to carry both first baseman Christian Walker and outfielder Socrates Brito, both of whom are out of Minor League options and would likely be lost on waivers if they don't make the team.
Jones and Jarrod Dyson (if healthy) are locks, and if there is only one backup catcher on the bench, then Walker and Brito can make the team. If not, then only one will.
Health check
Dyson saw his first Cactus League game action Sunday after battling a strained left oblique throughout camp. It appears he will be ready for Opening Day.
It looks less likely that reliever T.J. McFarland (shoulder inflammation) will be ready, so that would open up a spot in the bullpen.
First baseman Jake Lamb left Sunday's game with back tightness, and while it did not seem to be serious, it is worth keeping an eye on.
Final bullpen spots
Archie Bradley, Greg Holland, Yoshihisa Hirano and Andrew Chafin were locks to make the bullpen coming into camp. Right-hander Matt Koch, who is out of options, has pitched well and would provide valuable length in the bullpen.
Veteran non-roster invitee Marc Rzepczynski also has pitched well and could be a valuable left-handed specialist. Additionally, Yoan Lopez, who flashed dominant stuff in a September callup last year, has had a good camp.
One of the above would have to be bumped if the team wants to keep Rule 5 Draft pick Nick Green, who must be offered back to the Yankees if he is not kept in the big leagues all season. Arizona could try and work out a trade for Green, but the Yankees are believed to think highly of him and might not be open to such a deal. Robby Scott and Matt Andriese have also pitched well at times this spring and could be candidates.
Closing time
Bradley and Holland are the two main competitors for the closer's role. Early in the spring, neither manager Torey Lovullo nor general manager Mike Hazen was willing to put much stock in spring performance for either, but here in the final 10 days, a decision will need to be made.
Opening Day
Zack Greinke and Robbie Ray are the two candidates to start Opening Day. Lovullo has played his cards close to the vest on this one, but figures to pick one in the next few days. Based on his performance last year, it would seem that Greinke would get the nod.