D-backs' shave-off helps raise funds, awareness
Hall, Gonzo lose beards for cause, which benefits University of Arizona Cancer Center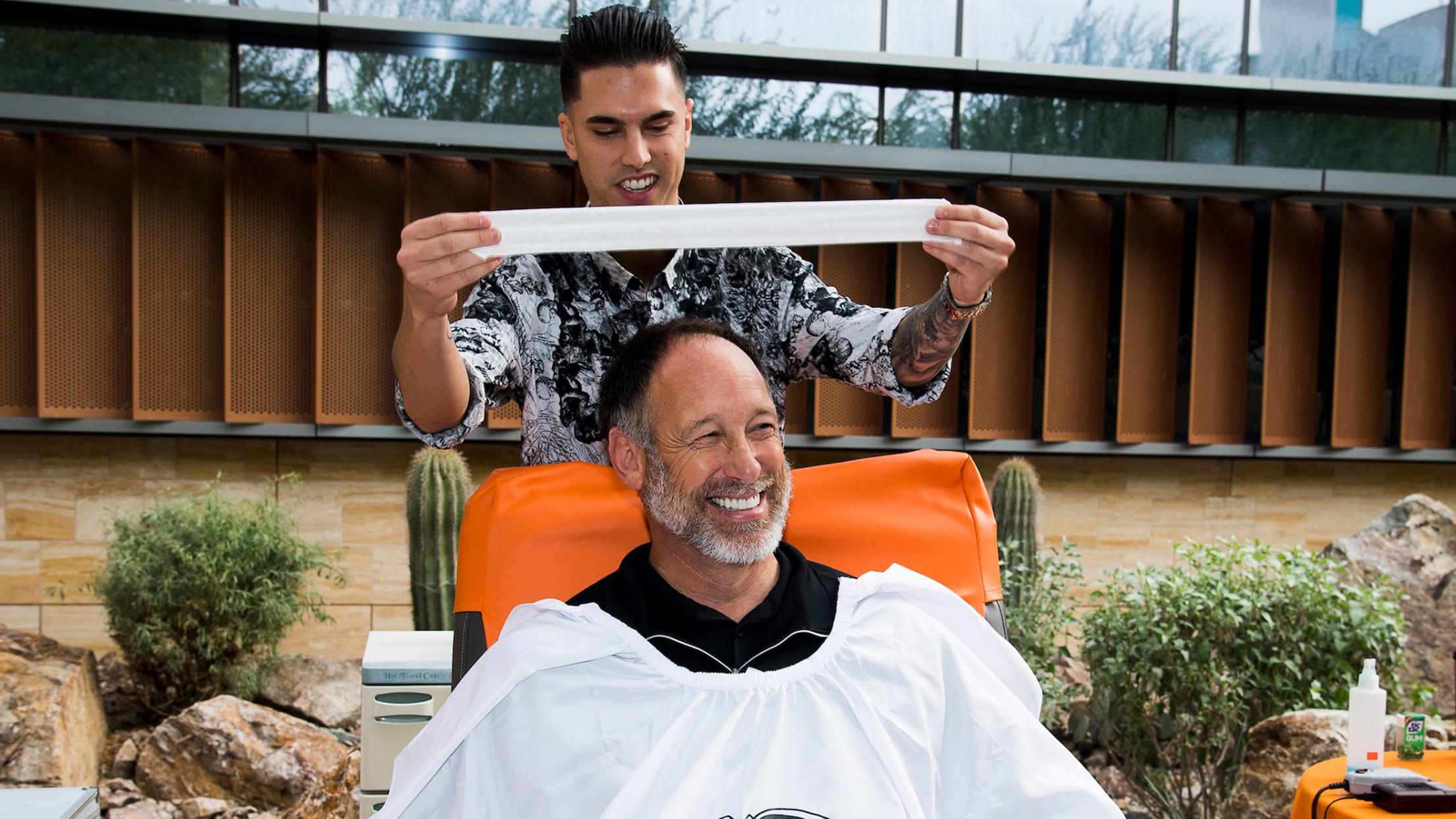 PHOENIX -- "Let your humankindness grow."That was the motto driving the fourth annual shave-off Friday morning for the D-backs and St. Joseph's Hospital, in partnership with the University of Arizona Cancer Center. The event took place at the UA Cancer Center at St. Joseph's in downtown Phoenix, and featured D-backs
PHOENIX -- "Let your humankindness grow."
That was the motto driving the fourth annual shave-off Friday morning for the D-backs and St. Joseph's Hospital, in partnership with the University of Arizona Cancer Center. The event took place at the UA Cancer Center at St. Joseph's in downtown Phoenix, and featured D-backs president and CEO Derrick Hall and 2001 World Series champion Luis Gonzalez among those in attendance who shaved the beards they had grown since Nov. 1 to raise awareness for men's cancer prevention and screening.

"This is a very important event with a very important message," said Hall, a prostate cancer survivor. "What we are doing is sending that message throughout the entire month for men to realize the importance of seeing their doctors. Early detection is the key to treatment.
"It is a year-round cause; the month of November is just a reminder. People say to wait until you are 40 or 50 [to get checked], but I say do it at any age. Stay on top of it and take control."
The event that started as a fundraiser is now a success that makes annual strides. This year, the D-backs' $50,000 donation to the UACC -- which receives all the proceeds -- allowed the center to acquire an MRI machine that allows its radiologists to distinguish between cancerous and non-cancerous prostate tissue, preventing unnecessary biopsies.

"We are so grateful to Dignity [Health], St. Joseph's Hospital Medical Center and the University of Arizona Cancer Center as well. Hopefully we are saving lives," said Hall, who noted his beard allowed him to raise awareness about the issue whenever people asked him about why he was growing it.
Gonzalez also raved about being able to be participate in the experience.
"It's a lot of fun to be a part of this," the D-backs' legend said. "It gets bigger and better every year."