D-backs have fun honoring team sponsors
Players enjoy participating in Most Valuable Partner Awards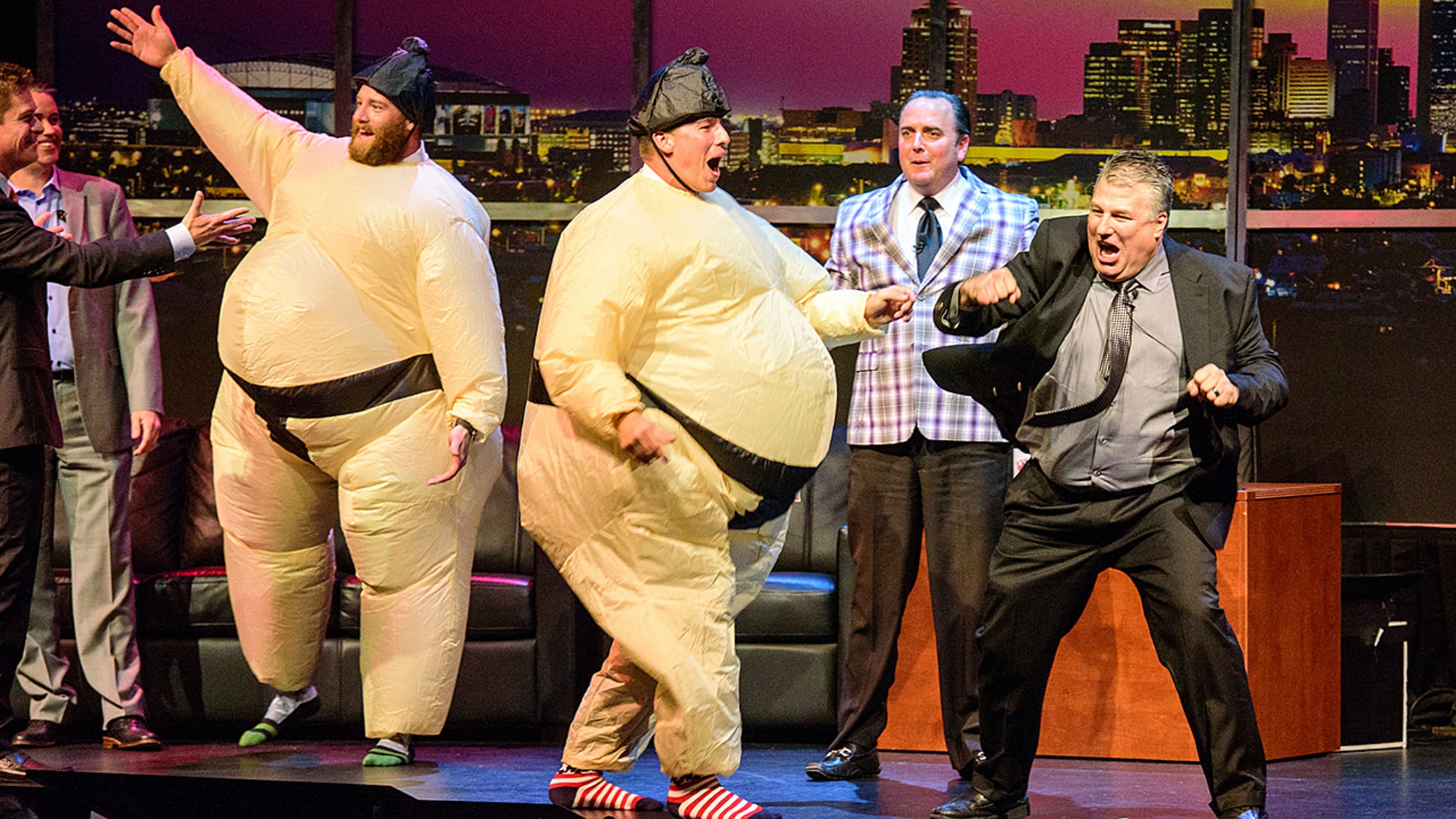 Archie Bradley and Jake Lamb participated in a game of charades wearing sumo outfits. (Sarah Sachs/D-backs)
PHOENIX -- Who looks at himself more in the mirror, D-backs outfielder A.J. Pollock, or first baseman Paul Goldschmidt?Who is better at playing a game of charades while wearing a blow-up sumo wrestler outfit, right-hander Archie Bradley or third baseman Jake Lamb?Questions like these were answered Thursday night when the
PHOENIX -- Who looks at himself more in the mirror, D-backs outfielder A.J. Pollock, or first baseman Paul Goldschmidt?
Who is better at playing a game of charades while wearing a blow-up sumo wrestler outfit, right-hander Archie Bradley or third baseman Jake Lamb?
Questions like these were answered Thursday night when the D-backs honored their corporate partners with their annual 2017 Most Valuable Partner Awards at Wild Horse Pass Hotel & Casino.

Most Valuable Partner Awards photos
D-backs team president/CEO Derrick Hall once again hosted the "Not Quite Late Night with Derrick Hall" show that included lots of laughs while also acknowledging the important contributions of the organization's partners.
"The MVP Awards is an event that our employees and partners both look forward to every year," Hall said. "We are the only team in sports that hosts and produces an event like this and are excited to share a fun night, while highlighting our collaboration with the best partners in the business. To have our top players participate in presenting the awards and playing interactive games on stage, alongside our corporate partners, makes for a memorable night for everyone."
Goldschmidt and Pollock presented an award as did D-backs legend Luis Gonzalez, outfielder David Peralta and new manager Torey Lovullo.
"I'm fortunate that I've been at every one of these," Goldschmidt said. "It's a lot of fun. Derrick puts on a great show. It's just cool to get to interact with people you don't get to see all the time. I know a lot of them come to games all the time, but we're playing so we don't a chance to spend time with them."

Goldschmidt and Pollock appeared together on stage and played a game where Hall would ask a question and the two would have to choose which of them it fit best.
For the record, the pair split on who looks at themselves most often in the mirror, but both agreed the runaway winner in that category would be Peralta.
Bradley debuted a bearded look having not shaved since Oct. 31 after being convinced to grow one by left-hander Robbie Ray. He was asked if he would keep the beard through Spring Training.
"Well, it depends on what kind of camp I have," he said with a laugh.
In the charades contest, Lamb and his corporate partner easily outpaced Bradley and his, although Bradley was hampered by not knowing what the can-can dance was.
Here is a complete list of the night's winners:
Multicultural Award: Sprint
Luis Gonzalez Community Champion Award: Safelite AutoGlass
Brand Integration Award: Pepsi
D-backs Ambassador Award: APS
Marketing Activation Award: Chase
Fan Choice Award: Phoenix Children's Hospital
Rookie of the Year Award: PetSmart
Lifetime Achievement Award: American Airlines
MVP Silver Slugger Award: Cox Communications
MVP Gold Glove Award: Anheuser-Busch