Ranking the top D-backs players of the decade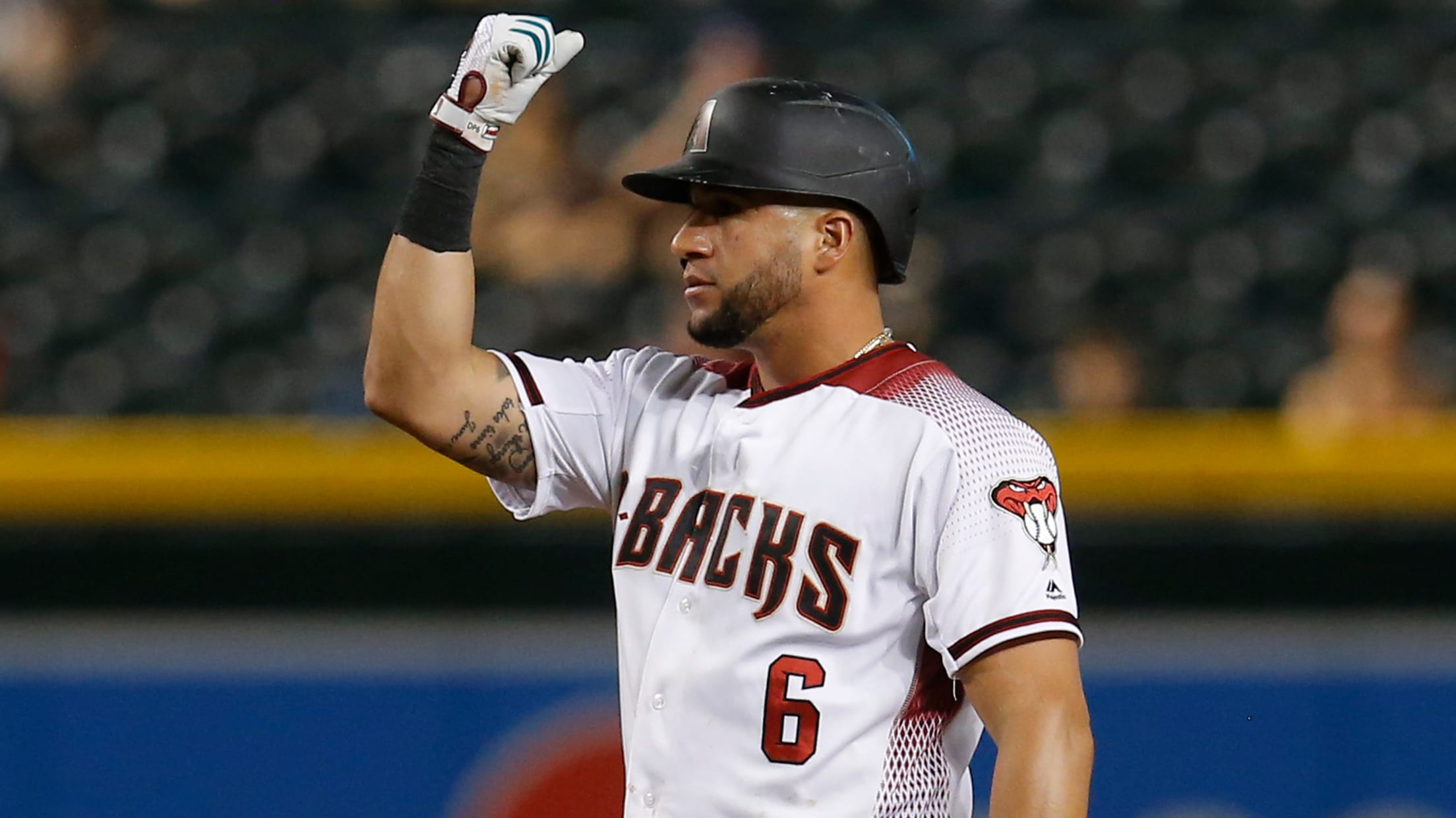 PHOENIX -- The D-backs experienced some extreme highs and significant lows during the decade of 2010-19. Arizona won the National League West in 2011, and it captured an NL Wild Card spot in '17. In between, the club finished with the worst record in baseball in 2014. Arizona was in
PHOENIX -- The D-backs experienced some extreme highs and significant lows during the decade of 2010-19.
Arizona won the National League West in 2011, and it captured an NL Wild Card spot in '17. In between, the club finished with the worst record in baseball in 2014. Arizona was in last place in the '10 NL West, as well.
Here's a look at the Top 10 D-backs players of the decade:
1. Paul Goldschmidt
Seasons: 2011-18
This was a pretty easy choice for the top spot. When you look over the consistency of his Arizona numbers, it's pretty amazing. He had a couple opportunities to be the first National League Most Valuable Player Award winner in club history, finishing second in the voting in 2013 and '15. He also appeared in six straight All-Star Games ('13-18) and won three NL Gold Glove Awards ('13, '15, '17) and four Silver Slugger Awards ('13, '15, '17-18). Additionally, he ranks either first or second in most offensive categories in team history.
2. Zack Greinke
Seasons: 2016-19
The D-backs got some criticism for overpaying when they signed Greinke to a six-year, $206.5 million deal prior to 2016, but the right-hander proved to be worth the money. While he was just OK in 2016, he was outstanding from '17-18, and he provided a very good first half of '19 before netting a solid prospect haul from the Astros in a Trade Deadline deal.
3. A.J. Pollock
Seasons: 2012-18
If not for injury issues, Pollock might even be higher on this list. Selected by the D-backs in the first round of the 2009 Draft, he played outstanding defense in center field while also hitting for power and running the bases well. His '15 season was one for the ages, as he slashed .315/.367/.498 and posted a 7.2 WAR, according to Baseball Reference, while winning an NL Gold Glove Award.
4. David Peralta
Seasons: 2014-present
Peralta tended to be overshadowed by the presence of Goldschmidt and Pollock, but other than 2016 -- when he missed most of the season due to injury -- he has put up better than league average numbers each year. He also won an NL Silver Slugger Award in '18 and an NL Gold Glove Award in '19. He is one of the best finds by the D-backs, as he was signed out of independent ball in July 2013.
5. Patrick Corbin
Seasons: 2012-18
You could certainly argue for Corbin to be higher on this list. The left-hander came over from the Angels in 2010 in the trade that involved the departure of Dan Haren. Tommy John surgery wiped out Corbin's '14 season, but by the time he left Arizona via free agency after '18, he had established himself as one of the best starters in baseball.
6. Justin Upton
Seasons: 2007-12
Upton lacks the amount of time some of the others have, but he was a key piece of the 2011 NL West championship team, and he finished fourth in the NL Most Valuable Player Award voting that year. Unfortunately, despite putting up very good numbers in Arizona, Upton will always be judged against the expectations that come with being the No. 1 overall pick in the 2005 Draft.
7. Miguel Montero
Seasons: 2006-14
Montero is the best catcher in franchise history, and he was a key component of the 2011 NL West championship team. He was voted to the franchise's all-time team by fans in '18. Twice an NL All-Star ('11, '14), Montero posted a 121 OPS+ in '11 and, he followed it with a 123 mark the next season.
8. Brad Ziegler
Seasons: 2011-16, '18
Maybe it's because he lacked an overpowering fastball or had a unique submarine delivery, but Ziegler never seems to get the credit he deserves. He was initially acquired by the D-backs prior to the Trade Deadline in 2011, and his 1.74 ERA in 23 games helped them immensely in winning the division. Not only was he effective in a setup role, but he also saved 62 games for Arizona during his first stint.
9. Robbie Ray
Seasons: 2015-present
Ray was acquired by the D-backs in a three-team trade which sent Didi Gregorius to the Yankees prior to the 2015 season, and he has been a durable part of their rotation since. Ray finished seventh in NL Cy Young Award voting in '17, and he likely would have finished higher had he not missed a month of the season after being struck in the head by a line drive.
10. Nick Ahmed
Seasons: 2014-present
Ahmed won his second straight NL Gold Glove Award in 2019, and over the past couple of seasons, he has continued to develop as an offensive weapon -- posting bWARs of 3.2 and 4.5 in '18 and '19, respectively. His work ethic is top notch, and he has grown into being a respected leader in the clubhouse.