D.C. Grays, MLB bringing back RBI program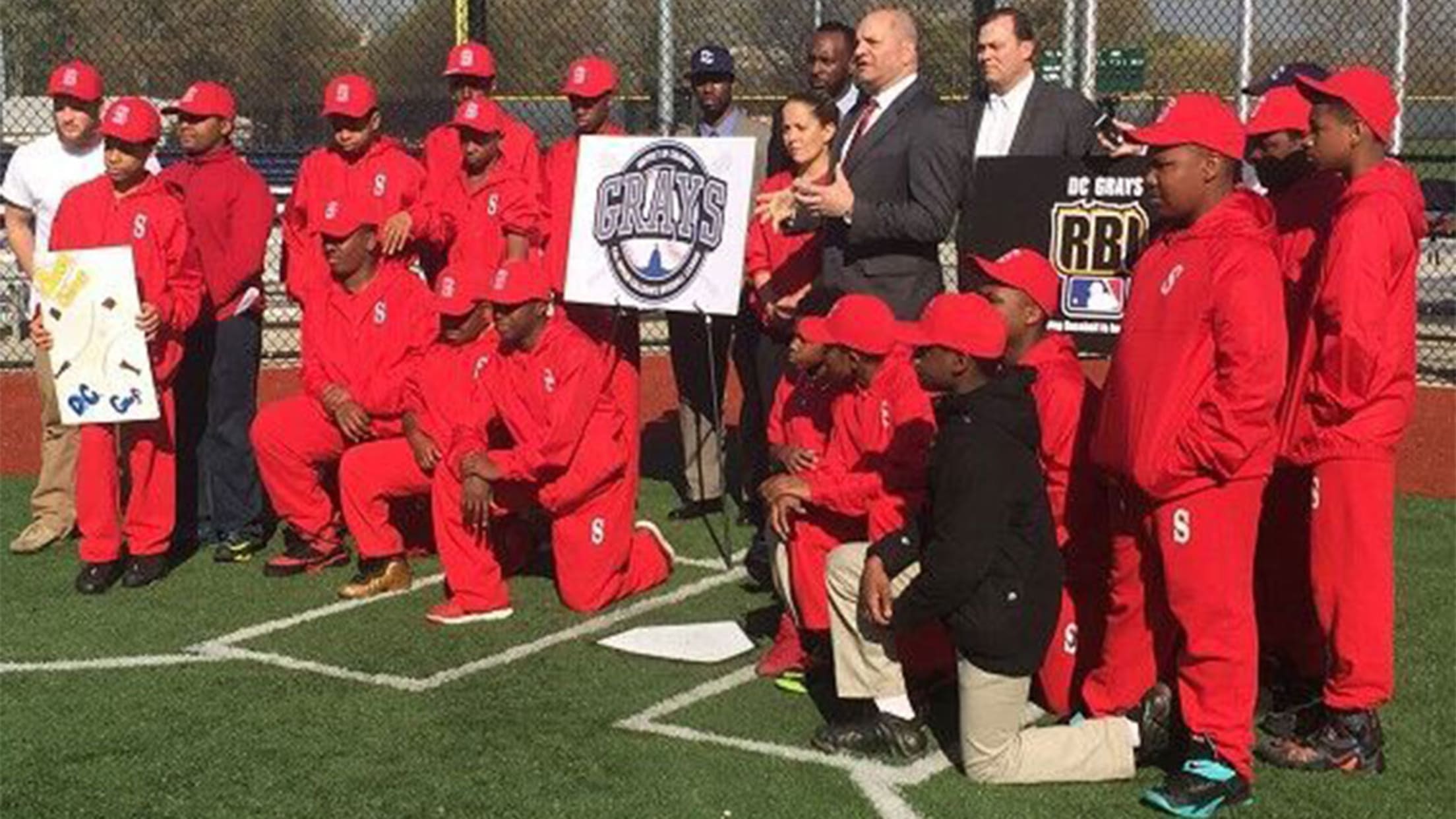 D.C. Grays president and founder Michael Barbera announces the D.C. Grays RBI program and the gift of apparel to the John Philip Sousa Middle School baseball program. (D.C. Grays)
ST. LOUIS -- D.C. Grays Baseball and Major League Baseball have partnered to bring the RBI program back to Washington, starting this summer.The Grays, an homage to the former Negro Leagues team the Homestead Grays, have fashioned themselves as ambassadors for baseball within the community for D.C., specifically with an
ST. LOUIS -- D.C. Grays Baseball and Major League Baseball have partnered to bring the RBI program back to Washington, starting this summer.
The Grays, an homage to the former Negro Leagues team the Homestead Grays, have fashioned themselves as ambassadors for baseball within the community for D.C., specifically with an effort to increase participation within the African-American community. They have held a series of free camps and clinics in the past, but this year will introduce seven teams, which will operate under the D.C. Grays RBI umbrella.
There will be five baseball teams and two softball teams, all about middle-school age and above, that will play at least a seven-game schedule this summer and will include a travel team for each sport. D.C. Grays RBI will cover expenses for the kids wanting to play baseball, leaving them with no cost.
"The whole idea behind D.C. Grays RBI is let's give these kids an opportunity to play baseball in the summer for free," said Michael Barbera, the Grays president and founder. "We've tried to have a special emphasis on middle school age and above. That's really when a kid's age in Little League where the baseball opportunity becomes few and far between in the inner city.
"As travel baseball becomes more and more prominent, there's more and more barriers for kids to play baseball in the summer."
The Grays are also donating equipment to the baseball program at John Philip Sousa Middle School, located across the street from the Nationals Youth Baseball Academy, where the Grays summer college team plays its home games in the Cal Ripken Collegiate Baseball League.
"The barriers to kids playing, they're twofold," Barbera said. "There's an expense because when you're dealing with travel baseball, it's expensive. Then there's transportation. You can't get to these games, games are all over the place. ... We want to take both off the table."