Pompey off to fast start in pivotal spring
Outfielder homers, steals base on Sunday; Reid-Foley in 'friendly' competition; Stroman to start Monday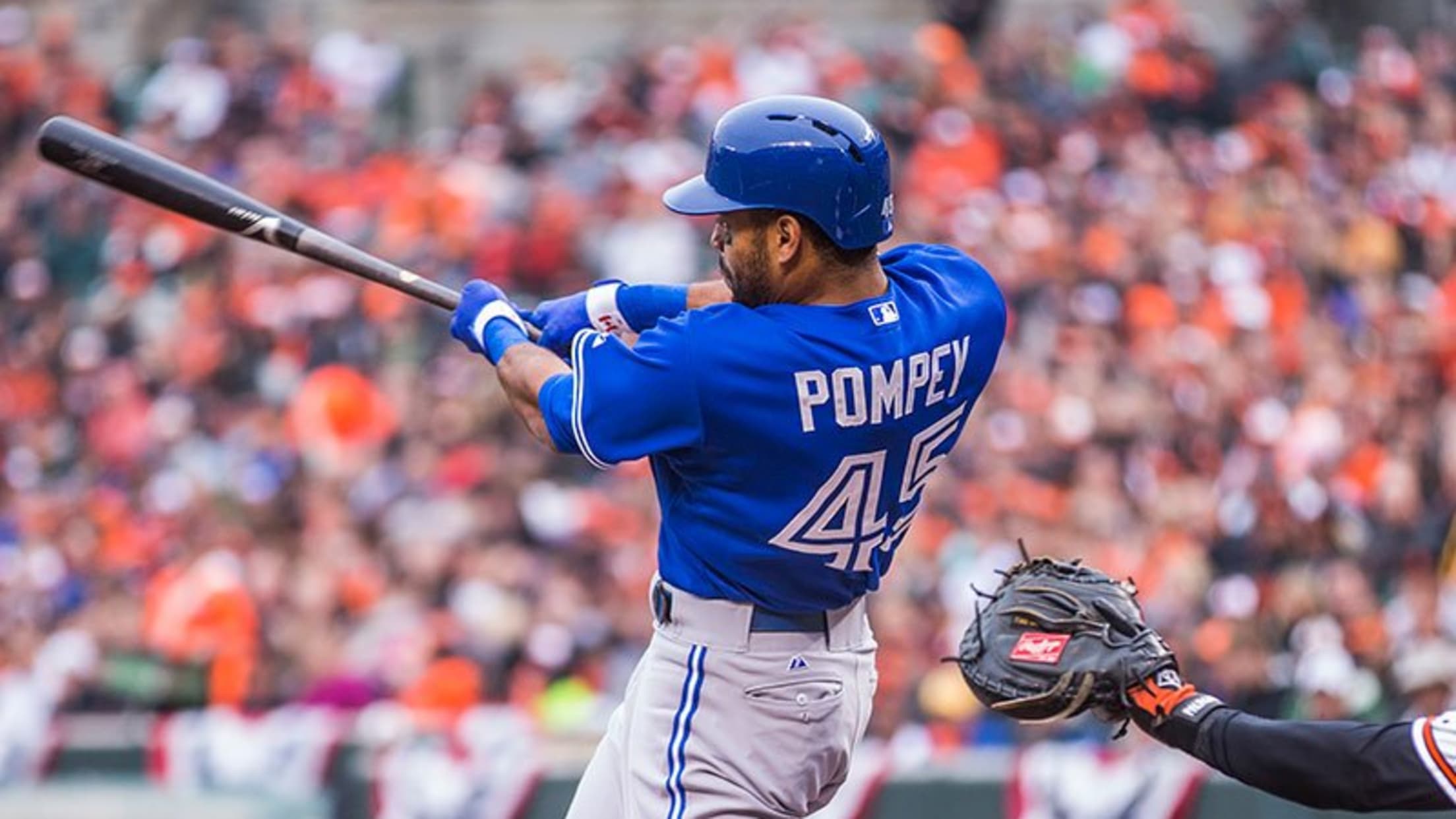 SARASOTA, Fla. -- Dalton Pompey will have to make a lot of noise this spring if he's going to be noticed in the competition for the fourth outfielder job. Sunday afternoon was a good start. Pompey hit a solo homer to right-center field, stole a base and finished 2-for-3 at
SARASOTA, Fla. -- Dalton Pompey will have to make a lot of noise this spring if he's going to be noticed in the competition for the fourth outfielder job. Sunday afternoon was a good start.
Pompey hit a solo homer to right-center field, stole a base and finished 2-for-3 at the plate during a 9-8 loss to the Orioles. Pompey got the start in center field, but he wasn't tested with the glove as his extended audition continues.
Toronto is expected to open the year with Randal Grichuk in right field, Kevin Pillar in center and Billy McKinney and Teoscar Hernandez platooning in left. Pompey will have to force the club to rethink its position, and while the odds might be stacked against him, performances like Sunday's will help.
McKinney finished with a two-hit afternoon himself, keeping his name top of mind as well. This will be one of the battles to watch during Toronto's Spring Training and it likely will go right down to the wire before the Blue Jays make a decision.
"It's going to be a good competition with these kids," Blue Jays manager Charlie Montoyo said. "Pompey, he flies. He can steal bases and he can play defense. McKinney's a hitter. They're different that way. If Pompey is the fourth outfielder or something, he can always pinch-run and score from first on a double. McKinney is more of a gamer and he swings the bat pretty well and plays good defense."
Blue Jays clarify injury
The Blue Jays clarified a previous injury report on Sunday afternoon by stating Grichuk does not have plantar fasciitis in his left foot and instead has been held out of action early in camp for precautionary reasons.
Toronto announced Saturday that Grichuk would not start until Tuesday because of plantar fasciitis. The organization walked back the original comment a day later by stating Grichuk does not have the ailment -- instead, the club is trying to make sure he doesn't get it.
The Blue Jays had not previously disclosed plantar fasciitis for Grichuk, but according to the club, it's something he dealt with in the past and Toronto wants to be extra careful this time around. Grichuk is on schedule to start Tuesday vs. the Red Sox.
"That's the plan right now," Montoyo said. "He's not hurt; I'm just being careful with him because he played like that last year. But he's not hurt. He's going to be big for us, for him to be healthy, so we're being patient with him. We're just taking [our] time, DH him here, get him off his feet. Just in case. But he's fine. He's fine."
Friendly competition for Reid-Foley
Sean Reid-Foley is competing for a job against guys he's considered close friends over the past two years. It has the potential to become awkward for everyone involved, but Reid-Foley insists it's not that way at all.
Reid-Foley is competing with Ryan Borucki, Thomas Pannone, Sam Gaviglio and (to a lesser extent) Trent Thornton for the final spot in the Blue Jays' rotation. Borucki is the clear-cut favorite after last year's success, but Reid-Foley and the rest of the group are also battling to be the first in line if there are any injuries.
Reid-Foley spent time with Triple-A Buffalo last season with Borucki and Pannone. They were with the Blue Jays in September, and they'd all like to make sure it stays that way for years to come. It will just require a bit of patience.
"We're in each other's corner," Reid-Foley said. "If you were to go walk around with us for one day, for an hour, whatever you want, we're always helping each other. It's never like, 'I'm going against you, I'm not going to talk to you.'
"We're all boys. We've played the last two years together. Especially last year, it was pretty cool seeing all of us get up there, and to experience that all together was a lot of fun."
Reid-Foley made his spring debut on Sunday vs. Baltimore, and it was reminiscent of his outings from last year. There were moments of power and dominance followed by some scattered fastballs and overall inconsistency. He allowed three runs on two hits and a walk, the damage coming on a three-run homer by Rio Ruiz in the first.
"I felt like the adrenaline was definitely pumping, but it was very controlled," Reid-Foley said. "I was expecting the opposite, kind of like a debut-type thing where you can't really find it. But I felt great out there."
Up next
Right-hander Marcus Stroman will make his first start of the spring when the Blue Jays visit the Yankees on Monday afternoon with first pitch scheduled for 1:05 p.m. ET. Stroman is expected to throw two innings in his spring debut while -- as of Sunday afternoon -- Toronto had yet to announce which position players will be making the trip. Watch the game live on MLB.TV.