How Murphy, Smoak could fit as Rockies 1B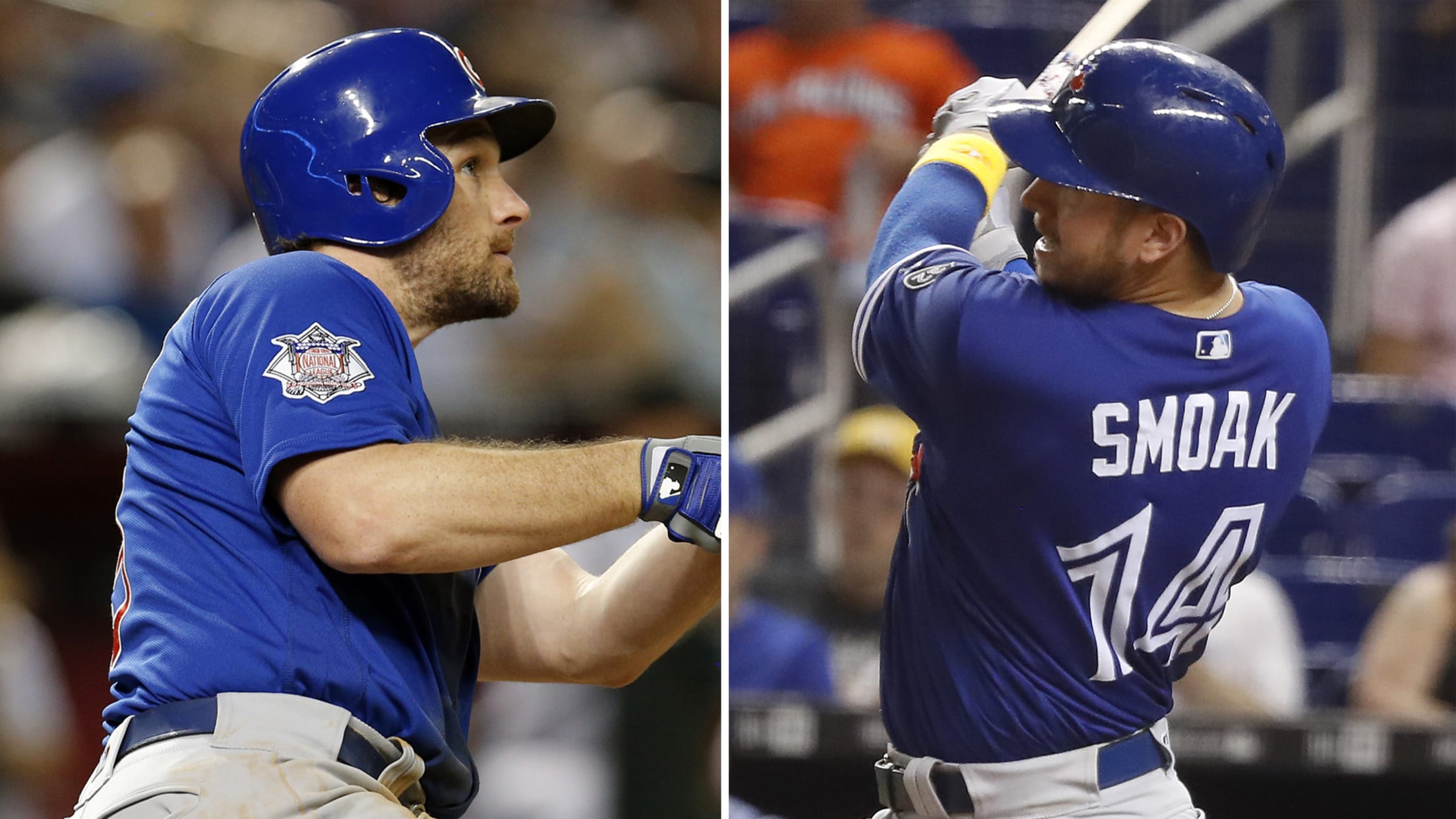 DENVER -- The Rockies' plan to obtain a first baseman has been narrowed down to two main ideas -- signing left-handed-hitting free agent Daniel Murphy, or trading with the Blue Jays for switch-hitter Justin Smoak, according to those with knowledge of the plans. With the club deliberating, it's a good
DENVER -- The Rockies' plan to obtain a first baseman has been narrowed down to two main ideas -- signing left-handed-hitting free agent Daniel Murphy, or trading with the Blue Jays for switch-hitter Justin Smoak, according to those with knowledge of the plans. With the club deliberating, it's a good time to examine each possible target.
The Rockies' plan is to move Ian Desmond from first base to the outfield. Ryan McMahon, who played mostly first base last season, would move to second.
Whoever comes in will be asked to add production at what has been a troublesome position.
Desmond's season-long struggles and McMahon's rough start to his rookie year meant Rockies first basemen finished 13th in the National League in OPS at .719 and 10th in slugging at .405. According to FanGraphs, Rockies first basemen were last in the Majors in Weighted Runs Created Plus at 69 (31 points below Majors average).
Murphy, who turns 34 on April 1, missed the first 65 games of 2018 while recovering from microfracture surgery on his right knee, then put up a .299/.336/.454 line in 91 games with the Nationals and Cubs. He finished with 15 doubles (after 47 in 2016 and 43 in 2017 to lead the NL each year) and 12 homers (after 25 in '16 and 23 in '17). But he finished the year healthy and coming on strong.
Smoak, 32, posted a .242/.350/.457 line with 25 home runs and 77 RBIs in 147 games in 2018. It was a drop from .270/.355/.529 in 2017, when he made his first All-Star Game appearance. The Jays picked up his $8 million option for 2019, but have made him available as they want to clear payroll.
Now, for the breakdowns of the two middle-of-the-order hitters. First, Murphy:
Fits the description: Rockies general manager Jeff Bridich calls not only for "consistent run production," but doing it in "those playoff games that we have designs on participating in for years to come." Well, Murphy not only is a three-time All-Star, but he has appeared in the postseason the last four years, batting .309 with a .986 OPS in 113 plate appearances.
Meaningful veteran presence: The Rockies last week hired Dave Magadan as hitting coach, and championed his ability to make advanced information palatable and help players apply it. Murphy is a devotee to FanGraphs breakdowns and Statcast™ data who is willing to help pass the word to teammates.
In defense of defense: Murphy has never been considered strong at his primary position, second base, with -15 Defensive Runs Saved over 1,196 innings in 2017 and -18 DRS over 535 1/3 innings in 2018, per FanGraphs. He would move to first, where the numbers are kinder (18 DRS in 225 innings on his career). But scouts already question his foot movement and the crispness of his glove, and he would have to nimbly handle the daring throws of third baseman Nolan Arenado and shortstop Trevor Story.
About the money: MLB Trade Rumors projects Murphy at two years and $20 million, which may not be cost-prohibitive for the Rockies. With prospects on the way throughout the infield, and with Arenado in his last year of arbitration and Story in his first, the club is not looking at a longer or costlier contract. Additionally, as a free agent, Murphy would require no outlay of talent in trade, just money.
Now, Smoak:
Lineup flexibility: Having a switch-hitting, middle-of-the-order bat would give manager Bud Black options, and Smoak is a clear threat from the left side. He has averaged 140 strikeouts per 162 games in his career, but his OBP in 2018 led all qualified American League first basemen.
Big scoop: DRS has not been kind to Smoak over his career (-18). But since joining the Blue Jays in 2015 (from the Mariners), Smoak shows up as -3, within the bounds of an average fielder. However, scouts say the 6-foot-4 Smoak is an above-average handler of difficult throws.
More first base for less money? The Blue Jays are trying to shed payroll as well as clear room for Vladimir Guerrero Jr., MLB Pipeline's No. 1 prospect in baseball. Would the Blue Jays -- not believed to be seeking Major Leaguers, and especially not those in their arbitration years -- eat some of Smoak's salary for the right prospects?
Acquisition cost: The teams have dealt before, and Bridich resisted using a top 10 prospect. The Rockies acquired reliever Seunghwan Oh from the Jays in July for outfielder Forrest Wall, then the Rockies' No. 13 prospect, and first baseman Chad Spanberger, who had been No. 24.