Instant feedback: Norris, Ausmus discuss start
Rotation candidate sits with Tigers' manager following outing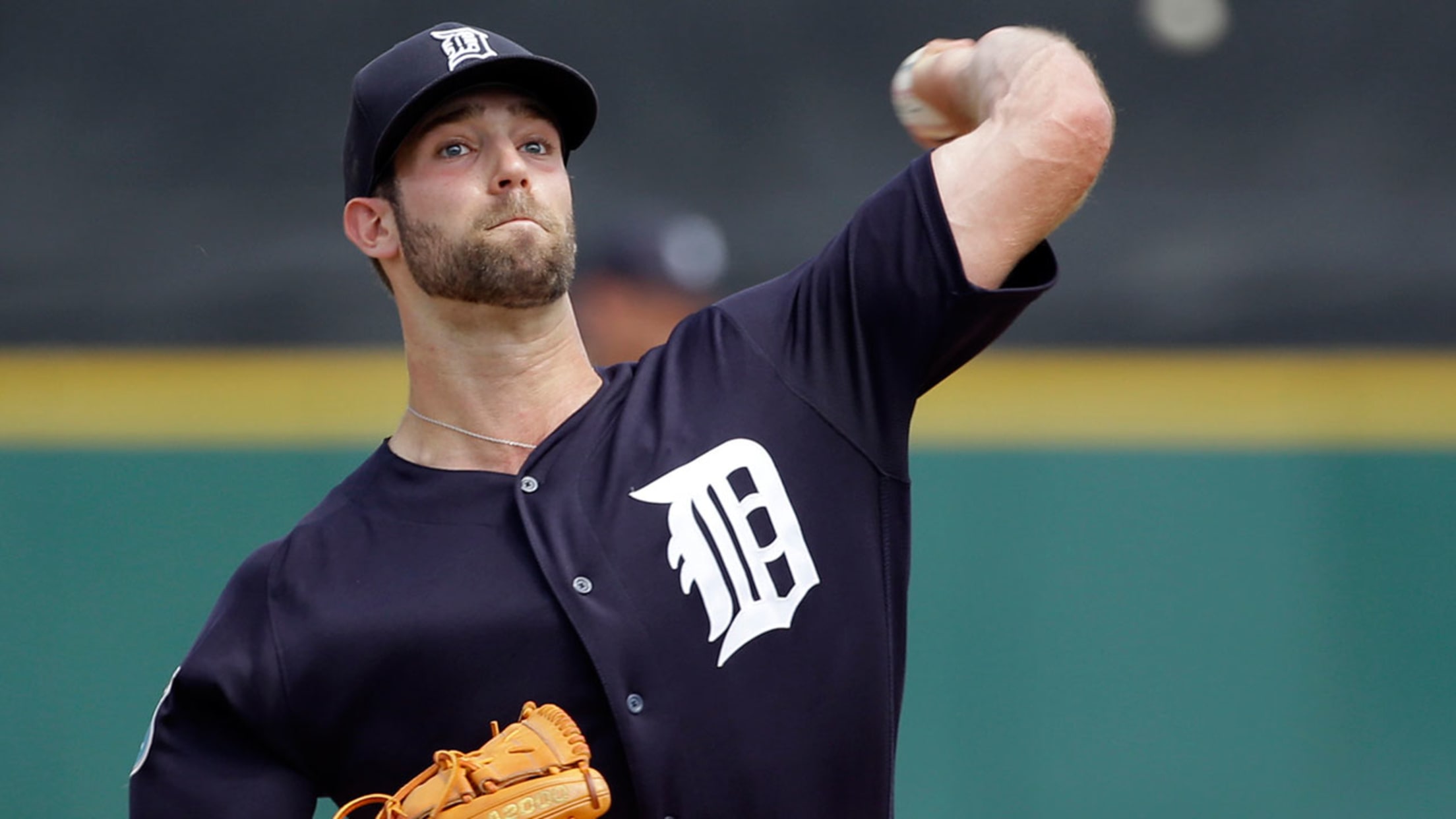 Daniel Norris allowed one run and struck out four over two innings vs. the Mets on Monday. (AP)
LAKELAND, Fla. -- Daniel Norris took Gene Lamont's seat.The chair beside manager Brad Ausmus just in front of the Tigers' dugout is normally reserved for coaches as Ausmus discusses strategy and shares observations on players. For a stretch of Monday's 9-2 win against the Mets, Ausmus summoned the 22-year-old to
LAKELAND, Fla. -- Daniel Norris took Gene Lamont's seat.
The chair beside manager Brad Ausmus just in front of the Tigers' dugout is normally reserved for coaches as Ausmus discusses strategy and shares observations on players. For a stretch of Monday's 9-2 win against the Mets, Ausmus summoned the 22-year-old to his side to discuss his outing.
"He's been great. He sat there and talked to me for an inning and a half," Norris said. "I mean, I wasn't necessarily upset about today, but I know I need to get a little bit deeper into the game with my pitch count. He said don't sweat it."
• Spring Training:Schedule | Tickets | Gear
Norris spent almost as much time on the chair (1 1/2 innings) as he did on the mound (two innings), so there was more than a pep talk.
"We went into a few different things," Ausmus said, "but it was good. He's a very prideful, talented kid, so he wants to be good."
The third round in the competition for the fifth spot in the Tigers' rotation saw Norris start the game and Shane Greene end it. The competition, meanwhile, rolls on.
"They're both in consideration. I wouldn't characterize it more than that," Ausmus said. "At some point, we'll make a decision who the fifth starter is. You guys will be the fourth person to know."
Like last week, the pitches Norris was throwing looked better than the results. His fastball hit 95 mph on the mercurial Joker Marchant Stadium radar gun, his curveball had some bite to it, and he threw a cut changeup that helped finish off two of his four strikeouts out of nine batters faced.
His problems were the batters he didn't finish off during a 33-pitch second inning, and the batters he labored to finish off in a 20-pitch opening inning. Norris retired Curtis Granderson, Neil Walker and Michael Conforto in order to open the game, but he needed eight pitches before striking out Conforto following an 0-2 count.
Norris gave up three hits in the second, all of them on 0-2 or 1-2 counts, all of them after hitters shrugged off two-strike fastballs up and out of the zone.
"I was definitely up. That was one thing me and Brad talked about," Norris said. "I got 1-2 or 0-2 and I like to finish guys off up, but [pitches] aren't competitive when they're at [the level of] their head. Eight-foot fastballs are irrelevant, so I just have to be a little bit better at that.
"... Say I'm free and easy with it and it's at the letters, then that's when I get that swing-and-miss. If I just throw a couple of those, it's different."
Considering Norris threw 54 first-inning pitches in a start last September, Monday's two-inning, three-hit, one-run performance could've been worse. But with his stuff, it could've been better.
"It's not uncommon for young pitchers with the type of stuff that he has," Ausmus said. "They have a tendency to want to make the breaking ball break sharper, and they want to throw the fastball hard. And what happens is the pitch comes up in the zone and they start to really have trouble getting the ball down in the zone. All of a sudden, you're behind, they foul balls off and the pitch count gets up.
"A lot of times there's a learning curve to understanding you need to back off a little bit. Going harder and faster isn't the answer. When you hear people talk about the game speeding up, that's part of it."
Norris was back in the clubhouse by the time Greene took the mound for the sixth. Greene finished it out with four scoreless innings on four hits with six strikeouts. The Mets removed most of their regulars by the time he was done, but Greene's stuff didn't discriminate.
"He threw some good fastballs, threw some good hard cutters," Ausmus said. "To me, that was probably his best outing so far. The hard cutter was especially effective today."