Healthy Stumpf to remain on rehab assignment
Barbato diagnosed with rotator cuff tendinitis; struggling V-Mart will remain in cleanup spot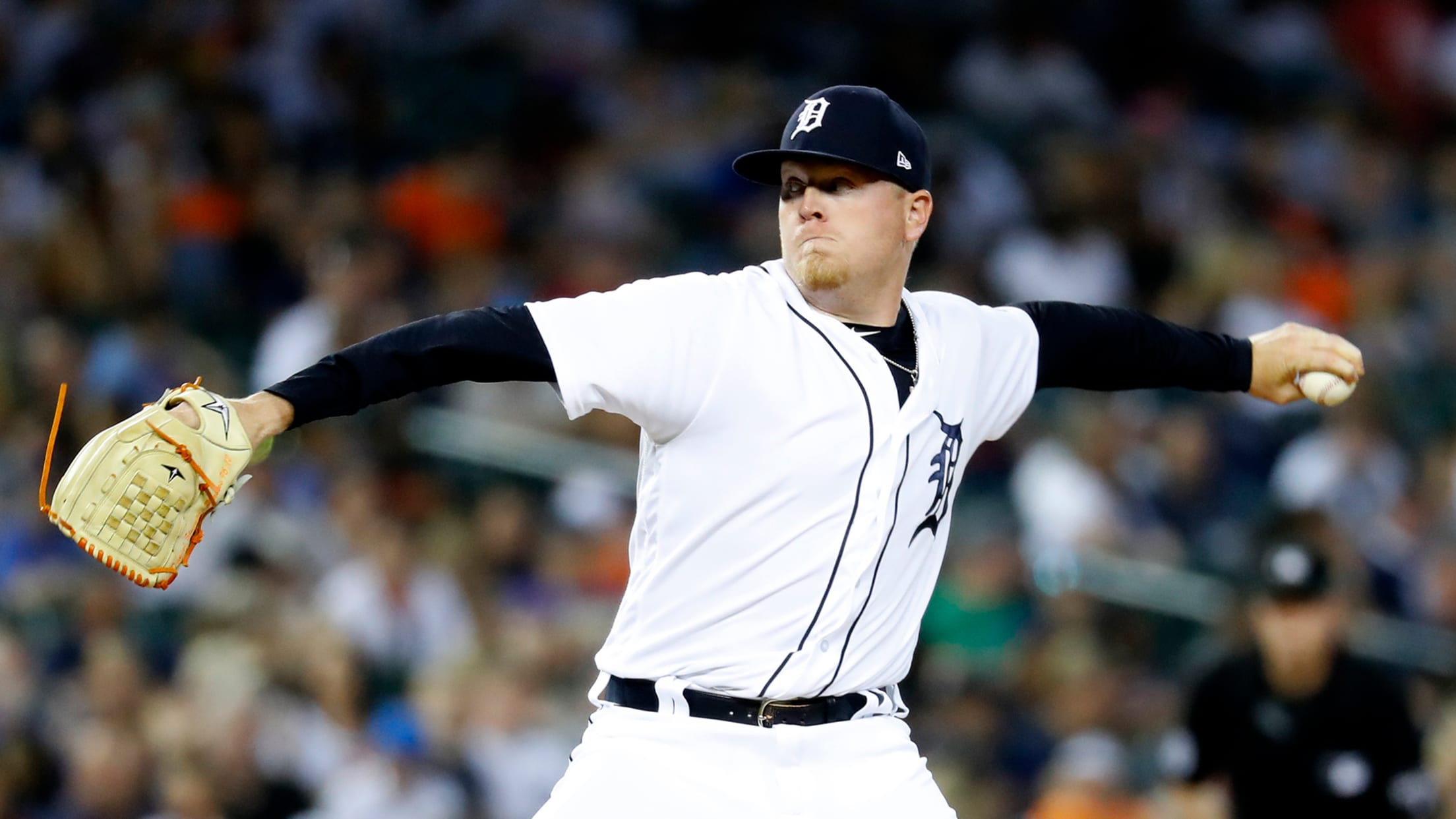 CLEVELAND -- The clean inning Daniel Stumpf pitched for Triple-A Toledo on Friday night suggested the left-hander is healthy after a bout with ulnar nerve irritation in his elbow. But it's becoming clear Stumpf's rehab assignment isn't simply about getting him healthy before he rejoins the Tigers' bullpen."We just want
CLEVELAND -- The clean inning Daniel Stumpf pitched for Triple-A Toledo on Friday night suggested the left-hander is healthy after a bout with ulnar nerve irritation in his elbow. But it's becoming clear Stumpf's rehab assignment isn't simply about getting him healthy before he rejoins the Tigers' bullpen.
"We just want him getting people out and throwing it over," manager Ron Gardenhire said Saturday. "And he's healthy, so it's now about it's about that. And then we'll decide what we need to do."
With that in mind, Stumpf's rehab stint will extend into at least next week. He's expected to pitch again for on Monday in Toledo against Indianapolis, then potentially again after that. Detroit can use up to 30 days on his rehab assignment before it has to either activate him from the 10-day disabled list, option him to the Minors full-time or otherwise move him. The Tigers might not use all 30 days, but with more than three weeks remaining, they can take their time.
Stumpf entered the season as Detroit's primary lefty reliever, but struggled most of the season before telling Tigers staff at the end of May he was experiencing discomfort in his elbow. The 27-year-old allowed 11 runs on 21 hits over 17 1/3 innings, with 12 walks and 14 strikeouts.
While Stumpf was inconsistent against left-handed batters, who went 10-for-35 with five walks, nine strikeouts and a home run against him, right-handed batters hit 11-for-35 with five doubles and seven walks.
With fellow lefty Blaine Hardy in the rotation for most of the past five weeks, the Tigers have been largely operating without a lefty reliever in Stumpf's absence.
"Having a left-hander's a wonderful thing," Gardenhire said, "but having a left-hander that doesn't throw it over and get people out is, you know. We think this guy can do those things. We want him to be healthy, and we want to make sure he's throwing the ball over, because I think we all saw early he was missing by a lot. Hopefully that was because he was pitching with a little bit of a sore arm."
Barbato diagnosed with rotator cuff tendinitis
An initial review of Johnny Barbato's MRI exam Saturday indicated no structural damage, pending a review from Tigers doctors in Detroit. For now, he's listed on the 10-day disabled list with right rotator cuff tendinitis.
Whether Barbato's struggles damaged his standing in the Tigers' system -- he tried to pitch through the issue for weeks before telling team staff following his five-run outing Friday night against the Indians -- remains to be seen. But Gardenhire, who has talked about needing players to be honest when they're injured, acknowledged his irritation after Friday's loss had something to do with that.
"He came out and said his shoulder's sore and he's tired of pitching with it," Gardenhire said Saturday. "Well, I wish he would've said that somewhere else. I mean, he could've said it down [in Toledo] and maybe they could've got him well.
"Those are the kind of things you'd like to know ahead of time. I know he got whacked last night, but he also asked to throw a little bullpen [session] before. He wanted to throw a little touch-up earlier in the day. If you're hurting, I don't think you'd want to do that. But he did it, and then he pitches, and said he just can't do this anymore. That kind of bothered me, because he just did that."
Barbato said he has been changing arm angles and adjusting mechanics for weeks, trying to find an arm slot where he could throw with less pain. Eventually, it became a fruitless search. Though he succeeded at Triple-A Toledo, allowing just four earned runs on 12 hits over 22 2/3 innings with 23 strikeouts, he wasn't having the same success in Detroit. Yonder Alonso's grand slam Friday bumped the damage off Barbato this season to nine runs on 11 hits over 6 2/3 innings, including home runs in his last two outings.
Quick hits
• Though Victor Martinez has been struggling of late, Gardenhire said he has no intention to move Martinez out of the cleanup spot.
"We just don't have enough people that really go there," Gardenhire said. "Martinez has hit the ball really hard. His problem is, he hits these bullets and they play the shift. I feel really good with him, with hard contact and quality at-bats."
• Hardy, who has spent this week in the bullpen since his start last Sunday against the White Sox, will get his next start next Tuesday at home against the A's. He'll serve as the Tigers' sixth starter over the final few weeks before the All-Star break, though he won't make every turn.