Danny Jansen's mom makes many feel at home
Blue Jays catcher's family grows with every Minor League ballplayer they host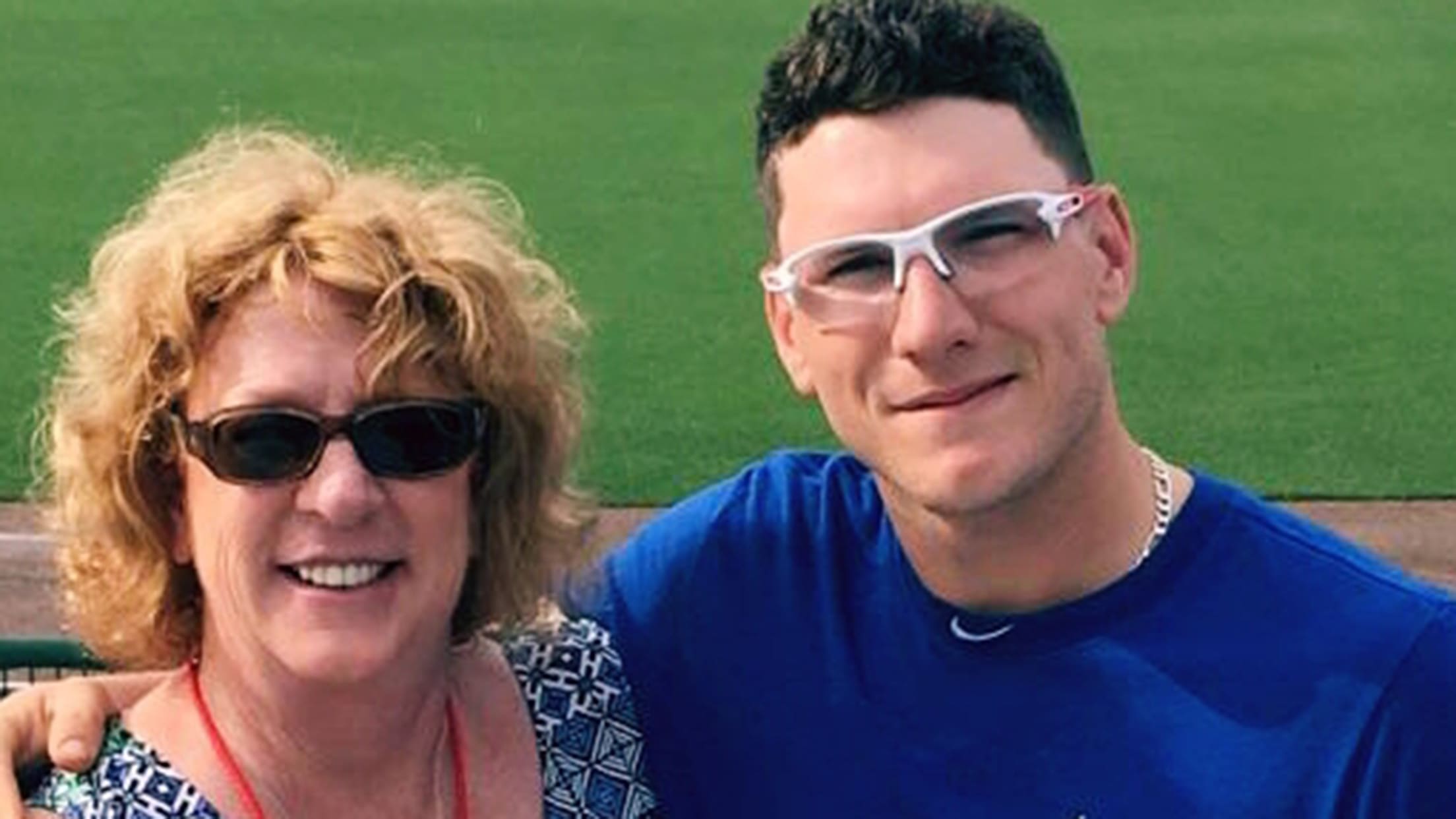 TORONTO -- For Danny Jansen's entire life, he's shared his mom. The Blue Jays' catcher has an older brother, Matthew, who has seven years on him, but throughout each summer in their Wisconsin home, Kathy Jansen and husband Steve also opened their doors to players from the Timber Rattlers, a
TORONTO -- For Danny Jansen's entire life, he's shared his mom.
The Blue Jays' catcher has an older brother, Matthew, who has seven years on him, but throughout each summer in their Wisconsin home, Kathy Jansen and husband Steve also opened their doors to players from the Timber Rattlers, a nearby Minor League team that's currently affiliated with the Brewers.
"She's been a host mom ever since I can remember when I was a kid," Jansen said. "Our first guy was in '02, so I was seven. [My parents] did it for a long time, and then when I was in high school, they took a break.
"My brother's seven years older, so he was [out of the house] earlier, and once I left, they felt like they had nobody in the house, and like they were missing something. It's always nice for them to have a ballplayer in the house, so they're still doing it now."
Though Kathy Jansen thought her husband was crazy when he originally suggested adding to a household constantly filled with teammates, neighbours and friends, she couldn't be happier he eventually convinced her.
"I'm so glad we did," she said. "We have met so many cool people, we have met so many great kids. They come from all walks of life. I love being a part of their lives, I love watching them grow, and we're friends with all of the players we've hosted. … It has been life changing, it really has."
Last year, Danny notably reunited with Adam Jones, 14 years after his family hosted the then-teenaged outfielder. Currently, Kathy is host mom to Brent Diaz, a catcher in his third year of Minor League baseball. Diaz is a Cuban-American who hails from Miami, but he has felt right at home with the Jansens and couldn't be enjoying his host family experience any more.
"It's incredible, to say the least," Diaz said. "To define them, quite simply put, it would be just to say they're salt-of-the-earth people. They make me feel at home and it's humbling. It's hard when you're away … but I always feel like I'm home here."
Though Toronto's backstop won't get a chance to spend Mother's Day with his mom, Diaz has plans for Kathy that might include a day trip to Chicago, a Latin-inspired recipe that he plans to prepare for her, and a gift he's had stashed away in a closet. He feels it's the least he can do for the woman who has given him a home away from home.
"She's awesome," Diaz said. "She truly is a second mom to me and she's just incredible with everything. When we got back from a road trip and there was no food, she knows I don't have a car or anything to get around, so she took off time from work just to go to the grocery store to bring me something to eat that day. She is the epitome of everything a mom is -- she's selfless and loving and caring."
Stories like Diaz's are incredibly familiar to Danny, who knows there isn't a person who's come across his mother who hasn't immediately developed a fondness for her.
"She's an incredible person," Jansen said. "I've never met somebody who hasn't liked her. She's just such a caring person, and she and my dad have made so many sacrifices. My dad worked as a truck driver for 40-something years, and he had to work nights just to coach us during the day.
"He's retired now, so he gets to come out and see us, but my mom's still working, so she's grinding. She wants to come out as much as she can, but she can't at times. She's a very special person, and very caring person, and she's a beauty. I love her so much and I wish she could be here for Mother's Day."
Though Kathy won't be at Rogers Centre on Sunday, she knows her son will be thinking of her, and she does have plans to join her youngest for the celebratory occasion in the near future.
"I know that on Mother's Day, he plays for me," Kathy said. "Next year, I'm going to be there for Mother's Day. This year, we were at Spring Training until the end of it, and I didn't go to Opening Day and I thought, 'This is a big deal; I'm never missing this again.' So there are things I want to do, and we'll do a Mother's Day."
Like Diaz, Jansen has a few things planned to make Kathy's Mother's Day special.
"I don't think I've ever played in front of her on a Mother's Day in professional baseball," Jansen said. "But they're always watching. They won't miss the Mother's Day game. Last year, I had the pink gear, and I signed it and wrote some stuff on it and sent it to her, so she's got that to cherish, and I'll do the same this year, too. It's a little gift even though she can't be here."