He's a No. 1 overall pick ... and playing like it
How Dansby Swanson turned his career around
Cody Bellinger is the most improved hitter in baseball this season. That should hardly be controversial, since it's the middle of May and he's still hitting .407 with a .772 slugging percentage and some pretty strong outfield defense. Let's set him aside. He's playing baseball on an entirely different plane
Cody Bellinger is the most improved hitter in baseball this season. That should hardly be controversial, since it's the middle of May and he's still hitting .407 with a .772 slugging percentage and some pretty strong outfield defense. Let's set him aside. He's playing baseball on an entirely different plane of existence.
The second-most improved hitter in baseball this season, among the 110 batters who had compiled 100 batted balls in both 2018 and '19 entering Monday, isn't Tim Anderson or Josh Bell or Yoan Moncada. It's a former top prospect, involved in one of the most infamous trades in recent history, who just spent two full seasons being generally not very good.
It's Dansby Swanson, shortstop for the Braves. No non-Bellinger hitter has improved their underlying quality of contact metrics more.
That's a big deal, obviously, both for the Braves and for Swanson. Picked No. 1 overall in the 2015 Draft by the D-backs, just ahead of Alex Bregman (No. 2 to Houston) and Andrew Benintendi (No. 7 to Boston), Swanson was traded six months after the Draft (along with Ender Inciarte) in a deal for Shelby Miller that is among the more surprising (and some might say lopsided) in memory.
Swanson reached the Majors the following August, and made quite the impression, hitting a strong .302/.361/.442 (115 OPS+) in 38 games. But a full season in 2017 was a mess, as he put up a line of only .232/.312/.324 (68 OPS+) around a Minor League demotion, and '18 was only slightly better, at .238/.304/.395 (88 OPS+).
Those two years (2017-18) combined weren't just disappointing, they were downright bad: of the 177 players who had 1,000 combined plate appearances in those years, only three hitters were weaker, and "Alcides Escobar, Billy Hamilton, and Chris Davis" is not a batting list anyone wants to be part of these days.
But this year, the 25-year-old is hitting .268/.333/.486 (115 OPS+). It's not that this is a world-beating line, though an above-average hitter capable of playing strong defense at shortstop is quite the valuable player. Even though it's a big step up, it's also tied for 92nd best among players with 100 plate appearances. It's that it's better, a lot better, than what he was. It's that the underlying performance shows real, true improvement.
Take four of the most important things you can do as a hitter, and note that Swanson has improved in each one of them.
Swanson is ...
Striking out less: 20.4 percent, down from 22.9 percent
Walking more: 9.3 percent, up from 8.3 percent
Hitting harder: 46 percent, up from 34 percent
Hitting fewer grounders: 39 percent, down from 44 percent
More importantly, when he hits the ball in the air (flies and liners), he's hitting it harder. In 2017-18, his hard-hit rate on balls in the air was just 40 percent. This year, it's up to 57 percent. It's where damage is found.
Those are all good things. But how do you combine them into one number?
The way we get to that is through Expected Weighted On-Base Average, which accounts for quality of contact as well as amount of contact, in an attempt to remove the effects of park and defense. (For example, when Swanson crushed a ball at 103.2 MPH and a 30 degree launch angle in the third inning on Sunday, we give him credit for the fact that such a ball is a hit 80 percent of the time and a homer 74 percent of the time, not that Ketel Marte tracked it down for an out in the deepest part of Chase Field.)
In 2017, Swanson's expected wOBA was .297, or in the 10th percentile. In '18, it was .278, or in the sixth percentile. (The Major League average in '17-18 was .320.) So far in '19, Swanson is up to .373 -- better than Bryce Harper, Paul Goldschmidt, or Rhys Hoskins -- and that jump of nearly 100 points puts him up at the top of the "most improved" list, right behind Bellinger.
Biggest improvements in Expected wOBA, 2018-19, Min. 100 PA each season
+.177 -- Cody Bellinger, LAD
+.095 -- Dansby Swanson, ATL (from .278 to .373)
+.088 -- Hunter Dozier, KC
+.087 -- George Springer, HOU
+.083 -- Josh Bell, PIT
Now, let's caveat two things. First, because Swanson had such a poor season in 2018, he had plenty of room to improve. It's not possible for someone like Mike Trout or Christian Yelich, for example, to make such improvements, because they were already outstanding. Second, we're not looking at jumps in actual production, where Swanson rates well yet behind several others, we're instead looking at changes in underlying skills.
Another way of looking at that is to note that in all of 2018, Swanson had 15 barrels, the Statcast term for a ball that is the perfect combination of high exit velocity and ideal launch angle. So far in 2019, in a fraction of the plate appearances: Swanson has 15 barrels.
But why? What's allowing Swanson to succeed now in 2019, where he hadn't in the previous two years?
"Health" seems an obvious answer, given that Swanson dealt with an injured wrist for much of 2018 -- he missed the National League Division Series, don't forget -- and underwent surgery in the offseason.
"I think the big thing is the kid is healthy, he doesn't have that bothersome wrist he fought all of last year," Braves manager Brian Snitker said in March to MLB.com's Mark Bowman. "That was good to see him go the other way there. I don't know if he's ever hit an opposite-field homer."
Snitker was onto something. Swanson's 22 over-the-fence home runs (he also had an inside-the-parker) entering the season were all to center or left field. So far this year, he's already hit two to right or right-center, including this one off of Jon Lester on April 3:
Maybe it's all related to the wrist, but there's more to it than that, too. Look at what Braves hitting coach Kevin Seitzer said to the Arizona Republic after Swanson tripled to right-center off Zack Greinke on Friday:
"Last night was a perfect example of how new mechanics can make such a difference."
Seitzer didn't elaborate, but that shouldn't be hard to track down. As it turns out, it wasn't. The change is clear on video -- see below -- and Seitzer and Swanson told MLB.com last September exactly what they were working on.
"Over the past three weeks," wrote Ben Weinrib on Sept. 2, "Swanson has worked with hitting coach Kevin Seitzer to widen his stance to improve his swing path."
"I think what it's really done is it keeps me more still," Swanson said. "It helps you see the ball earlier and longer and just helps you make adjustments a little better. When you have a lot of moving parts, it just simplifies it."
It's not at all hard to see the difference. Let's find two nearly-identical Swanson plate appearances, both at home in Atlanta, each against Miami righty Tayron Guerrero. The one on the left is from last May 20; the one on the right is from last month, on April 6. It's clear that not only is Swanson's stance much more open, but his hands are lower, too.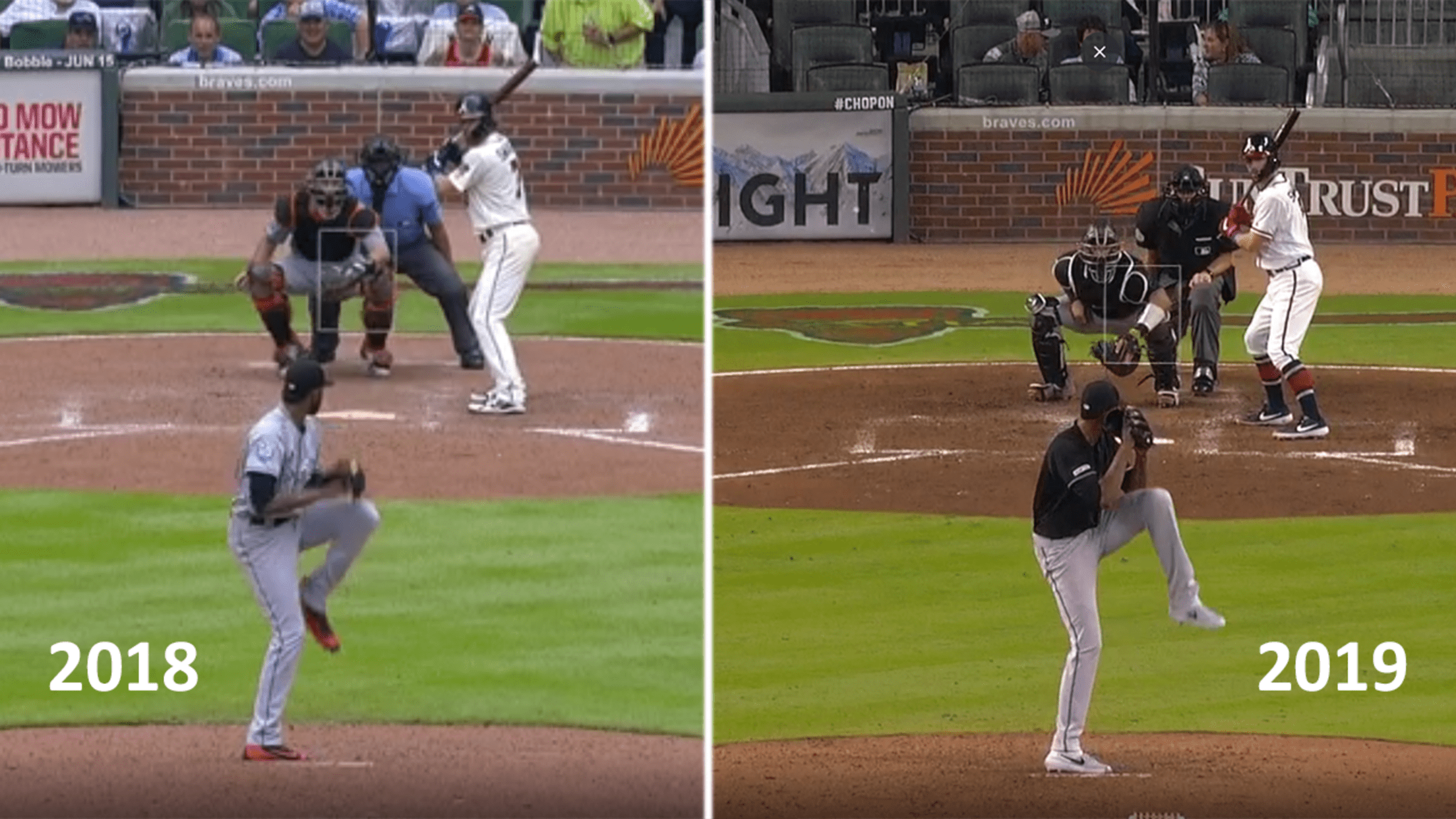 "It's something we've talked about, making some [adjustments] where he's more in his legs," Seitzer said to Weinrib last season. "Sometimes he gets a little far forward, and this keeps him in his legs to where he can stay against his front side. When he gets too far forward his swing gets too steep to where it has too much chop to his swing instead of staying on a plane and staying through the ball."
Whether or not the stance and the wrist are responsible, we're seeing some true improvement in his plate discipline, beyond just the walk and strikeout changes. No player in baseball has cut their chase rate -- that is, the rate of swings on pitches outside the strike zone -- as Swanson has, down from last year's 35.2 percent to 24.4 percent. That's important, as you'd expect; in his career, Swanson has a .138 average and a .167 slugging on balls outside the zone, and .288 with a .467 slugging inside the zone. Swinging at more strikes is just about the best thing a player can do.
Dansby Swanson has the largest decrease in chase rate -- swings at pitches outside the zone -- in baseball from 2018-'19. pic.twitter.com/YZGQsMG4Eh

— Mike Petriello (@mike_petriello) May 13, 2019
Swanson is unlikely to ever hit like Yelich or Bellinger or some of baseball's true sluggers, because that's not his game. But it's also not what he needs to aspire to in order to be valuable, because simply being an above-average hitter while playing an above-average shortstop is valuable.
In the 21st century, 14 shortstops have done in a full season what Swanson is currently doing in 2019, which is to be a bat between 10 percent and 20 percent above league average and with positive defensive value. What that looks like is something like a four-to-five WAR season, with Jimmy Rollins' 2007 Most Valuable Player Award campaign on the high end. (A two-WAR season is considered "average," and four-WAR is roughly "All-Star," for context.)
In an NL shortstop season where Trea Turner is hurt, Corey Seager is starting slowly, and Brandon Crawford looks to be a shell of himself, Swanson may have a shot at beating out Trevor Story to serve as a back-up behind the likely duo of Javier Baez and Paul DeJong on the NL All-Star team. It would be a nice honor, but it also doesn't matter all that much if he receives it. Through health and technique, Swanson has improved. He's looking a whole lot more like that No. 1 pick the Braves thought they'd swiped from the D-backs nearly four years ago.