Yankees Magazine: A piece of Yankees history
Darryl Strawberry started 1996 in an independent league. By midseason, he was a major contributor to New York's return to glory.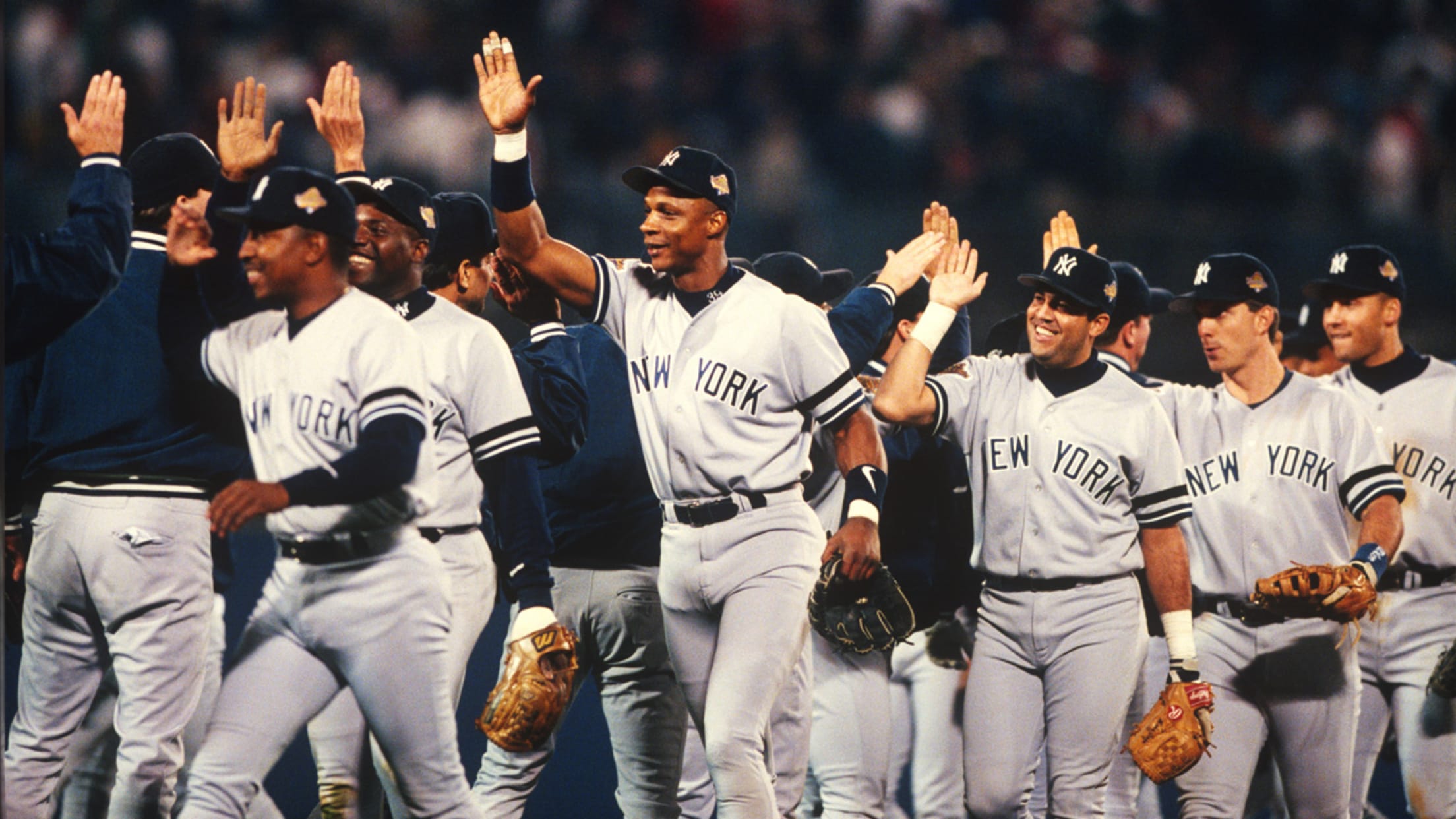 Twenty years later, Darryl Strawberry remains proud to have been part of the 1996 championship team. "To not only win the World Series in New York, but to win it with a franchise that has such a storied tradition and great history is something that is special." (New York Yankees)
Thanks to George Steinbrenner, Darryl Strawberry found a baseball home in New York for the 1995 season after serving a 60-day suspension for violating baseball's drug policy. But the team declined to exercise its club option on the eight-time National League All-Star the next season, forcing Strawberry to find work
Thanks to George Steinbrenner, Darryl Strawberry found a baseball home in New York for the 1995 season after serving a 60-day suspension for violating baseball's drug policy. But the team declined to exercise its club option on the eight-time National League All-Star the next season, forcing Strawberry to find work elsewhere. A solid performance and renewed passion with the St. Paul Saints of the independent Northern League to start the 1996 campaign gave Strawberry -- a key member of the 1986 Mets' championship team -- a second chance in pinstripes.
Strawberry rewarded The Boss for his faith, hitting 11 regular-season home runs and collecting 36 RBI in 63 games. That October, Strawberry made his most significant contributions to the team, batting .417 with three home runs in the American League Championship Series, including two in Game 4.
Earlier this season, Yankees Magazine editor-in-chief Alfred Santasiere III discussed the 1996 championship season with Strawberry.
How much did getting that chance to come back to the Majors with the Yankees mean to you in 1995?


It meant more than anything to come back, especially because it was New York. The Boss didn't have to sign me, but he believed that I was a player who was part of New York City's history, and he wanted to keep that going. I think that everybody deserves second chances, but I had some real issues. But Mr. Steinbrenner looked beyond my issues and looked at me as a person and not just a baseball player. He truly cared about me as a person, and that made a big difference. That's why I am who I am today and why I care about others -- because of the way Mr. Steinbrenner treated me. Another reason I got that opportunity was because Don Mattingly wanted me on the team more than anything. We always had great respect for each other, and he really pushed for me to get the opportunity with the Yankees.
Your experiences playing for the Yankees in 1995 and 1996 were very different. How much did you want to continue your career with the Yankees after getting a taste of being back in New York in 1995?
I wanted it to continue, but things broke apart for me. I think a couple people felt I wasn't ready for the next season. I went to play in independent baseball in St. Paul, Minn., and during that time, I wondered if I would ever play in the Majors again. When I got to St. Paul, I started enjoying baseball again, and I was having a lot of fun. It was cool to be able to play baseball without having that much pressure, and it just brought a desire back and a greater passion for the game. I didn't have any idea if I would return to the Majors or not, but that's where I started to love the game again.
Did you talk to Mr. Steinbrenner at all during the time you were with the Saints?
No, but [Yankees special assistant] Ray Negron was talking to The Boss and really giving him insight on how well I was playing in St. Paul. The Yankees eventually sent out [director of Major League scouting] Gene Michael to see me play, and he was impressed that I was healthy and that I was having fun.
Were you excited to have the chance to come back to the Yankees in 1996?
Yes. I was more excited about it than I was the previous year because in 1995, I never felt like Buck Showalter wanted me around. Things were a lot different with Joe Torre and a lot more relaxed. I wanted to do well, but I didn't feel the same amount of pressure.
You dedicated your 1996 debut to your mother and to your agent, Bill Goodstein, both of whom had recently passed away. What were the emotions you felt when you made your debut at Yankee Stadium in 1996?
It was a really emotional time, deep inside. I thought a lot about my mom and Bill that night. They both had such huge impacts on my life. It was a long road back, and after all I had been through, I had arrived back in New York City and not anywhere else.
What were your impressions of the team's new everyday shortstop, Derek Jeter?
I knew he was going to be great. When I first saw Derek in 1996, he was ready for anything that could come his way in the Majors. When you're a player, you know when another player has talent. I told Derek, "You're going to be a star in New York, and they're going to love you here." And he looked at me and said, "How do you know that?" And I said, "Because you can play."
He reminded me of myself when I was a rookie. He didn't feel pressure. He just played the game the same way he had in the Minors. Nothing changed for him.
What about Joe Torre?
Joe Torre is a very unique person. He was different from a lot of other managers. He loved his players more than he loved himself. I think that's what was really special about him. His relationships with players were real. There wasn't a hidden agenda. Joe learned who could handle certain things, and he never discriminated against anyone. He just used his wisdom to align players with the situations where they had the best chance to succeed. That's how he became a winning manager.
In the second game of a doubleheader on July 13, you belted two home runs against the Baltimore Orioles, including one that put your team up for good. Did you feel like you were really back after that performance?
That was a turning point for me. I remember that game in Baltimore like it was yesterday. One of those home runs was against Arthur Rhodes, who was a rival to us. That game really shut the critics up, and it reminded them that I could still play. I never talked about it, but I wanted to prove myself. From that point on, Joe really believed that I was going to help our team.
That same night, Dwight Gooden was the winning pitcher. What was it like to be back on the field with him after all you had experienced together on the Mets?
Well, it had been quite a while since we had been on the same field together. It was fun to see him out there again because we had such a long history together. Even though it had been a while, it felt normal to be out there together again. It was just like old times.
What do you remember from the series in August against the Chicago White Sox, in which you hit five home runs in three days?
We had just acquired Cecil Fielder. I also remember that the starting pitcher kept throwing me fastballs in the first game, and I hit three of them out of the ballpark. I couldn't believe he was throwing me fastballs because everyone knew that I could hit a fastball out. It was a great night to be a Yankees player at Yankee Stadium. There was so much excitement with Cecil coming in, and the headline was "Strawberry Steals the Show."
After we lost the second game of the series, I was able to hit two home runs in the third game. That's when I became a true Yankee. We had some ups and downs that month, but those two games were big for us.
By that point in the season, did you have the sense that a different player was going to step up each night and help the team win?
Yeah. It wasn't about who did it; it was more about just getting it done. We had some good young players and a bunch of guys who had been in the league for a while and who knew how to win. Everyone on that team had a specific role, and by that point in the season, you start to ask yourself, "How good could this team be?" We came to the ballpark every day knowing that we had a chance to win.
What was the atmosphere like in the clubhouse after you clinched the division that September?
It was a great feeling. We had gotten to the playoffs in '95, but fell short. With a new manager and a lot of new players, there was no guarantee that we were going to get back there.
How did you feel about your chances to contribute in the postseason?
I felt good because I was playing well, and I knew I would be able to play well under pressure. I think Joe recognized that I had a lot of great experience, and you can't teach that. Joe asked me how I felt before the postseason began, and I told him that I felt good, but I also told him that I was okay with whoever he wanted to put out there. He said, "You're going to be playing a lot." That gave me a lot of confidence.
How much do you think having Joe at the helm instead of Buck impacted the outcome of the 1996 postseason?
It made a big difference. It was a great change in personalities because Buck went with the players who were part of the starting nine from the beginning of the season. Joe looked at all of the players Mr. Steinbrenner had brought into the mix. Joe understood that there were guys on his bench who might be able to spark the team. That really paid off for us in '96.
With your team up, 2 games to 1, how important was Game 4 in the American League Championship Series?
Well, in a playoff series, Game 4 is always big. In those series, you have to be able to beat good pitchers, and Baltimore had quality pitching. Their pitcher threw some pitches up in the zone, and that was it. Ballgame over.
Your eighth-inning home run off Armando Benitez sealed the game for your team that night. What was your approach against him in that at-bat?
My approach was that he was afraid to throw the ball on the inside part of the plate against me, so I was looking for a hard fastball away. If he was going to pitch out and away, I was going to go the other way with it.
In Game 5, your third-inning home run capped off a six-run frame and all but punched the Yankees' ticket to the World Series for the first time since 1981. What was the excitement in the dugout like in the late innings of that game?
Video: ALCS Gm5: Fielder, Strawberry go back-to-back
It was a wild scene because we all got hot at the right time. It was big for the Yankees organization and for the fans. I don't think anyone expected us to be that good. Baltimore thought they could beat us, but they quickly realized that they couldn't.
What did that Yankees team have that made it possible for it to go on the road and come back from a 2-games-to-none deficit in the World Series?
All you had to look at was the man who was running the team: Joe Torre. Joe never panicked. He realized that there were some other players he had to get out there because he had guys who were struggling and other guys on the bench who he knew he could rely on.
It was Joe's first World Series, and he made the boldest move by benching a few of his star players and playing some of the reserves in Atlanta. We got some great pitching down there, especially from Andy Pettitte in Game 5, and we left there with a 3-games-to-2 lead in the World Series. Joe took some big chances, and they all paid off for him. I don't think Joe ever gets enough credit for the way he managed those games. That was a sign that he was going to be a Hall-of-Fame manager.
How hostile was the atmosphere in Atlanta-Fulton County Stadium during those three games?
Our backs were up against the wall. But we had the attitude that we were going to take back the Series down there. They've got the "Tomahawk Chop," and we're like, "No. We're going to chop you up."
So after you had so much success in Atlanta, how would you describe the excitement in the Bronx when Game 6 began?
It was great. The fans were relieved that we went down to Atlanta and actually won three games. Going into Game 6, I think they realized that we had regrouped. We had gone into enemy territory and played good baseball. They had no reason to think that we weren't going to continue to play good baseball and win the whole thing that night. They were right.
What was it like to take a victory lap around Yankee Stadium that night?
It was an incredible time to celebrate. It had been a long time since the Yankees had won, and we really fought hard to win it that season. What we did that season really made The Boss proud. When I was taking that victory lap, I was happiest for him and for Gene Michael, who put that team together and who really flew under the radar.
How did the emotions after winning the '96 World Series compare to how you felt a decade earlier when you won the '86 World Series with the Mets?
The emotions were probably more real in '96 because I had already won a World Series. I already knew what the feeling was like, and what the parade was like. To come back after going through so much and to be a part of another championship in New York City was unbelievable. I couldn't actually believe I had come back.
What comes to your mind these days when you think back on that season?
I'm so proud that I was part of that team. To not only win the World Series in New York, but to win it with a franchise that has such a storied tradition and great history is something that is special. I'm part of the history of the New York Yankees, and I will be forever. That's what I always think about when I look back on it.
This interview has been edited for clarity and length.
Alfred Santasiere III is the editor-in-chief of Yankees Magazine. This article appears in the July issue of Yankees Magazine. Get this article and more delivered to your doorstep by purchasing a subscription at yankees.com/publications.