Baseball lifer, ex-Tribe skipper Garcia dies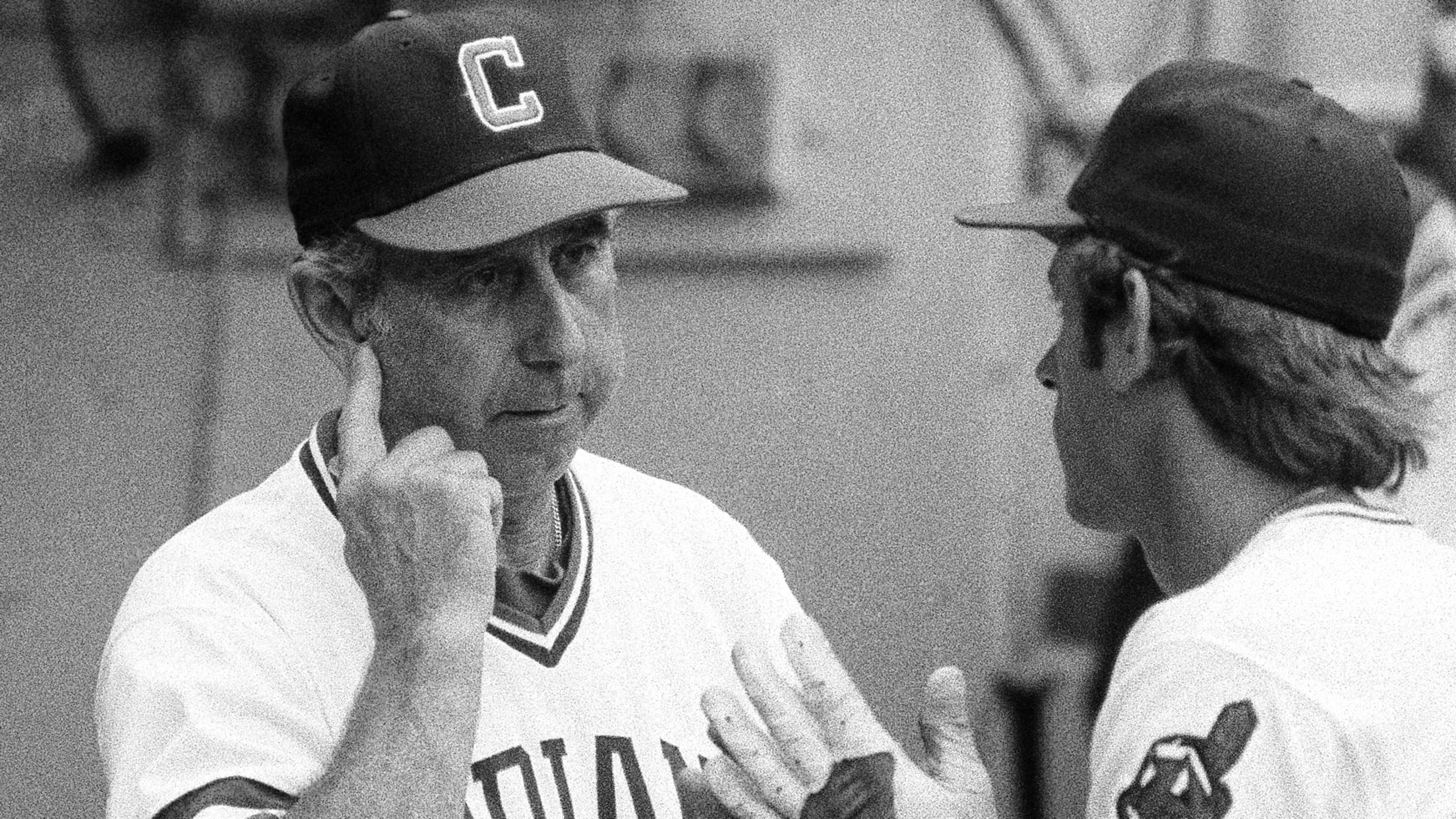 CHICAGO -- During his days as the third-base coach for the Indians, Dave Garcia was an artist with a fungo bat. He would use the slender piece of lumber to test the limits of the Cleveland defenders like Buddy Bell, Duane Kuiper, Frank Duffy and Rick Manning."The Dead Enders," Manning
CHICAGO -- During his days as the third-base coach for the Indians, Dave Garcia was an artist with a fungo bat. He would use the slender piece of lumber to test the limits of the Cleveland defenders like Buddy Bell, Duane Kuiper, Frank Duffy and Rick Manning.
"The Dead Enders," Manning said with a smile from the visiting broadcast booth at Wrigley Field on Wednesday. "That's what he nicknamed us. He was like our dad, really. He really was. He was one of the nicest men you'd ever meet in all of baseball. You never heard a bad word come out of his mouth."
Garcia, whose 65 years in professional baseball included a four-season tenure as the Indians' manager, died this week in San Diego at the age of 97. Garcia managed the Tribe from 1979-82. That was his second stint as a Major League manager, following parts of two seasons as the Angels' skipper from 1977-78.
Garcia also made a brief stop in the Indians' organization as a player more than three decades earlier. During a 15-year Minor League career, Garcia played 68 games as an infielder for the Indians' Class A affiliate, the Wilkes-Barre Barons, in 1946.
Manning played for Garcia during his stint as a coach and manager for the Indians in the '70s and '80s, and then worked with him again during their time with the Brewers. Manning, who is now the color commentator for the Indians' television broadcasts, was saddened to learn of Garcia's passing.
"He was the best. He meant a lot to me and my career -- that's for sure," Manning said. "Guys back then used to hoot on me, because they'd say, 'He can't hit. He can't do anything.' But he said, 'He's playing center field. That's my guy. He's not going anywhere.' He was special. There's not many like him."
Deeply saddened to hear of the passing of my friend Dave Garcia at age 97. What a remarkable man. A true baseball lifer. Friend to all. Taught me so much. He would post a .503 winning % over four seasons ('79-'82) as Tribe Manager. Here with Rick Manning in dugout talking ball. pic.twitter.com/KXOr1G87GY

— Bob DiBiasio (@BDbaseball6) May 23, 2018
A baseball lifer, the St. Louis native was also a Minor League manager for the Padres, Giants and Angels, as well as a coach for the Indians, Angels, Padres, Brewers and Rockies. Garcia was a longtime scout for the Giants, and he served as a special assignment scout for the Brewers and Royals. He worked in professional baseball during parts of eight decades, and he coached into his 80s.
Indians manager Terry Francona learned of Garcia's death prior to Wednesday's game against the Cubs. When Francona played for Milwaukee in 1989-90, Garcia was a member of the Brewers' staff.
"What a gentleman," Francona said. "He might be the nicest guy. Like, if you went and took a poll, he'd be at the top. My goodness. The year I was with the Brewers ... I don't know what title he had, but he'd hit me grounders every morning, every day. And every time, he'd go, 'What a nice play!' I'm like, 'Dang, man.' He was just so upbeat. It was like, 'Dang, I only caught a grounder,' but he was so nice."
"It's sad, but he lived such a great life," Garcia's grandson, Greg Garcia, an infielder for the Cardinals, said Tuesday. "I can't even count the amount of people that have come up to me and said, 'Your grandfather did this for me [or he] did that for me.' And it's not just baseball people. The cameraman in San Diego said my grandpa had an effect on him. The ticket lady said the same thing to my dad.
"That's the thing I'm most proud of being his grandson, the people he affected. It's something my entire family strives to do, affect people in a positive way. I'm very lucky."
Garcia took over as Indians manager on July 22, 1979, replacing Jeff Torborg. He led the Tribe to a 38-28 finish over the remainder of the season. Over his four years in Cleveland, Garcia compiled a 247-244 record as manager, a .503 winning percentage. Including his time in Anaheim, Garcia went 307-311 in his Major League managerial career.
"You learned a lot of baseball from him and he was so positive," Manning said. "He lived a great life -- 97 years old."