Martinez won't force Nats to shift more
Dozier, Turner work on building chemistry; Fedde impresses vs. Cardinals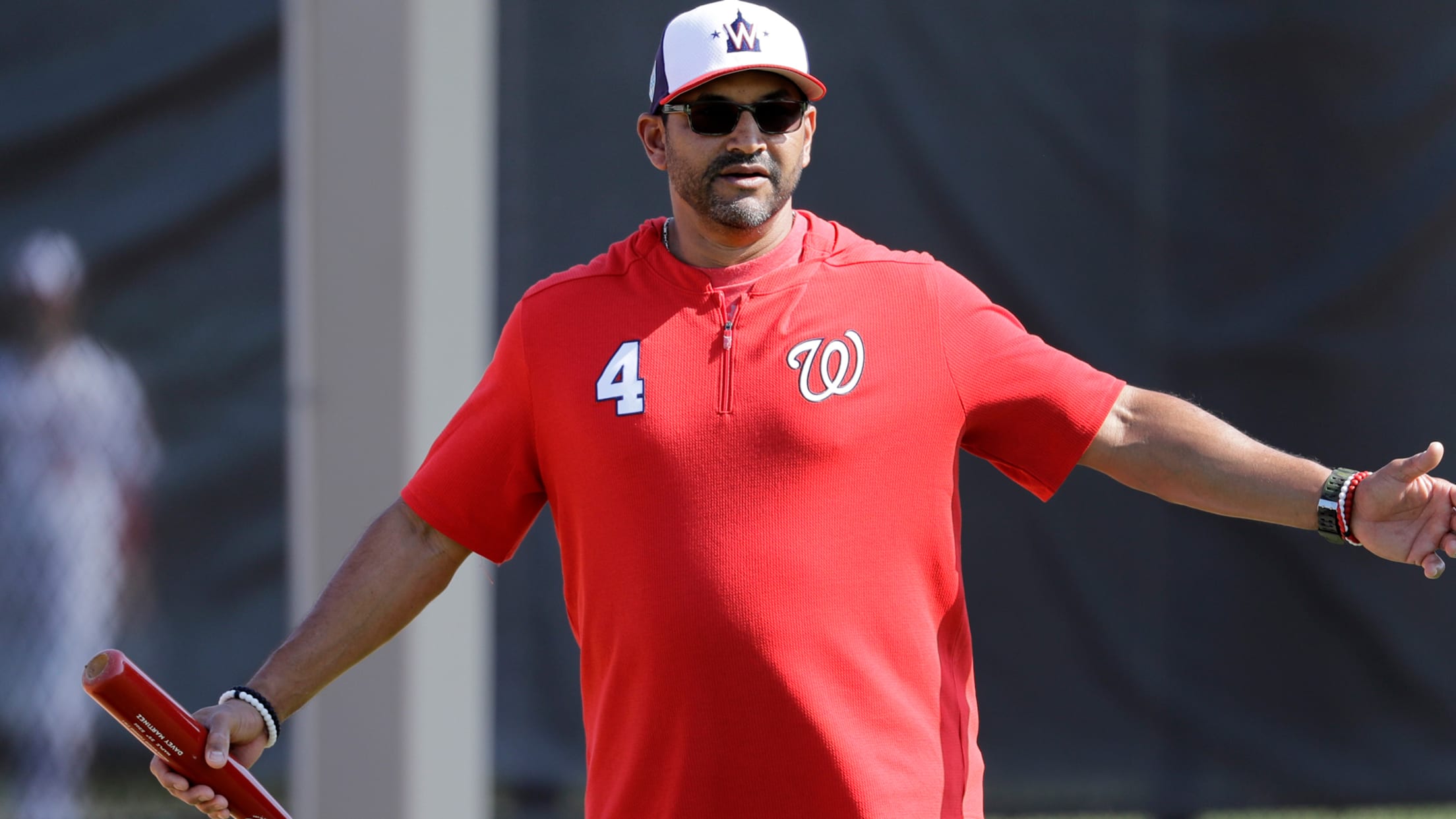 JUPITER, Fla. -- The Nationals were near the bottom of the Majors in how frequently they shifted last season, shifting on 12.7 percent of plate appearances last season. That ranked 22nd in all of baseball, according to Statcast. But manager Dave Martinez said he was fine with how often his
JUPITER, Fla. -- The Nationals were near the bottom of the Majors in how frequently they shifted last season, shifting on 12.7 percent of plate appearances last season. That ranked 22nd in all of baseball, according to Statcast.
But manager Dave Martinez said he was fine with how often his team shifted last season, even as he aspires to turn Washington into a better defensive team.
"With the kind of pitchers that we have, we don't feel like shifting is adequate," Martinez said. "We don't want to shift just to shift. We want to make sure all the numbers and information match up."
More shifts do not automatically lead to a better defense. Consider how frequently the top five defensive teams in MLB according to Defensive Runs Saved, according to Statcast, used the shift: D-backs (12th), Brewers (eighth), A's (14th), Braves (23) and Rays (second). However, the Nationals ranked near the bottom of the Majors in numerous defensive metrics, including DRS (25th), Ultimate Zone Rating (22nd) and Outs Above Average (27th).
For a team looking for ways to improve defensively, shifting more seems like a natural way to close the gaps.
Washington did make some personnel moves that should help shore up its defense during the offseason, especially in the middle of the field. The combinations of Victor Robles and Michael A. Taylor in center field and Yan Gomes and Kurt Suzuki at catcher, as well as Brian Dozier at second base, should all serve as significant improvements from last season.
But Martinez does not believe more shifts are the answer, but he does wants to shift at more opportune times. He thinks the Nationals got beat too often on shifts with two strikes and wants to make sure it fits their pitching staff.
"For me, it's talking to [the pitching staff] and their comfort on shifting," Martinez said. "And a lot of times, hard contact. That's a big thing for us, especially on the infield. What's the contact like against a certain guy?
"I think last year, we got beat a couple times, especially the other way with two strikes, where we probably shouldn't have shifted as much and should've maybe played straight-up. So we're going to take a look at all that stuff this year really hard and get all the information."
Getting to know each other
In order to give the Nationals' new double-play combination a chance to get used to one another, Martinez plans to play shortstop Trea Turner and second baseman Dozier together as often as possible this spring. They each made their Grapefruit League debut Sunday afternoon against the Cardinals, the start of what Washington hopes is a strong rapport between the two players. At the plate, Dozier notched his first hit in a Nationals uniform.
Washington's inability to consistently turn double plays is another area where it struggled defensively in 2018, turning the second fewest double plays in the National League.
"It's something that I always could be better at or should be better at," Turner said. "I don't think I was bad by any means, but I think there was a lot of room for improvement. … I remember me and [first-base coach Tim Bogar] sat down halfway through the year last year. He kind of challenged me to make a little bit of an adjustment."
Glover exits vs. St. Louis
Koda Glover left his outing early during the fifth inning of Sunday's 12-2 victory over the Cardinals after feeling some tightness in his right elbow. After retiring the first batter of the inning, Glover issued three consecutive walks to load the bases, prompting pitching coach Derek Lilliquist to emerge from the dugout for a mound visit.
Once the right-hander complained of some tightness, he was immediately taken out of the game, especially considering his injury history, after throwing 22 pitches. He will be re-evaluated on Monday.
"He said he felt great in the bullpen," Martinez said. "When I sent Lilly out there, I just said: 'Talk to him, see how he feels.' And Lilly says: 'He says he just didn't feel right.'"
It could be another potential setback for Glover, who is competing for one of the final spots in the Nationals' bullpen and entered Spring Training impressed with how strong his arm felt. He changed his offseason throwing program, tossing nearly every day at the advice of Max Scherzer.
But injuries have now struck for the second consecutive spring. A shoulder injury a year ago at the start of spring caused Washington to shut him down from throwing and limited him to just 21 games during the season. Given Glover's lengthy injury history, the Nationals are almost certainly going to treat him cautiously through the rest of the spring.
Fedde makes spring debut
Erick Fedde tossed a pair of scoreless innings in his Grapefruit League debut Sunday against the Cardinals. He gave up a one-out double to Drew Robinson in the second inning but fanned three with a nasty biting slider.
"Really happy with my stuff, was actually a little surprised myself," Fedde said. "The first day, you are expecting to struggle a little or not find some stuff, but I was firing and just want to keep it right there."
ericK fedde threw 2 shutout innings in his 2019 debut

2 IP // 1 H // 0 R // 0 BB // 3 K#SpringTraining // #OnePursuit pic.twitter.com/mtwGuYc3d8

— Washington Nationals (@Nationals) February 24, 2019
The Nationals' rotation is currently full, and Fedde seems destined to start the season in the Minors, but he noted how injuries forced the club to use a number of starters last year. Fedde knows that could be the case once again in 2019, making it an important season in his development. Fedde has also had issues staying healthy for an entire season, so he put on an extra 20 pounds in the offseason to help relieve the stress on his arm.
"So far I've started camp feeling really good and healthy," he said. "I think that's a good start."
Up next
The Nationals will make the long drive to Lake Buena Vista, Fla., for a matchup with the National League East-rival Braves on Monday at 1:05 p.m. ET. Patrick Corbin, Washington's biggest offseason addition, will make his Grapefruit League debut against left-hander Max Fried.