Roberts: Possible sign-stealing 'part of the game'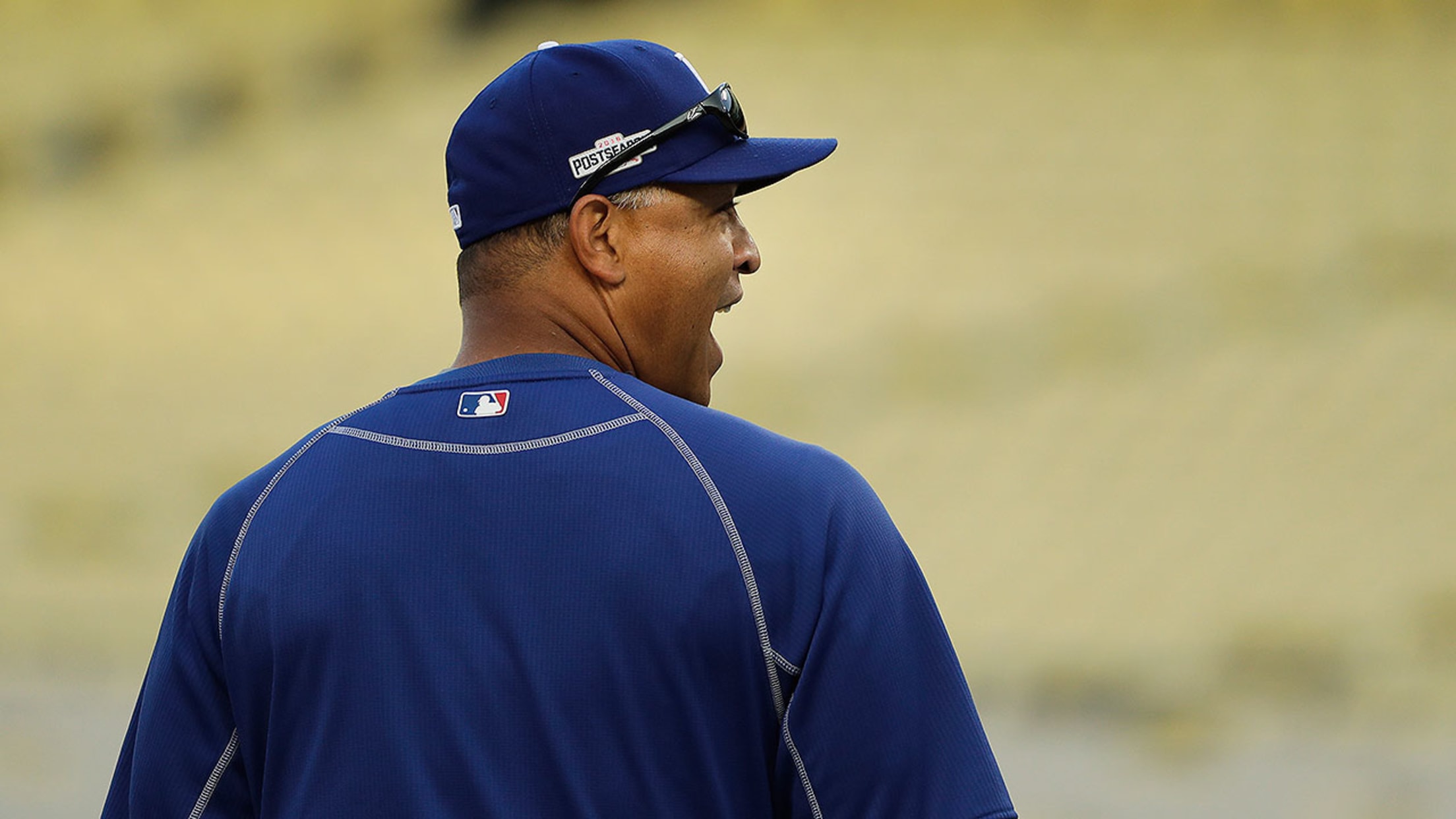 " ... That's kind of the gamesmanship part of the game," Dave Roberts said Monday. (AP)
LOS ANGELES -- Whether or not the Cubs are stealing signs, the Dodgers don't seem to begrudge them for it, with manager Dave Roberts calling it "part of the game."Allegations of sign-stealing popped up after the Dodgers' 1-0 win during Game 2 of the National League Championship Series on Sunday
LOS ANGELES -- Whether or not the Cubs are stealing signs, the Dodgers don't seem to begrudge them for it, with manager Dave Roberts calling it "part of the game."
Allegations of sign-stealing popped up after the Dodgers' 1-0 win during Game 2 of the National League Championship Series on Sunday night, when Yasmani Grandal told the Los Angeles Times that the reason behind an unusually high number of mound visits when he was behind the plate was that the team was worried about opponents stealing signs. As evidence, Grandal noted a curious at-bat from Addison Russell in the eighth inning of Game 1 on Saturday.
• NLCS Game 3: tonight at 8 ET/5 PT on FS1
:: NLCS: Dodgers vs. Cubs coverage ::
"All the sudden, Russell is not taking good swings at sliders, looking like he's looking for a fastball and in a certain location," Grandal said to the Times. "Did we know [Cubs utility man Ben Zobrist] had the signs and was doing something for it? Yeah, we did. That's why we do it."
Grandal went on to say the Dodgers are "paranoid" and use a "constantly changing" set of signs to counteract any sign-stealing.
Russell ultimately grounded out in that at-bat, but the Cubs went on to score five runs in that inning thanks to a grand slam from Miguel Montero and solo homer from Dexter Fowler that all but sealed the win for Chicago.
When asked about Grandal's comments on Monday, Roberts called sign-stealing simple gamesmanship.
"I think when you watch baseball games and every team's going to try to get any advantage they can -- so that's kind of the gamesmanship part of the game," Roberts said. "That's why the catchers or guys on second base give multiple signs and change sequences. So if they are, it wouldn't be a surprise, and there's many clubs that we've played against that do the same thing. That's part of the game."
Nowhere in the MLB rulebook is sign-stealing banned, at least in the form of a baserunner looking at the catcher.
In the other clubhouse, Zobrist reacted to the accusation on Twitter with amusement and a steadfast denial, saying, "This is hilarious....umm...no I was not stealing signs. Glad you think my baseball IQ is that high.
This is hilarious....umm...no I was not stealing signs. Glad you think my baseball IQ is that high. https://t.co/2XMFmQJS5i

— Ben Zobrist (@benzobrist18) October 18, 2016
"I've tried before, but it's never worked out," Zobrist said. "With Addy up to bat there, I was just looking for him to hit a ball to the right side of the field and try to get a good jump. I don't know what [Grandal] was looking at or what he thought he saw. But really from second base at Wrigley, it's very tough to even see the signs because it's so dark. All the lights are behind the hitter there. I guess [Grandal] used the right word when he said that almost all catchers are a little bit 'paranoid' about that."
Jack Baer is a reporter for MLB.com based in Los Angeles.