Bell sets single-season club record for ejections
Skipper tossed for 7th time in 2019; Suarez also given the hook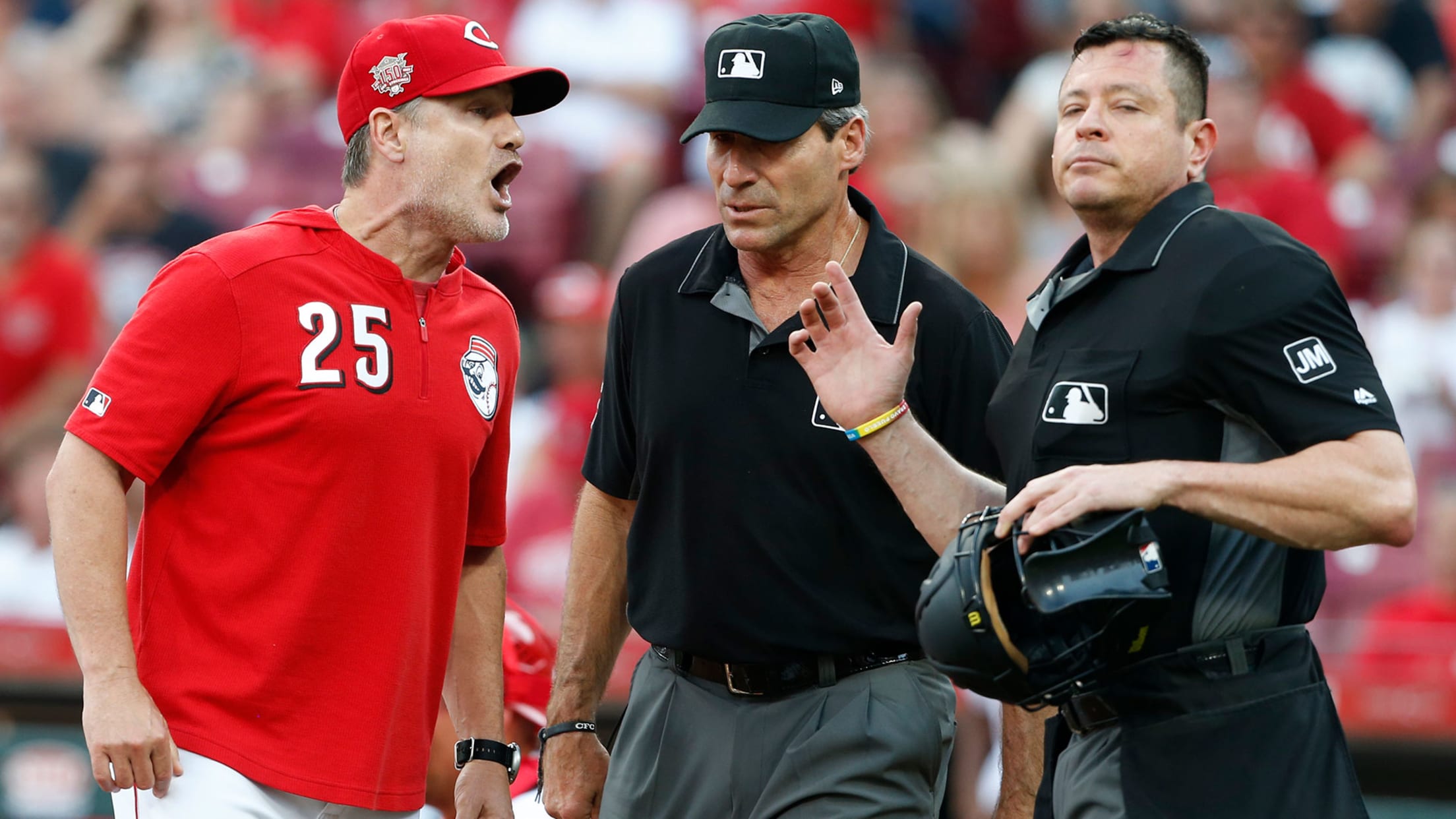 CINCINNATI -- Reds third baseman Eugenio Suarez was ejected for arguing balls in strikes after the first inning and manager David Bell was also tossed after a prolonged argument on behalf of his player. Both men had to watch Cincinnati's 12-11 loss to the Cardinals from the clubhouse. Bell is
CINCINNATI -- Reds third baseman Eugenio Suarez was ejected for arguing balls in strikes after the first inning and manager David Bell was also tossed after a prolonged argument on behalf of his player. Both men had to watch Cincinnati's 12-11 loss to the Cardinals from the clubhouse.
Bell is the new franchise record holder for managerial ejections in a single season with seven. The previous owner of the record was Clark Griffith, who was thrown out of six games as a player-manager in 1909 and six more solely as a manager in 1910.
Suarez was called out on strikes by home-plate umpire Carlos Torres for the second out in the bottom of the first inning. He did not like the call for strike one, which appeared to be inside. Suarez fouled off the next two pitches, and then looked at strike three.
While heading out on defense to begin the second inning, Suarez had some words for Torres and was ejected.
"He didn't agree with the call, went back out to I believe to say [strike] one, he thought was a ball, but the one he struck out on, he actually agreed that it was a strike," Bell said. "From what I could tell, they started going back and forth and he was making his way out to his position. It's ultimately up to the umpire if a player crosses the line and they get ejected."
Bell sprinted out of the dugout to argue and after a couple of moments, was also given the hook.
"For me, from what I could tell, [Suarez] was trying to get out to his position," Bell said. "To lose Geno in the first inning, you just know it's going to affect the game. That was the disappointment from my standpoint."
Jose Peraza came off the bench to replace Suarez and made his first career big league appearance at third base.
Bell and Tigers manager Ron Gardenhire are tied for the Major League lead this season with seven ejections, and both are on a record pace.
According to Baseball-Reference, the Major League single-season record for managerial ejections is 11, set by John McGraw with the 1905 New York Giants and later matched by Bill Dahlen with the 1911 Brooklyn Dodgers and Bobby Cox with the 2001 Atlanta Braves.
During 12 seasons as a player, Bell was ejected seven times total. He is in his first season as a Major League manager. The Reds, as a club, have totaled 15 ejections this season, the highest total in the Majors.
Mark Sheldon has covered the Reds for MLB.com since 2006, and previously covered the Twins from 2001-05. Follow him on Twitter @m_sheldon and Facebook.