Hess fans 7 but allows 4 HRs in return to Orioles
Tate makes MLB debut in relief; Smith aggravates left calf injury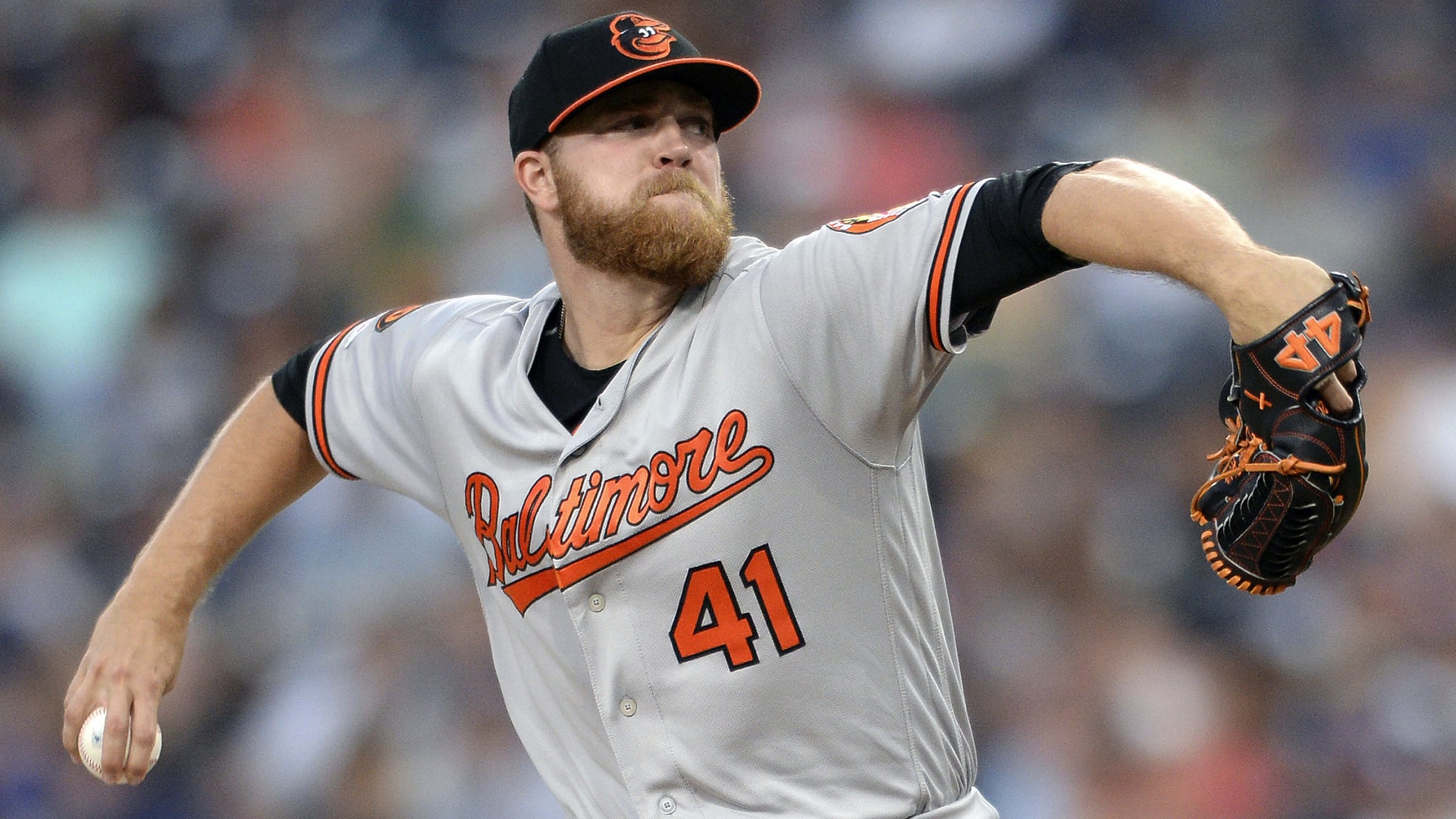 SAN DIEGO -- David Hess returned to the Majors on Monday night with a 95 mph fastball and a slider with good bite. Dillon Tate made his big league debut with a 94 mph fastball, a hard slider and a changeup to keep batters honest. But the duo combined to
SAN DIEGO -- David Hess returned to the Majors on Monday night with a 95 mph fastball and a slider with good bite. Dillon Tate made his big league debut with a 94 mph fastball, a hard slider and a changeup to keep batters honest.
But the duo combined to allow five home runs as the Orioles' recent resurgence hit a speed bump with an 8-1 loss to the Padres at Petco Park.
Hess allowed four home runs for the second time in his career, and Tate gave up a 400-foot homer to Eric Hosmer in the seventh inning.
Each pitcher appears to have big league stuff. But their development is an ongoing process, even as they pitch big league innings. Location, pitch sequencing, deception, rhythm -- they all work together with "stuff" to keep Major League hitters uncomfortable in the box. If opponents can key in on any one imperfection, they can cause damage.
Hess, for instance, went to his trusted fastball on the first two pitches of the game. Fernando Tatis Jr. and Franmil Reyes, respectively, sent each pitch into the stands.
"I was just trying to come out there and attack early and establish a presence of aggression," said Hess, who also allowed four homers vs. the Yankees on May 15. "That kind of bit me in the butt a little bit. After that, I just tried to settle in and make pitches, get guys out as fast as possible."
Hess then bounced back to retire the next nine batters, striking out six of them. But Hosmer and Luis Urias went deep in the fourth as the Padres pushed their lead to 5-1. Hosmer turned around on a curveball, and Urias powered out a fastball.
"They ambushed him the first couple pitches," Orioles manager Brandon Hyde said. "I thought he did a nice job for a couple innings after that. He had a nice slider going. The fastball got hit a little bit. … It was about fastball command."
Hess, who pitched 4 2/3 innings, was filling in for injured All-Star John Means and joined the Orioles earlier in the day after he was recalled from Triple-A Norfolk. It wasn't exactly a routine assignment, especially considering Hess threw 86 pitches for Norfolk on Thursday, so he was pitching on three days' rest.
Very little is routine for Hess lately. His Major League growing pains (1-10, 7.31 ERA, 25 homers allowed in 72 2/3 innings) prompted his demotion to the Minors, a move to the bullpen in Triple-A and then a return to starting duty when injuries and the trade of Andrew Cashner thinned the big league rotation.
"It's been a little crazy, but I think it's allowed me to step back and relax a little bit, knowing that whenever you get the ball, you just go out there and get outs," Hess said. "Whatever that looks like for that day or that week, you just embrace the different roles and see what fits best."
Hyde said he saw enough Monday that Hess could get at least one more start before Means returns next week, a decision that won't be made until there's more discussion about it.
"He gave us length, which was huge," Hyde said. "He let us reset our bullpen. If he goes out there and goes 1 2/3 innings, then we've got issues for [Tuesday]. So now, we're able to be a little fresher in the 'pen and have more options, so that was a real positive."
Tate, called up from Double-A Bowie on Friday, had a few days to acclimate before his big league debut. Perhaps dealing with first-game jitters, he hit the first batter he faced, Greg Garcia, and allowed an infield single to the second batter, former Oriole Manny Machado. Hosmer then yanked a changeup into the second deck in right field, putting the Padres ahead, 8-1. Tate settled in to deliver two innings of relief.
"I wouldn't say I was nervous, but I wasn't exactly myself," Tate said.
As with Hess, Hyde saw something to build off by what happened after the homer. Tate retired six of the last seven batters he faced, issuing a walk and collecting three strikeouts.
"Throw every pitch with full conviction," Tate said was the lesson of the day. "To be able to go out there and compete against the best baseball players in the world, it's a blessing."
The Orioles have allowed 13 homers while going 0-3 vs. the Padres this season, but they have won seven of their last 12 games overall.
Smith tweaks calf
Outfielder Dwight Smith Jr. delivered a pinch-hit single in the seventh, but he was replaced by a pinch-runner while limping off the field. He aggravated a left calf injury that previously caused him to leave Saturday's game against the Angels.
"We'll see [Tuesday], but it doesn't look great," Hyde said.