Price to throw sim game in Denver before return
Red Sox lefty likely on track for next weekend against Angels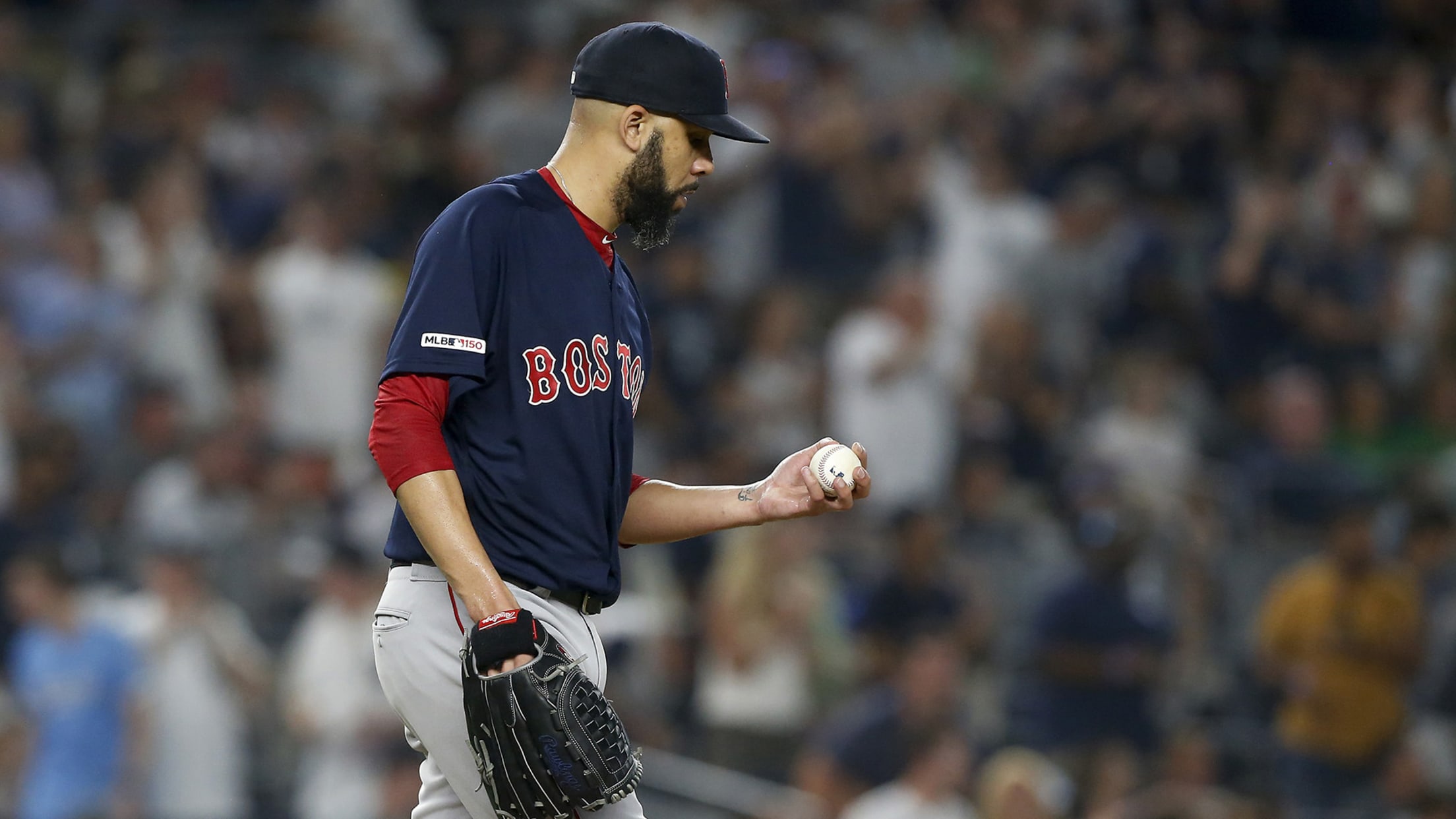 SAN DIEGO -- David Price is still in play to make his return to the rotation in Southern California. However, it's not going to be San Diego this weekend. A day after Price threw his third bullpen session within the span of a week at Fenway Park, manager Alex Cora
SAN DIEGO -- David Price is still in play to make his return to the rotation in Southern California. However, it's not going to be San Diego this weekend.
A day after Price threw his third bullpen session within the span of a week at Fenway Park, manager Alex Cora announced that the lefty will throw a simulated game at Coors Field in Denver on Tuesday.
This means that Price could be back next weekend, when the Red Sox play a three-game series against the Angels in Anaheim.
Brian Johnson will likely start Sunday's series finale against the Padres. There was originally a chance Price -- who hasn't pitched since Aug. 4 at Yankee Stadium due to a cyst in his left wrist -- was going to take that turn.
"We didn't feel comfortable pushing him to pitch this weekend," Cora said. "It's not that there's some red flags, but he's not where we want him to be. This is a guy that we have to take care of, so he'll throw the [sim game] on Tuesday, and we'll go from there."
Cora expects Price to throw 50-55 pitches against teammates and/or coaches.
Was it a command or stamina issue that led to the decision not to pitch him against the Padres?
"I think both," Cora said. "We've just got to make sure [he's ready]. I talked to him like an hour ago. I talked to all the guys to see where we're at; talked to the medical staff and we felt as a group, this was the best way to go."
J.D. in NL parks
With the Red Sox playing in National League parks for the next five games, it will be interesting to see how much J.D. Martinez is in the starting lineup.
On Friday night, Martinez started in right field. Mookie Betts moved to center and Jackie Bradley Jr. got the night off.
"We'll take it day by day," Cora said. "I don't want to push [Martinez] out there and all of a sudden his back starts acting up and we lose him for a long period of time. He's scheduled to play tonight. He'll tell me how he feels about it. If he's OK, he'll play tomorrow. And we'll see Sunday."
Chavis in Denver?
Infielder Michael Chavis started a Minor League rehab assignment for Triple-A Pawtucket on Friday night, playing first base. He will stay with Pawtucket through the weekend, and there's a chance he could join the Red Sox for their upcoming series with the Rockies, which starts Tuesday night.
Chavis has been on the injured list since Aug. 12 with a sprained AC joint in his left shoulder. While the right-handed hitter has had his ups and downs in his rookie season, he has 18 homers, 58 RBIs and a .766 OPS.
Hope on Hembree; not so much on Pearce, Wright
Reliever Heath Hembree, who has missed most of the second half of the season due to right elbow woes, is on the mend.
There's still a chance he will pitch again this season.
"'Heater' is feeling better, but he hasn't thrown yet," Cora said. "I think as far as like the way he has bounced back the last few days, you can see as far as exercises in the trainers' room, and doing all the stuff to get to the next step that is playing catch, he's moving fairly quick the last few days."
The news isn't as good on Steve Pearce (partially torn PCL in left knee) and knuckleballer Steven Wright (right elbow issues).
"With [Pearce], it's the same thing," Cora said. "He hasn't been able to pass that hurdle of running. He's swinging and he's taking ground balls, but running has been a struggle for him."
And Wright?
"With Steven, nothing has changed," Cora said.