Robertson has TJ; Arrieta set for bone spur op
Quinn placed on IL with groin strain; Hughes joins Phillies' bullpen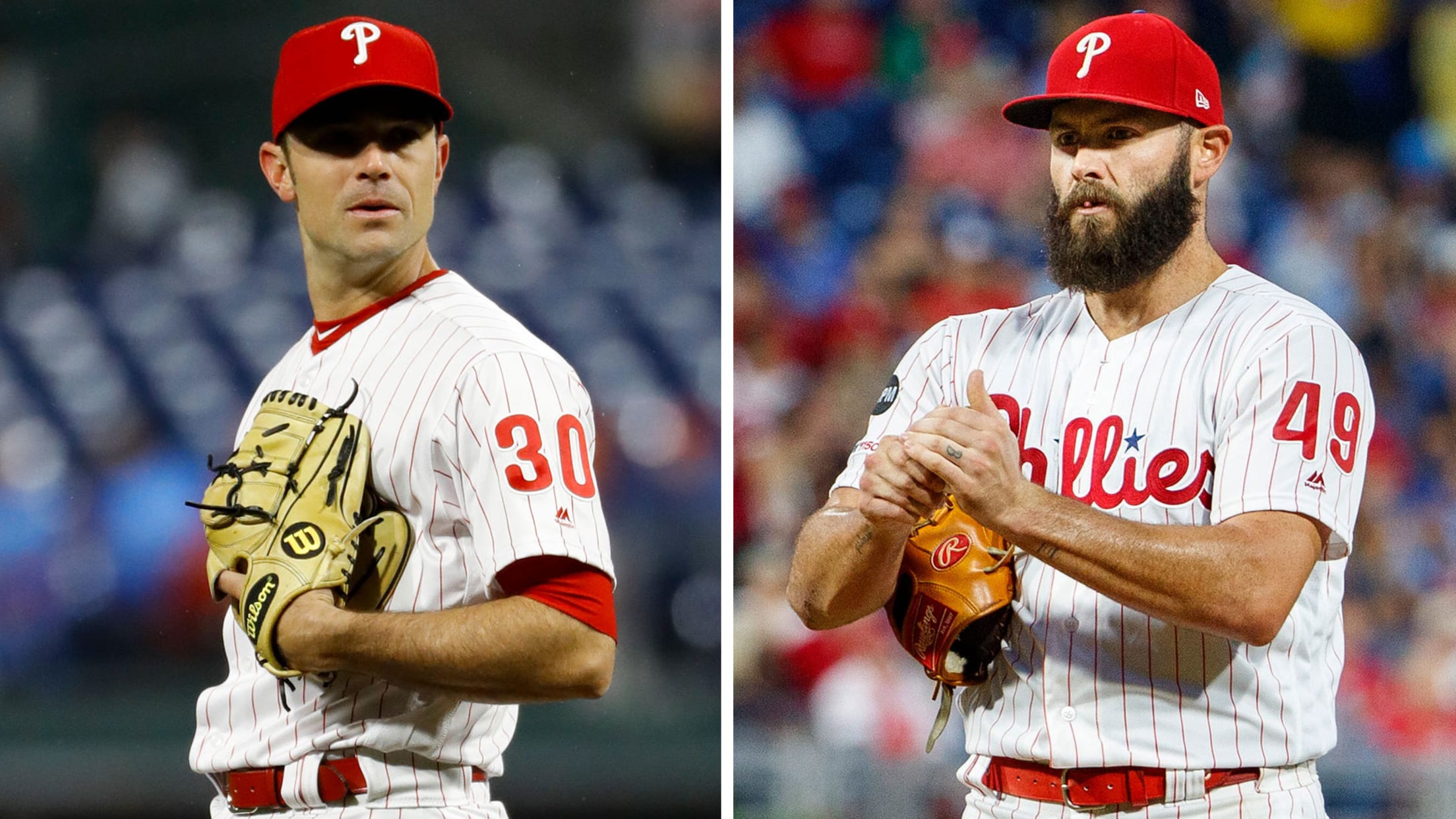 PHILADELPHIA -- Phillies manager Gabe Kapler spoke recently with David Robertson, who was apologetic about the way his season ended. He had Tommy John surgery on Thursday, which means he could miss the 2020 season, although Robertson tweeted that "I'm going to work hard to get back and contribute big
PHILADELPHIA -- Phillies manager Gabe Kapler spoke recently with David Robertson, who was apologetic about the way his season ended.
He had Tommy John surgery on Thursday, which means he could miss the 2020 season, although Robertson tweeted that "I'm going to work hard to get back and contribute big next year."
"Obviously he's super disappointed and wants to be contributing to what we're doing right now," Kapler said Saturday afternoon at Citizens Bank Park. "I think he's apologetic because really it's hard to have an injury like this occur and all you want to do is contribute. So it's a rough time for him."
Robertson, 34, signed a two-year, $23 million contract in December. He not only was 53-33 with a 2.90 ERA and 137 saves in 661 career appearances over 12 seasons before he signed, but he had never spent any time on the injured list because of an elbow or shoulder injury.
The recovery from Tommy John surgery typically takes 14-16 months, which means the 6 2/3 innings Robertson pitched for the Phillies in April might be the only innings they get from him before his contract expires.
"I'm not sure how long it is going to take him to get back," Kapler said. "I remember tearing my Achilles tendon in 2005 and having people tell me it was going to take me more than a year and getting back faster. So I never put any limitations on a guy, because who knows? You work really hard in the rehab process and you grind, and the first thing I think I tell myself when it is a long-term thing for player is, 'I'm going to beat expectations. Whatever those expectations are, I am going to try to come back sooner.' So I wouldn't put any limitations are on D-Rob other than the ones that are quite obvious. If I'm him, I'm trying to put myself in position to come back on the front end if not better."
A heartbreaking end to my season, but I'm going to work hard to get back and contribute big next year. Thanks for all the support and prayers.

— David Robertson (@DRob30) August 17, 2019
The Phillies also said Jake Arrieta will have his season-ending surgery later this month to remove a bone spur from his right elbow. The Phillies said they expect Arrieta will be ready to pitch by Spring Training 2020.
Arrieta signed a three-year, $75 million contract before the 2019 season. He can exercise an opt-out clause in his contract following the season, but he said he is unlikely to do that. He is guaranteed $20 million in 2020.
Quinn to IL
Just when Roman Quinn started heating up, too.
The Phillies placed Quinn on the 10-day injured list Saturday with a strained right groin. He injured himself running to first base in the eighth inning Friday. Right-hander Jared Hughes will take Quinn's spot on the 25-man roster.
Quinn, 26, was hitting .333 with two doubles, one triple, four home runs, nine RBIs and a 1.049 OPS in his last 63 plate appearances. It is the second time this season Quinn has been on the IL with a strained groin. He missed nearly two months because of the injury from April 25 through June 17.
"It's a little less severe, according to Roman, than the last time, and that's a good sign," Kapler said. "But we're going to take it day to day before we make any long-term declarations about when he might be back."
Adam Haseley will get the bulk of playing time in center field, although Corey Dickerson and Sean Rodriguez can play there, too. Scott Kingery has played center field, but he is expected to play mostly third base.
"The chances of us moving Scott off of third base for any considerable length of time in center field is not high," Kapler said.
The Phillies claimed Hughes off waivers from the Reds on Thursday. Hughes, 34, was 3-4 with a 4.10 ERA and one save in 47 appearances this season. He was 27-23 with a 2.83 ERA and 12 saves in 499 career games with the Pirates, Brewers and Reds.
He worked a clean seventh inning Saturday in the Phillies' 5-3 loss to the Padres.
"I told them I'll be down there in the first, whenever I'm needed I'm ready to go," Hughes said. "I'll sprint in and chuck it."
Hughes said he got into town Friday and watched the Phillies' 8-4 victory over the Padres on TV. He watched Thursday's 7-5 walk-off victory over the Cubs on TV in Cincinnati.
"I was jumping up and down in my living room," he said.