Diaz's 11-year wait ends with Reds callup
Right-hander debuts with scoreless sixth inning in Sunday's series finale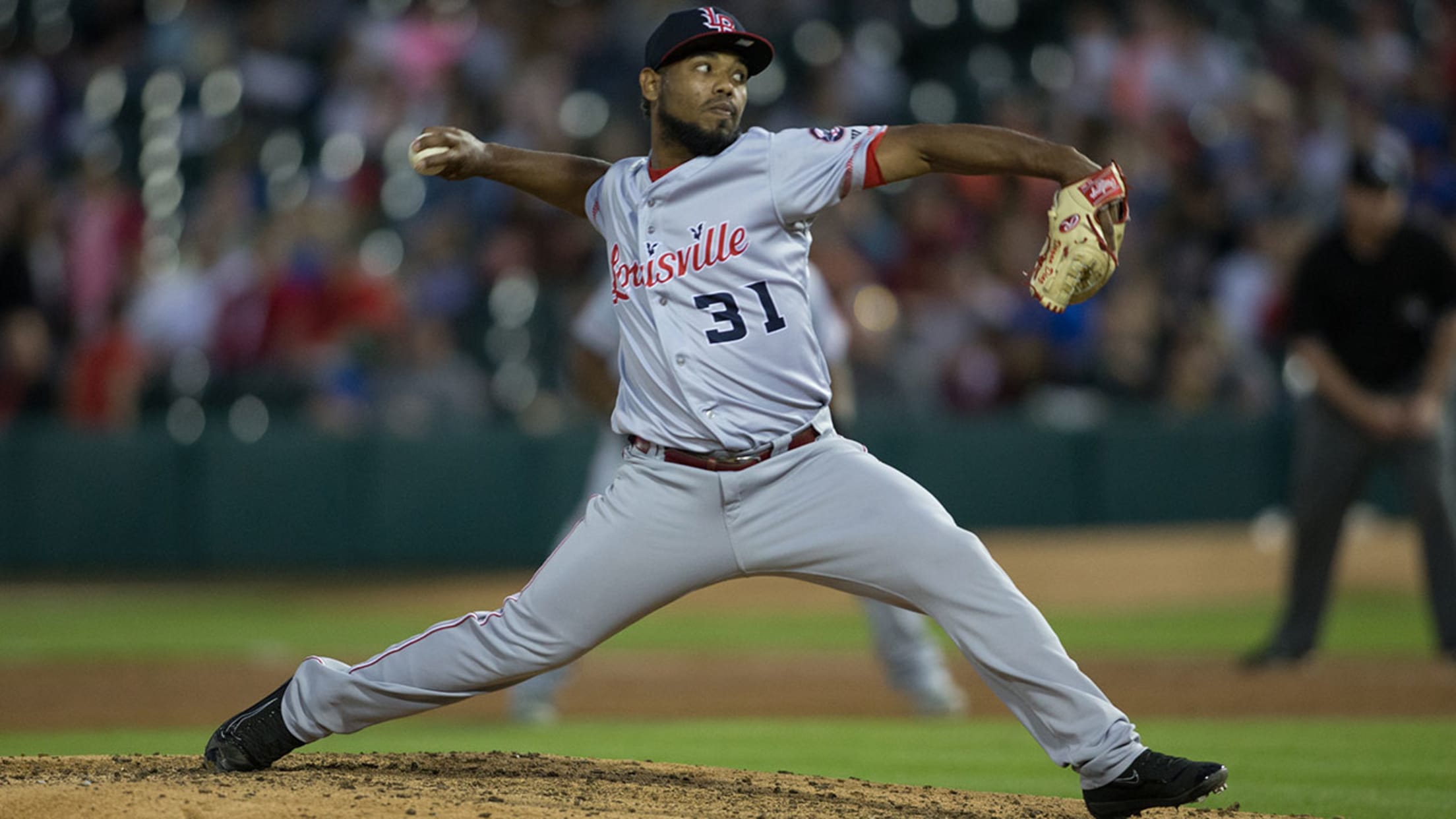 Originally signed as a 16-year-old by the Astros in 2005, Dayan Diaz will get his first taste of the Majors with the Reds. (MiLB.com)
CINCINNATI -- The locker in the Reds' clubhouse previously used by reliever Jumbo Diaz on Saturday was occupied by a different Diaz on Sunday. And he goes by "Jumbo-ito."Dayan Diaz, who is not related to the 278-pound Jumbo Diaz, is generously listed at 5-foot-10 and 195 pounds. Their difference in
CINCINNATI -- The locker in the Reds' clubhouse previously used by reliever Jumbo Diaz on Saturday was occupied by a different Diaz on Sunday. And he goes by "Jumbo-ito."
Dayan Diaz, who is not related to the 278-pound Jumbo Diaz, is generously listed at 5-foot-10 and 195 pounds. Their difference in their size stood out when the two were next to each other at Spring Training.
"In my country, they say, 'Every really good thing comes in a small bottle,'" the Colombian Diaz said through translator Julio Morillo on Sunday.
Diaz made his Major League debut on Sunday against the Mariners, allowing one hit while facing the minimum in a scoreless sixth inning. He induced an inning-ending double play against Norichika Aoki.
The 27-year-old Diaz received his first promotion to the Majors on Sunday when he was called up from Triple-A Louisville along with pitchers A.J. Morris and Josh Smith. One of the relievers sent down to make room on the roster was Jumbo Diaz.
Like Jumbo Diaz, who toiled in the Minors for 13 seasons before his first big league opportunity in 2014, Dayan Diaz worked for 11 years since being signed by the Astros as a 16-year-old in 2005. He never gave up, even after a pair of elbow surgeries -- including Tommy John in 2009.
"It's something I've been dreaming of since I was a little kid," Diaz said. "I had two surgeries and thought, 'Maybe I'm not going to make it.' My heart and my mind said, 'No, I can do it.' I worked really hard to realize my dream."
Diaz, now 27, spent the previous two seasons in the Red Sox organization and had a 1.73 ERA and 1.16 WHIP over 37 appearances combined at Double-A and Triple-A. Entering this season, the right-hander had a 2.05 ERA but still found himself not on a roster. The Reds signed the free agent to a Minor League deal in November.
Diaz and Reds manager Bryan Price both wondered if his lack of size played into his being overlooked.
"I think it's like when Jumbo was this big, heavy hard-throwing pitcher that always ran numbers and never got on a 40-man roster, never got a big league callup. I would say it probably has something to do with it," Price said. "Because his numbers are off the charts, to find a kid like that who had the success in Double-A and Triple-A that he had last year and to have him as a free agent available guy, we did some good scouting, I think, because he didn't disappoint anybody in Spring Training."
Diaz had a 3.86 ERA in nine spring appearances and came very close to being on the Opening Day roster. He made it all the way to the pre-opener workout at Great American Ball Park before he was cut.
Over 14 1/3 innings in 12 appearances for Louisville, Diaz had a 1.88 ERA with no homers allowed. His ground ball-fly ball ratio of 1.75 was also coveted.
"It was hard. I was kind of frustrated," Diaz said of his being cut. "I had been through 11 years in the Minor Leagues. I said, 'You know what? I'm going to do my job in Louisville and try to be on the team as soon as possible.'"