Dee puts in extra work at wee hours of morning
Second baseman takes extra swings after going 0-for-6 in Friday's win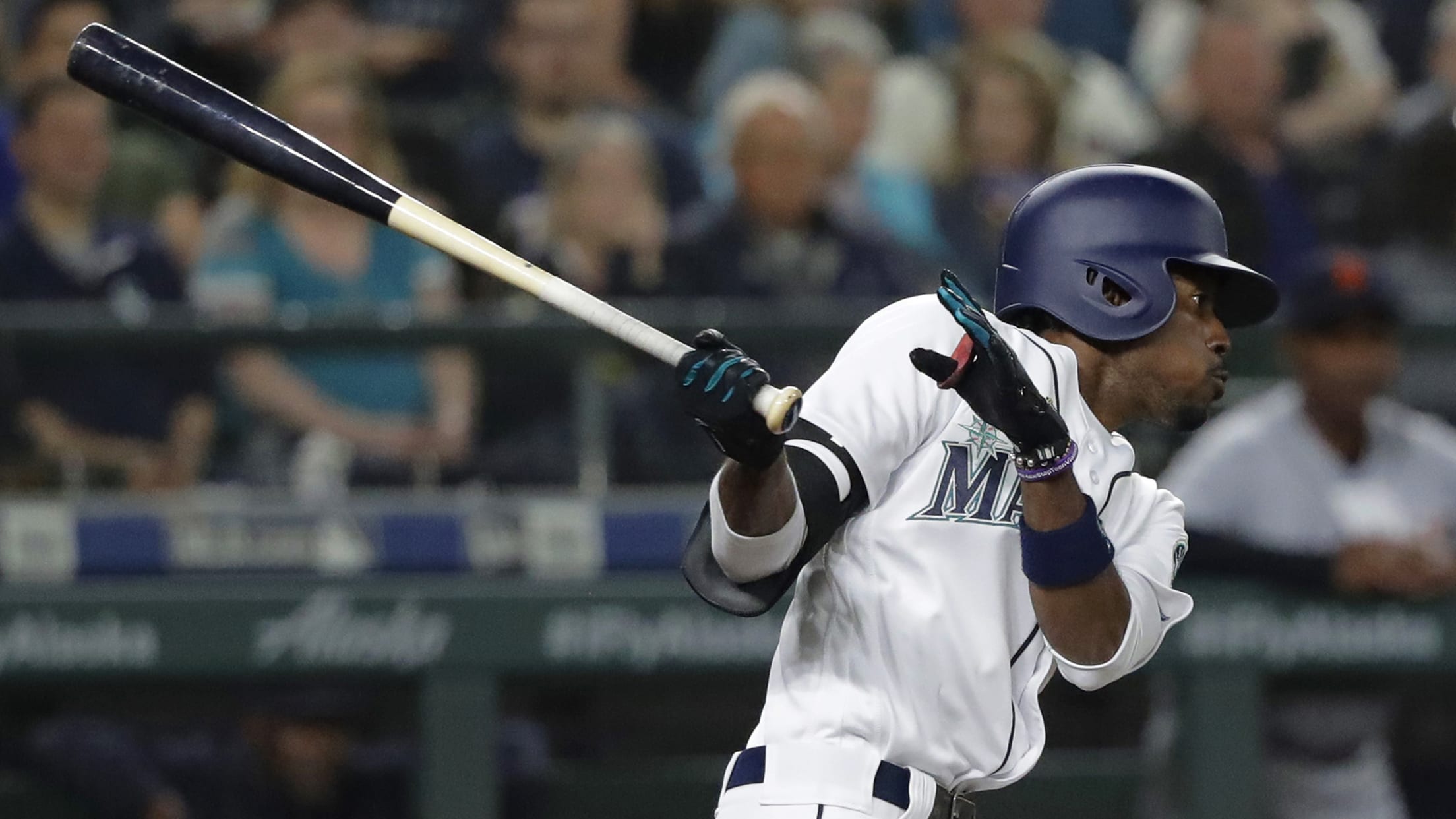 Seattle Mariners' Dee Gordon follows through on a two-run double during the sixth inning of the team's baseball game against the Detroit Tigers, Saturday, May 19, 2018, in Seattle. (AP Photo/Ted S. Warren) (Ted S. Warren/AP)
SEATTLE -- Dee Gordon wanted to get some extra hitting in and work on his swing. And so he did.It didn't matter that it was 12:30 a.m. and his team had just won a 13-inning, four-plus hour game against the Rays on Friday night. As the rest of the Mariners
SEATTLE -- Dee Gordon wanted to get some extra hitting in and work on his swing. And so he did.
It didn't matter that it was 12:30 a.m. and his team had just won a 13-inning, four-plus hour game against the Rays on Friday night. As the rest of the Mariners headed home, Gordon trooped to the batting cage to get some extra swings, then emerged on the field pulling a bucket of balls and proceeded to hit off a tee for nearly a half-hour.
The Safeco Field lights were out, the outfield sprinklers were on, but Gordon kept pushing balls to left field, eventually walking out and retrieving all the balls and then returning to home plate to hit some more.
Don't see this very often. Sprinklers are on, lights are off, it's 12:30 a.m. after a 13-inning win ... and Dee Gordon is out hitting balls off a tee. pic.twitter.com/2p5ZtkyIlk

— Greg Johns (@GregJohnsMLB) June 2, 2018
An 0-for-6 night in the 4-3 win didn't sit well with the 30-year-old second baseman, so he teed it up and went to work. And on Saturday, he downplayed the extra work when asked what led to the late-night session.
"I've got a master key at every ballpark I've ever played in," the two-time All-Star said. "But honestly, I've been doing that since high school. It's nothing new to me. It might be something new to you all, but there's a reason why I'm in the big leagues. I like to hit."
Some basketball players stay in the gym practicing free throws long after a key missed shot and Gordon, who grew up playing hoops in Avon Park, Fla., acknowledged that was the root of his postgame work habit.
"When I was like 12, my uncle ran the recreation department and after a bad shooting game, I'd shoot with the lights off until I made a lot of 'em," he said.
Gordon came off the 10-day disabled list on Thursday with a fractured right toe and is working his way back into second base, where he shifted from center field after Robinson Cano's suspension. So the late-hitting session was an easy decision for him despite the clock having already struck midnight.
"I needed it," he said. "I've got a lot going on, switching positions and stuff. I have to take care of myself."
Mariners manager Scott Servais said it's not uncommon for players to go hit in the cages after a game, but he was a little surprised to hear his leadoff hitter was working out on the field after an extra-inning game.
"As I was driving home I happened to have [the radio] on and they said, 'Dee Gordon just wheeled a bag of balls out on the field.' I was thinking, 'Really, let me hear more,'" Servais said with a laugh. "But this is how he's wired with everything he does. If he feels he's letting the team down and not doing his job, guys deal with it different ways. That's his way of dealing with it. I'm OK with that. As long as he got enough sleep and is good to play tonight, he's in the lineup."
Worth noting
• Reliever Nick Vincent played catch from his knees prior to Saturday's game to keep his arm active while keeping pressure off his strained right groin muscle, but remains likely 7-10 days from getting on a mound, Servais said. The right-hander has been on the DL for a week and figures to be sidelined at least until mid-June.
• The Mariners have played extremely well during a stretch of games against teams that are mostly .500 or below, but things will get tougher soon as 15 of their 19 games after Sunday's series finale against the Rays come against the Astros, Angels, Red Sox and Yankees.
"We're exactly where we should be. We've played well to this point," Servais said. "Everybody has those tough stretches in their schedule. We've taken care of business so far to put us in this position. I think the guys are really looking forward to the next three weeks. We'll find out how good we are."