Gordon's OBP has Mariners weighing options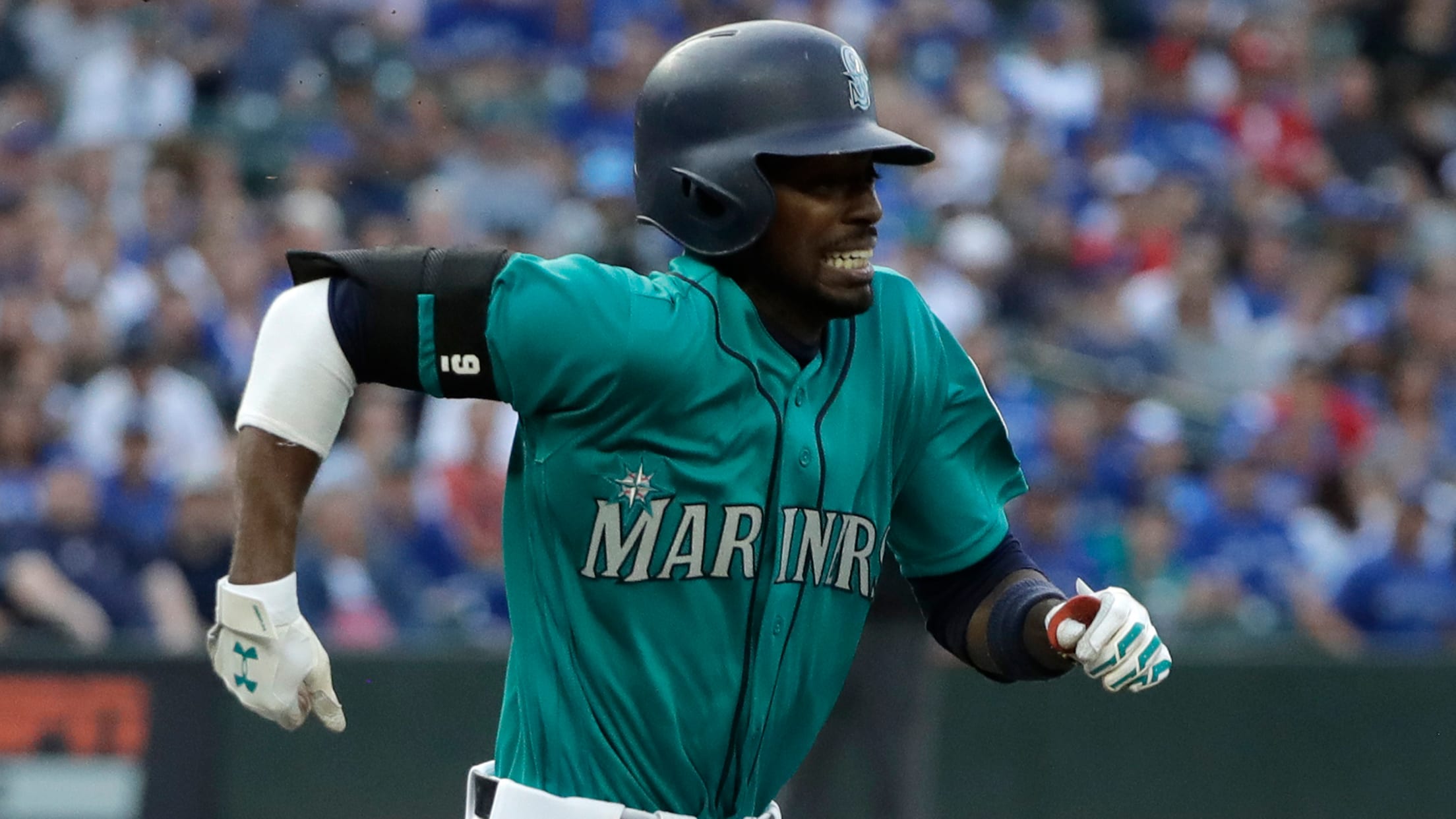 ARLINGTON -- Dee Gordon returned to the Mariners' lineup on Monday after sitting out two games with a sore right ankle, but the question now is whether the speedy second baseman will remain in the leadoff role if he doesn't heat back up soon.Gordon was tied for second in the
ARLINGTON -- Dee Gordon returned to the Mariners' lineup on Monday after sitting out two games with a sore right ankle, but the question now is whether the speedy second baseman will remain in the leadoff role if he doesn't heat back up soon.
Gordon was tied for second in the Majors in stolen bases with 26 heading into Monday's series opener with the Rangers, but his on-base percentage has been just .286 over 54 games since June 1, and that raises the issue of whether the elite speed makes up for the reduced opportunities to create havoc on the bases.
"It's a good question," Seattle manager Scott Servais said. "It's real. It's something we've discussed internally here, and [one] I've spent a lot of time looking at. When the offense is clicking and everything is working and you're scoring four or five runs every night, it's not a big deal. When you're not, you have to look at, 'OK, how do we improve and what can we do better?'
"It is hard to weigh. You have to get on base to create the havoc. It all starts with on-base. Typically, you want guys at the top of the lineup that are on-base league average or well above league average. Dee is not because he does it with the hit, but there's not much else to help it. We're looking at it and trying to figure out ways to put guys in the best spot to help our team score runs. And that's one of the things we're looking at."
The American League average on-base percentage this year is .317, and the MLB average is .319.
Gordon is batting .285, but his walk rate is extremely low. He does have a career .326 on-base percentage, but the Mariners have other options if they choose to go a different direction.
"You can look at everybody on the team," Servais said. "We probably wouldn't hit Nelson Cruz leadoff, probably not Ryon Healy or Mike Zunino. But outside of that group, you're just looking for guys that can get on base. You want those guys at the top of the lineup where they can get that extra at-bat. Looking at all those options, Dee has been out there leading off when he's been in the lineup. That's where it is at tonight, and we'll go from there."
Cruz leads the Mariners in OBP at .385, Ben Gamel was at .360 when he was sent to Triple-A Tacoma and Robinson Cano was at .354 when he was suspended. Among available Mariners, Mitch Haniger is at .357, Cameron Maybin .339, Jean Segura .338 and Denard Span .330. Maybin, Segura and Span have hit leadoff at times in their careers.
But none have the speed and ability to rattle opposing pitchers like Gordon, who has been MLB's premier basestealer over the past five years and is currently tied for second behind MLB leader Trea Turner of the Nationals.
Gordon has hit .304 with a .319 OBP over his past 23 games, so only the lack of walks seems to be a hindrance.
"Dee is streaky just because of how he does it," Servais said. "It's not, 'control the strike zone,' it's, 'hit 'em where they ain't.' That's more of his approach. Certainly, he's better when he's not pulling the ball, and when he's going the other way, when he's staying on top of the ball and it's not in the air.
"The biggest thing is staying above the ball and trying to keep it on the ground for him. He's a unique player. Nowadays, most guys are trying to get it in the air. He's the other way. He's better when it's on the ground."