Rangers option DeShields to Triple-A
Leclerc receives a helpful tip; Andrus declares 'vacation is over'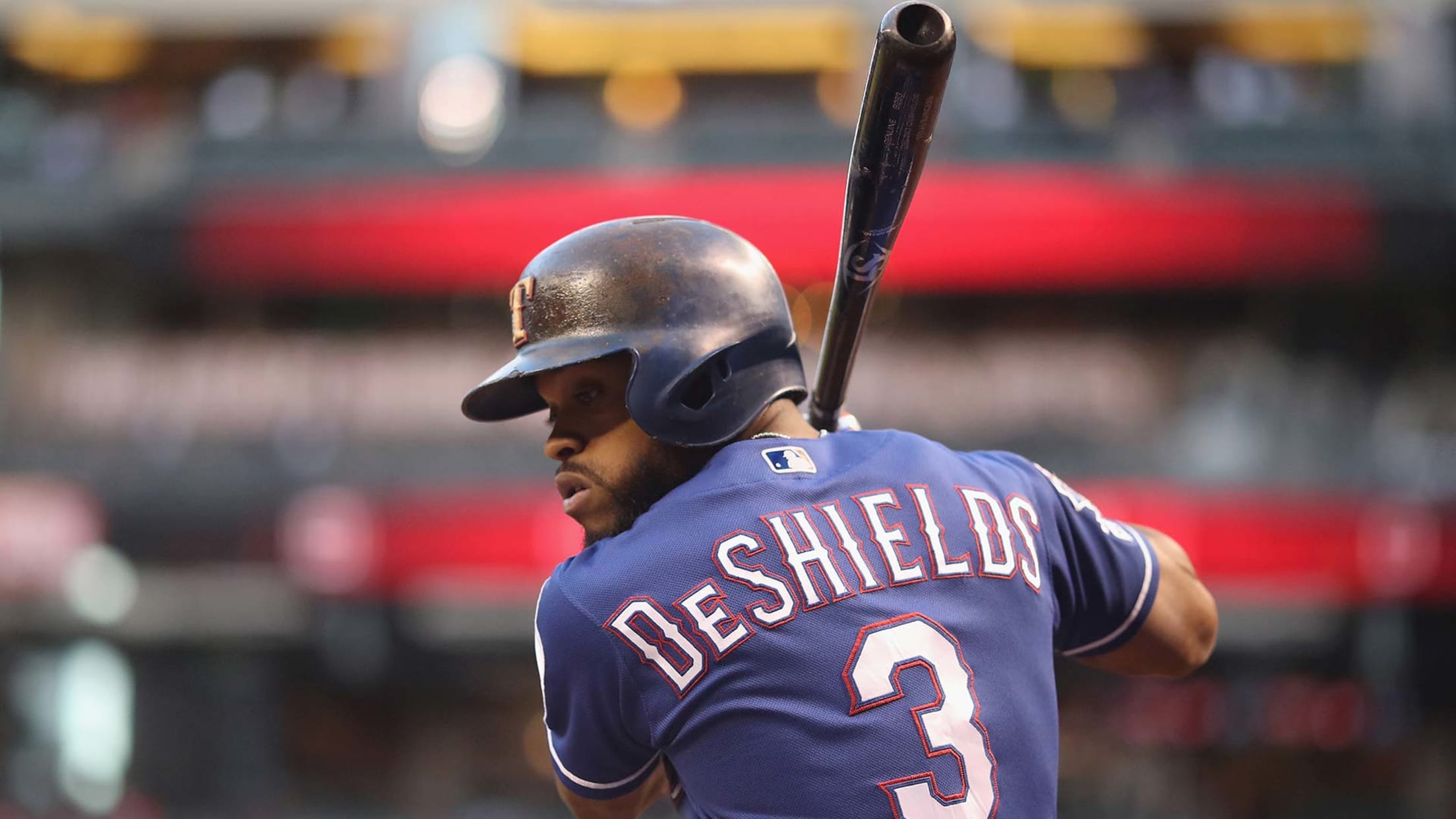 ANAHEIM -- After the Rangers rallied to beat the Angels 4-3 in Friday's series opener, the club optioned outfielder Delino DeShields to Triple-A Nashville to make space on the roster for the return of shortstop Elvis Andrus. The Rangers made the same move on May 8 when they sent DeShields
ANAHEIM -- After the Rangers rallied to beat the Angels 4-3 in Friday's series opener, the club optioned outfielder Delino DeShields to Triple-A Nashville to make space on the roster for the return of shortstop Elvis Andrus.
The Rangers made the same move on May 8 when they sent DeShields down to Triple-A after activating first baseman Ronald Guzman off the injured list.
DeShields was only hitting .182 at that time, but the move caught him by surprise. He is the Rangers' fastest player and best defensive outfielder, but he still ended up being sent down.
"My hits weren't falling but I wasn't expecting to get sent down," DeShields said. "Not even 100 at-bats. But … [I] took it for what it was, went down to Triple-A, continue to work on what I was working on, don't get discouraged by the results. It stinks, but this sport is hard. You can do everything right and still fail. Take that failure and learn from it. Try to make the best of it."
DeShields was called up Wednesday when Willie Calhoun went on the injured list with a strained left quad muscle, but that callup lasted just two days. If anything, it spared the Rangers from having to make a tough call on Calhoun, but that may happen when he is ready to return.
Both DeShields and Calhoun are blocked by veterans Hunter Pence, Danny Santana and Logan Forsythe. All three are playing well and the Rangers have no interest in losing them by exposing them to outright waivers.
"That was the message that was told to me when I got sent down," DeShields said. "It was like, we got three guys who maybe weren't supposed to be here. But they are producing. They have to stay. I have options. It was tough for me, this was supposed to be a good year for me."
DeShields could be spared if the Rangers decide to go from eight to seven relievers. But that just does not seem to be their inclination right now.
"Probably not," Rangers manager Chris Woodward said. "It's definitely in the discussion, but I don't think it's in the lead."
The Rangers prefer having eight relievers even though there is an obvious reluctance to use right-handers Jeanmar Gomez, Kyle Dowdy and Shelby Miller, and left-hander Jeffrey Springs in high-leverage situations.
The Rangers' 2-1 victory over the Mariners on Wednesday was telling. Ariel Jurado was called upon to pitch the eighth inning even though he is in the starting rotation and scheduled to start on Sunday.
"There are still some question marks about what we can get out of everybody," Woodward said. "Still trying to figure out what the best role is for everyone. The more we can put guys in big spots. The more we can get out of them as a collective group. They are all capable of it. Some of them have had bad luck. Some haven't executed as well as they can. I trust them all, it's just a matter of getting it done."
Volquez's tip helps Leclerc
Reliever José Leclerc said a tip from veteran pitcher Edinson Volquez has helped him turn it around. Leclerc had the same problem that many young pitchers have -- he was "flying open."
That means he wasn't keeping his left shoulder closed and driving straight towards home plate. Instead, he was pulling it to the left side away from home plate. Pitching coach Julio Rangel has also been driving the point home, but Volquez had past experience to reinforce it.
"He told when he was young he was doing the same thing," Leclerc said. "Everything is better. I feel more comfortable. I don't feel too much pressure. I don't try to do too much."
Andrus ready to go
Andrus has been sidelined since May 14 with a strained right hamstring but went through a full workout before the Rangers' game against the Angels on Friday, and he had no issues.
"Vacation is over," Andrus said. "I feel great. My legs feel fine. I feel like nothing happened."
Andrus played two games at Double-A Frisco on Tuesday and Wednesday, going 1-for-6 at the plate with a home run as the designated hitter. He also fulfilled the obligations of a veteran sent to the Minor Leagues on medical rehab assignment.
Elvis left the building and headed straight for the berm. 💥

A solo shot from @ElvisandrusSS1 gets the Riders on the board in the 4th. #LetsRide pic.twitter.com/rJWFlaFZDc

— Frisco RoughRiders (@RidersBaseball) May 22, 2019
He paid for the postgame food spread for the players. He treated them to catering from The Capital Grille on Tuesday and Gloria's Restaurant on Wednesday.
"You've got to spoil the guys," Andrus said. "They are playing good, so they deserve it."