Betances relieved to learn source of injury
Reliever gets cortisone shot to treat bone spur behind shoulder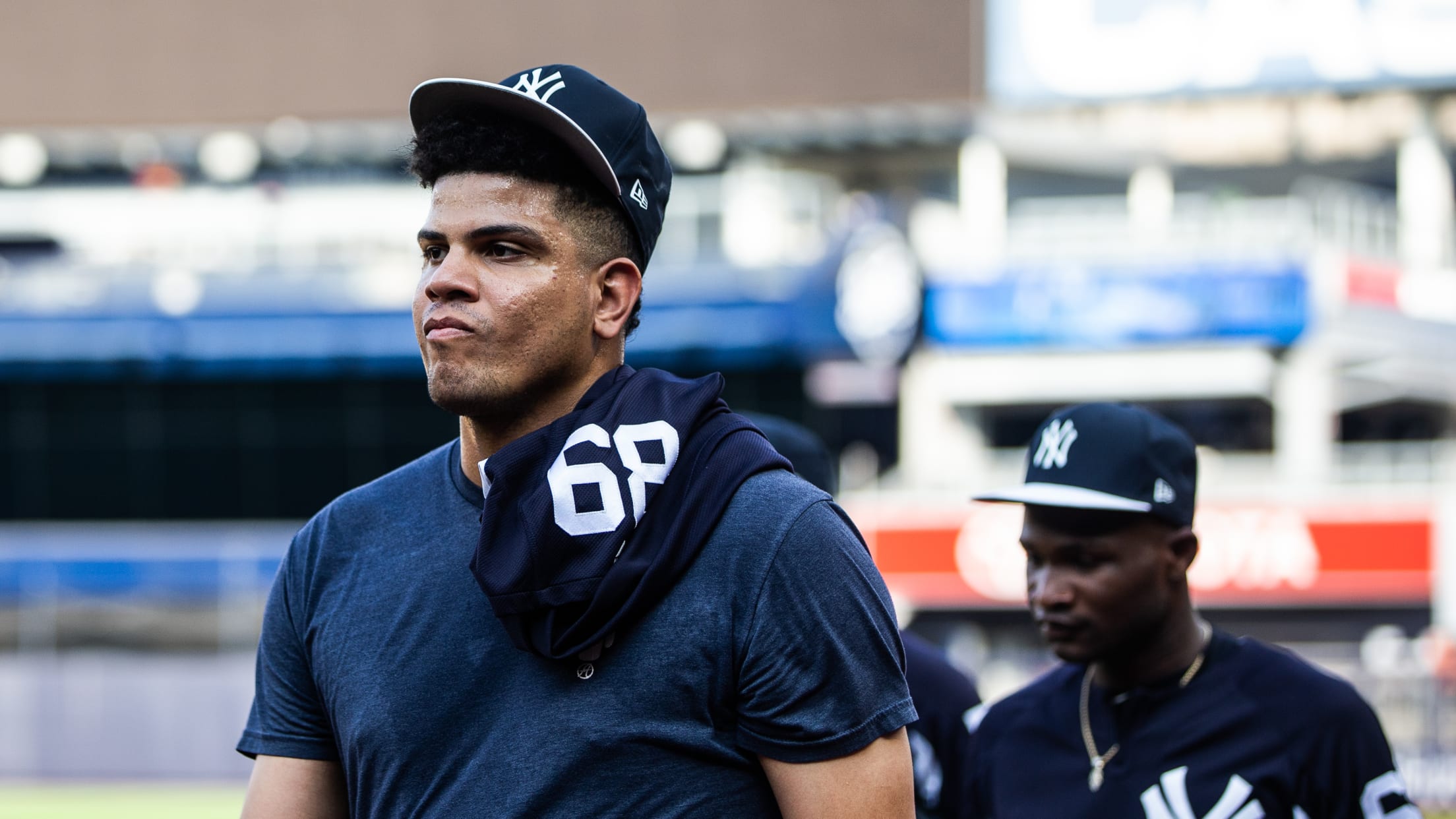 NEW YORK -- Though Dellin Betances must wait at least six more weeks before he can rejoin the Yankees' bullpen, the right-hander said on Saturday that he is relieved to have discovered the source of the discomfort in his pitching shoulder, and believes that the issue will be corrected. Betances
NEW YORK -- Though Dellin Betances must wait at least six more weeks before he can rejoin the Yankees' bullpen, the right-hander said on Saturday that he is relieved to have discovered the source of the discomfort in his pitching shoulder, and believes that the issue will be corrected.
Betances had a cortisone injection on Saturday morning, targeting a bone spur behind his right shoulder. Though Betances said he is frustrated to extend his stay on the injured list, team physician Dr. Christopher Ahmad has assured the 31-year-old that he should not require surgery.
"I've had it since 2006, and Dr. Ahmad told me that with this shot, I could pitch the rest of my career and not feel it again," Betances said. "Obviously, that's a relief, and I can't wait to get back. I believe everything's going to be right and will just take this time to get ready and not rush things."
After being diagnosed with a right shoulder impingement on March 19, Betances was believed to be closing in on his activation from the injured list, but he experienced discomfort during a simulated game on Thursday in Tampa, Fla.
"I guess from the previous MRIs, I've always had [the bone spur]," Betances said. "I didn't know about it until now. I always come into spring and I feel a little stiff, but for me it usually gets better. This time, it wasn't."
• A look at the Yankees' injury timetables
Betances will now have three weeks without throwing, and general manager Brian Cashman said Betances is expected to rejoin the big league bullpen in six to seven weeks, setting his target date near the end of May.
"There's nothing structurally wrong and with this shot, in three weeks, I know everything will be right," Betances said. "I'm excited to help the team out and finish this season."
Giancar-go
Giancarlo Stanton said he is continuing to progress from the left biceps strain that sent him to the injured list after the Yankees' third game of the year, having hit soft-toss and off a tee in the batting cage prior to the Yankees' 9-6 loss to the White Sox on Friday.
"I think I'm on track," Stanton said. "I didn't take 100 percent swings, but I took good progress swings."
Stanton said his next step would be to take full hacks in the cage, then advance to batting practice. He does not know if he will require a Minor League rehabilitation assignment and said it has been difficult to watch from the dugout while the team plays without him.
"We went through this last year, and I really enjoyed the grind of trying to stay out there during those hard times, but now I'm on the opposite side of that," Stanton said. "I'll just support [the team] and do my best to get back."
CSI: The Bronx
The Yankees are attempting to crack the case of how Luis Severino sustained a Grade 2 strain of his right latissimus muscle while rehabbing from right shoulder inflammation, Cashman said.
"It's a very unusual circumstance that I don't have an answer for," Cashman said. "There is nothing that I could provide to you that would explain how he wound up with a Grade 2 lat strain. We're trying to piece that together, to be honest."
Severino had been long-tossing for several weeks at the Yankees' complex in Tampa, but he never felt comfortable enough to return to the mound. Cashman said there was "shock and dismay" in the Yankees' hierarchy when Severino's MRI showed that he would need to be shut down for six weeks.
"One day he was throwing on flat ground and improving, and the next day he was somewhat protecting it," Cashman said. "The questions posed were, 'Hey, what's up here?' It wasn't from the extension and the force from the day before. He wasn't trusting it.
"[We asked], 'Why aren't you trusting it?' [Severino said], 'I just don't feel comfortable.' ... A lot of times it happens in a competitive environment where you're maxed out, not in a flat-ground throwing program."
The fix is in
Chad Green allowed three runs through the first month of the season in 2018, but the right-handed reliever owns an 11.81 ERA (seven earned runs in 5 1/3 innings) through his first six appearances, including serving up back-to-back homers to Eloy Jimenez and James McCann on Friday.
"He's working through a little mechanical adjustment," manager Aaron Boone said. "I felt like on the two home runs, he didn't quite get the ball elevated enough how he wanted to. He kind of got that tail back over the plate instead of driving that cut and ride that we're used to seeing from him when he's going really well. It's something that we're working on really hard on with him."
This date in Yankees history
April 13, 1978: Reggie Jackson hits a three-run home run off Wilbur Wood in the first inning of the Yankees' home opener, prompting fans to shower the field with thousands of "Reggie!" candy bars. It is Jackson's fourth straight Yankee Stadium at-bat with a homer, including Game 6 of the 1977 World Series. The Yankees defeat the White Sox, 4-2.