Rodriguez happy to prep as starter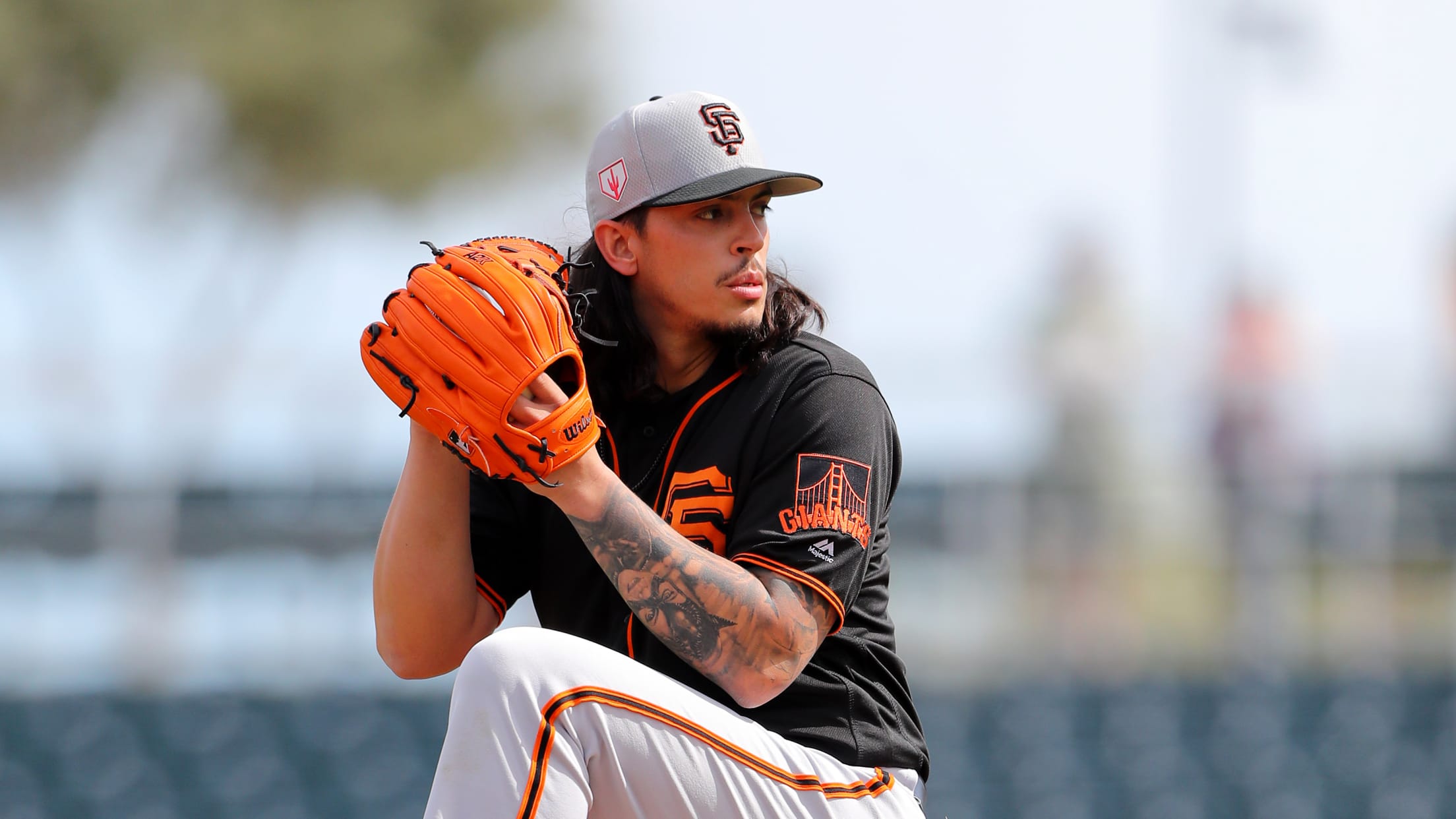 PEORIA, Ariz. -- Giants starter Dereck Rodríguez will make his fourth Cactus League start Thursday and pitch next Tuesday in a Minor League game on the Major League team's scheduled day off. For now, he's on track to start the second game of the regular season against the Padres in
PEORIA, Ariz. -- Giants starter Dereck Rodríguez will make his fourth Cactus League start Thursday and pitch next Tuesday in a Minor League game on the Major League team's scheduled day off.
For now, he's on track to start the second game of the regular season against the Padres in San Diego on March 29. He's also preparing to pitch in the third regular-season game March 30.
"It doesn't matter where I start in the rotation as long as I'm there," Rodriguez said. "That's all I care about right now, making the starting rotation. And then I'll be happy."
What we know is that Drew Pomeranz, who is also projected to make the rotation, is also pitching in a Minor League game Thursday and Jeff Samardzija is pitching Friday against the Angels. What's certain is that Madison Bumgarner will pitch Opening Day two weeks from Thursday on March 28 and the rest of the rotation has not been announced.
"I don't want to go there, I really don't yet," Giants manager Bruce Bochy said about the rotation. "I'd like a little bit more time on that. We all get to meet Farhan [Zaidi, president of baseball operations], the staff and everybody so we'll see."
It's worth noting that the Giants can use the two scheduled days off before Opening Day to help get their rotation in order. Chris Stratton, who is out of Minor League options, had also been in the running for a rotation spot, but might make the club as a long reliever.
"I can't worry about where I pitch. For me, it's been exciting to go out there and knowing what I have to do and trying to get better," Rodriguez said. "This isn't my first year here so I know a bunch of the guys, so it's not new and I felt like I could get back into it."
Last season, Rodriguez posted a 2.81 ERA over 118 1/3 innings. So far this spring, he's allowed five runs on eight hits in 8 1/3 innings. He has struck out eight and walked four.
Derek Holland, who will also be in the starting rotation, was charged with four runs on six hits in four-plus innings of the Giants' 8-4 loss to the Mariners on Wednesday night in Peoria. He struck out six and did not walk a batter.
"I felt great and everything is fine," Holland said. "This is where you are working on things. There are a couple of balls that found holes, but that's part of the game."
The biggest thrill of Holland's night was facing Ichiro Suzuki for what will likely be the last time of his career. Holland struck him out twice and later admired how the veteran outfielder congratulated Giants manager Bruce Bochy, who is retiring at the end of the season, on his career as he made his way to the home clubhouse.
"Legends respect legends," Holland said. "It's true."
Rivera getting ready
Buster Posey, who is working his way back from hip surgery, has caught only 22 innings this spring and the club acknowledged it will have to keep an eye on him early in the season.
His status could create an opportunity for lots of playing time for Rene Rivera, who is expected to be the team's No. 2 catcher. The 35-year-old veteran from Puerto Rico came into Wednesday's game having caught 43 innings, the most of any catcher on the team.
"I'm healthy and we will see what happens," Rivera said. "The most important thing is that I'm healthy and working hard. I'll do what I have to do. Buster Posey is going to start, and we'll do our job behind him and our best to help the team win."
"Working with Rene was awesome," Holland said. "I enjoy it. I really like throwing to him and he's a great target back there. A guy he really reminds of and someone I loved throwing to is a former Giant, Bengie Molina. He does a great job game calling and keeping you locked in."
Aramis Garcia, who has caught 38 innings this spring, and Stephen Vogt, who has been slowed by a shoulder injury, are also competing for the backup job.
As for Posey, who was scratched as the designated hitter Sunday because of "general soreness" in his hip area, he went 0-for-3 and caught five innings in a rain-shortened game against the Brewers on Tuesday. It's uncertain if he will be able to carry a full workload behind the plate to start the season.
"I don't want to set anything in stone," Posey said. "I like to go day to day, so we'll go day to day."
Up next
Rodriguez will take the mound for the Giants against the D-backs at Salt River Fields on Thursday. Mark Melancon, Nick Vincent, Trevor Gott and Derek Law are also scheduled to pitch.
Samardzija, Reyes Moronta and Ty Blach will pitch against the Angels at Scottsdale Stadium on Friday.