Dietrich DFA'd after Marlins make Minors deal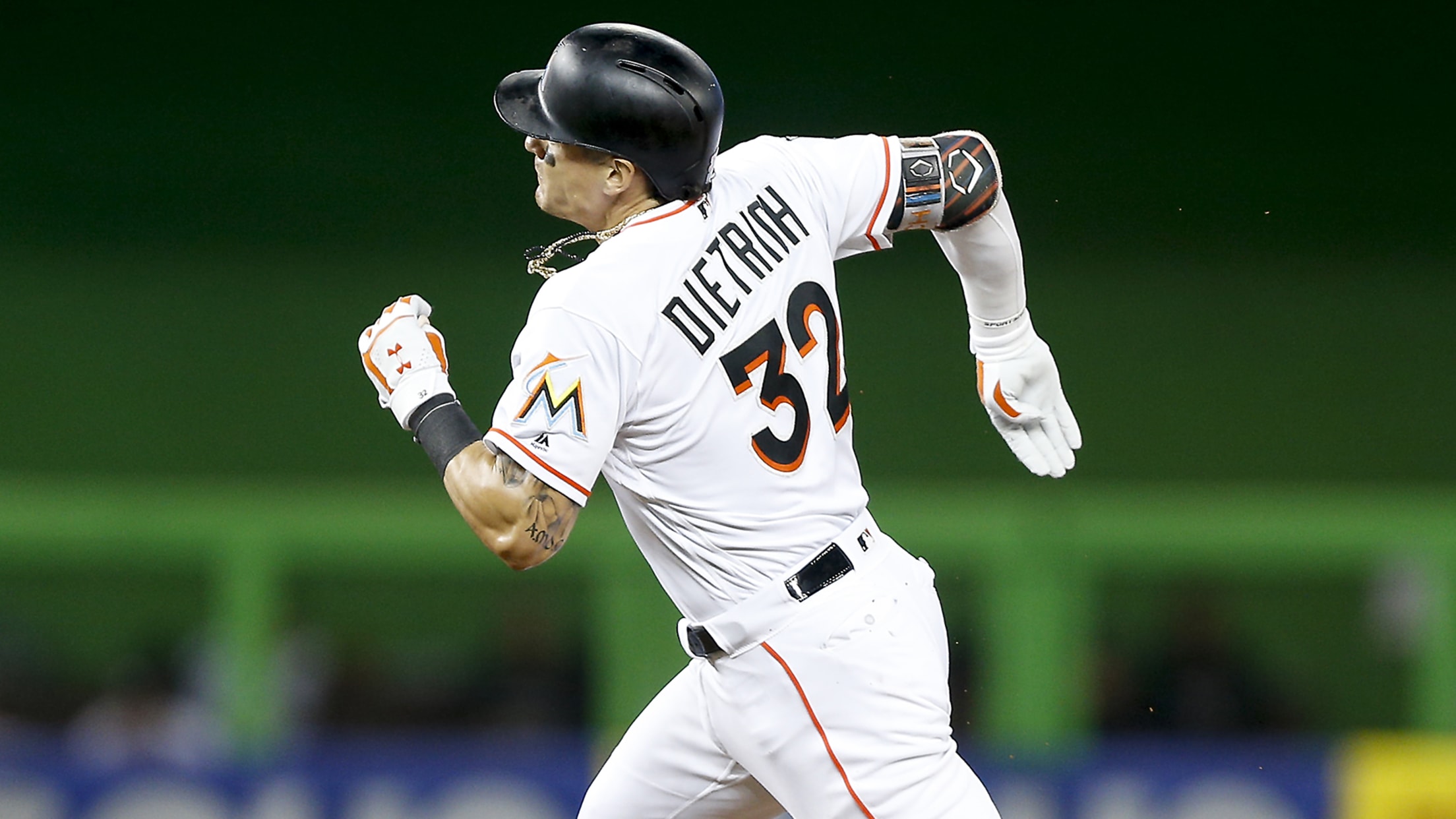 MIAMI, FL - SEPTEMBER 03: Derek Dietrich #32 of the Miami Marlins rounds second base after hitting a triple in the second inning against the Philadelphia Phillies at Marlins Park on September 3, 2018 in Miami, Florida. (Photo by Michael Reaves/Getty Images) (Michael Reaves/Getty Images)
MIAMI -- The Marlins continued their roster shuffling on Tuesday night by acquiring right-hander Nick Anderson from the Twins in a Minor League deal for third baseman Brian Schales.To make roster room for Anderson, the Marlins parted with their longest tenured veteran, Derek Dietrich, who was designated for assignment. Miami's
MIAMI -- The Marlins continued their roster shuffling on Tuesday night by acquiring right-hander Nick Anderson from the Twins in a Minor League deal for third baseman Brian Schales.
To make roster room for Anderson, the Marlins parted with their longest tenured veteran, Derek Dietrich, who was designated for assignment. Miami's roster is at 40.
Anderson, 28, is a 6-foot-5, 195-pounder who went 8-2 with a 3.30 ERA in 39 games (four starts) for Triple-A Rochester this past season.
Schales, drafted by the Marlins in the fourth round in 2014, hit .258 with 10 home runs and 49 RBIs at Double-A Jacksonville.
Dietrich, 29, has been with the Marlins since 2013, playing numerous positions. In 2018, he opened the season primarily in left field. Over 149 games, he had a slash line of .265/.330/.421 with 16 home runs and 45 RBIs.
A left-handed hitter who was popular with Marlins fans, Dietrich had a knack for getting hit by pitches. He was plunked 21 times in 2018 and 93 times in his career.
The question with Dietrich has been finding a position to play. He broke in as a second baseman, and played third, but to get his bat in the lineup, he was moved to left field in '18.
When a player's contract is designated for assignment -- often abbreviated "DFA" -- that player is immediately removed from his club's 40-man roster, and 25-man roster if he was on that as well. Within seven days of the transaction (it was previously 10 days), the player must either be traded, released or placed on irrevocable outright waivers.
The Marlins are aiming to get more athletic, and the organization has a number of young outfielders who are working their way up through the system. Isaac Galloway and Austin Dean are candidates to play left field, with Lewis Brinson in center. Garrett Cooper can also play left field.
Earlier on Tuesday, the Marlins selected the contract of outfielder Monte Harrison, their No. 2 prospect per MLB Pipeline. Magneuris Sierra is another outfielder on the 40-man roster.